Yunnan using bean to perk coffee sales
Share - WeChat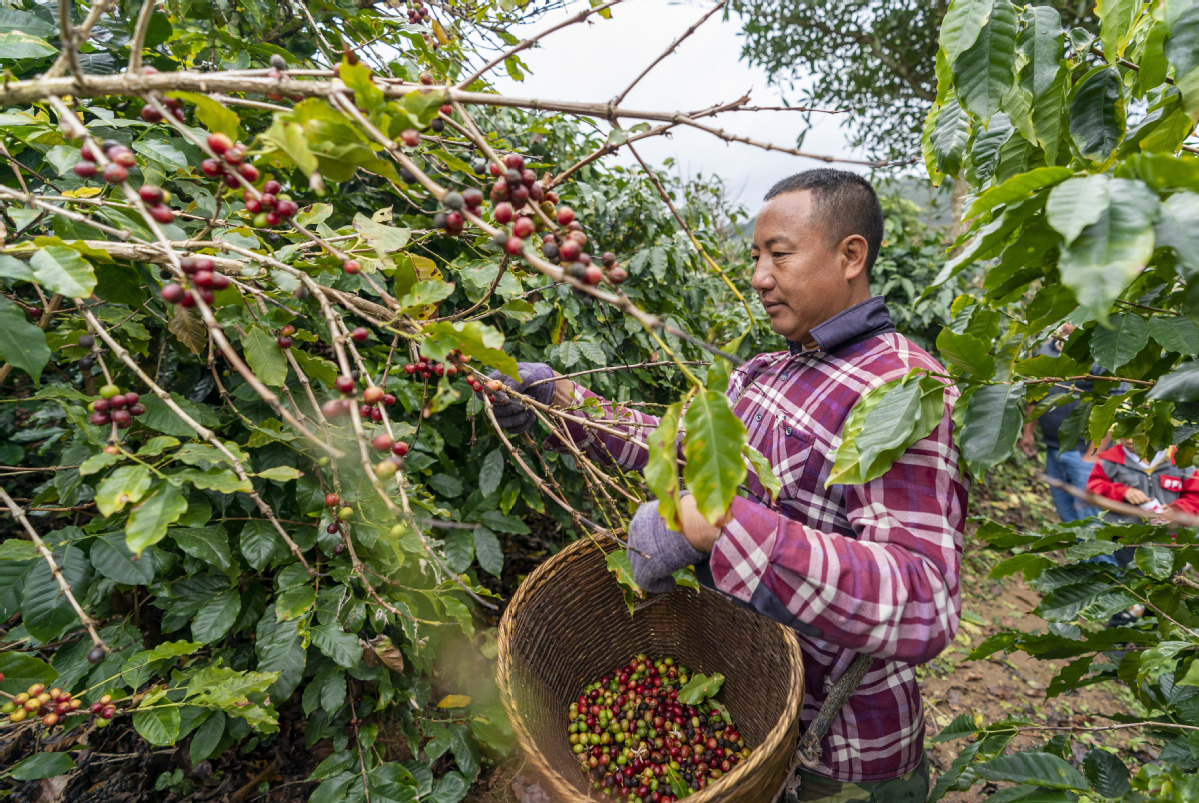 With short supply and rising prices of coffee beans worldwide, Southwest China's Yunnan province has jumped on opportunities to grow its business globally and expand exports.
The COVID-19 pandemic has largely hampered timely transportation of coffee beans. Coupled with extreme weather last year in Brazil-the world's largest coffee-producing country-global coffee prices have continued to climb.
In the first half, exports of green coffee beans from Yunnan Nongken Coffee Co Ltd, a State-owned company, surged 622.81 percent year-on-year, hitting a record high, it said.
"The coffee market is on an upward trend this year, and prices of coffee beans produced in Yunnan have reached nearly 10-year highs," said Sun Zhiqing, president of Yunnan Nongken Coffee.
"We seized the chance to further develop our business. Earlier this year, in major coffee-producing areas of Yunnan such as Puer, Lincang and Baoshan, we reserved a large volume of green beans, and it has helped us with smooth coffee production and trade at a later stage," Sun said.
Last week, the Yunnan government issued a document further increasing the rate of fine coffee products and deep processing of beans in the province. By 2024, the province aims to build itself into an important premium global coffee bean-production area by lifting the rate of premium coffee beans to 30 percent of the total, and the deep processing rate of coffee beans to 80 percent.
By leveraging advantages such as high altitudes and a subtropical climate, Yunnan-China's largest coffee cultivation area-is ideal for growing high-quality coffee beans.
In the first six months, Yunnan Nongken Coffee made new breakthroughs in the trading of green coffee beans. Next, it aims to further push forward industrial integration and upgrading and expand exports.
The company has been a cooperative unit of a coffee project between the Chinese government and the United Nations Development Program. Besides selling coffee beans to major cities nationwide, it has exported products to countries and regions such as the United States, Australia, East Asia, South Asia, the Middle East and Europe.
In 2021, sales revenue from the coffee sector in China reached 381.7 billion yuan ($56.5 billion), up 27.2 percent year-on-year. By 2025, sales are expected to exceed 1 trillion yuan, according to a report by food delivery platform Ele.me.
Shanghai has taken the lead in coffee consumption volume in China for three straight years. The city is followed by Beijing, Hangzhou of Zhejiang province, and Guangzhou of Guangdong province, the report found.
Particularly, coffee beans produced in Yunnan have gained increasing attention domestically. As of February, there were 569 coffee retailers in Shanghai that sold Yunnan coffee beans, and the number soared 848 percent year-on-year. The order quantity of the beans surged 713 percent year-on-year, said Meituan, another food delivery platform.
"The latitude and climate of Yunnan have been suitable to grow high-quality coffee beans. The local coffee sector should develop more premium products. With rapid growth of domestic coffee consumers, it has boosted the confidence of wholesalers in Yunnan to further build the industry," said Li Xiaobo, chairman of the Coffee Association of Yunnan.
ZHU WENQIAN in Beijing and LI YINGQING in Kunming