Dragon boats ride wave of sustainable growth
By Alexis Hooi in Beijing, Feng Zhiwei and Zhu Youfang in Yueyang, Hunan | China Daily | Updated: 2022-08-17 09:02




Share - WeChat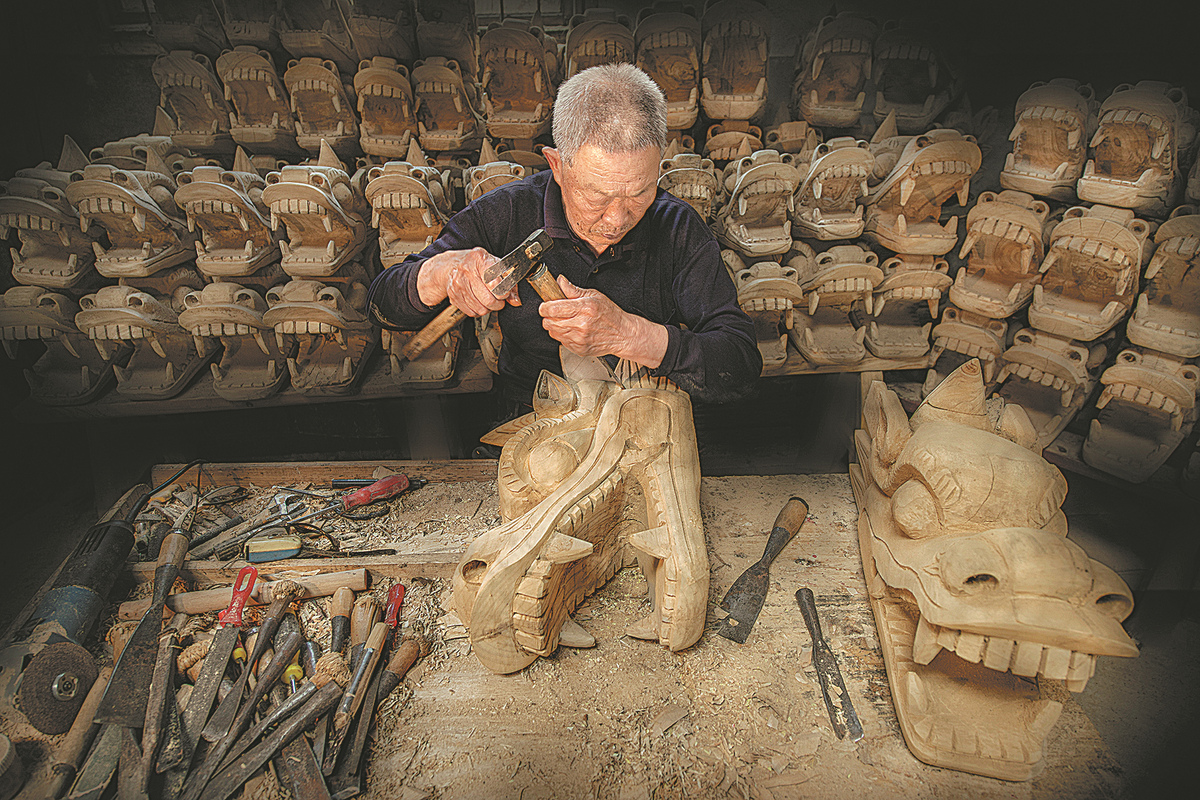 City in Hunan province a world hub for traditional arts, crafts
Editor's note: This series of stories looks at local enterprises in specialized sectors that have a share in global markets.
Dragon boat master craftsman Xu Guisheng begins his work on simple wood blocks, but he expects them to emerge as divine creations at the helm of a grand tradition for Chinese communities worldwide.
"When a boat is ready, we hold a ceremony to illuminate it. The head is also bathed in water according to our local customs. They are transformed from wooden boats into dragon gods," he said.
Xu, 64, is a fifth-generation dragon boat craftsman in Miluo, Central China's Hunan province, and a registered inheritor of the intangible cultural heritage.
The city is known as a production hub for the boats, which are used in races during the Dragon Boat Festival. Also known as Duanwu Festival, it commemorates the suicide of patriotic poet Qu Yuan from the state of Chu during the Warring States Period (475-221 BC). The festival, which also involves eating glutinous rice dumplings wrapped in reed or bamboo leaves, fell on June 3 this year.
Miluo's artisans and enterprises have successfully preserved and promoted their tradition of making dragon boats beyond the local festivities, leveraging their experience and expertise to ride a wave of rising interest in the sport and associated activities in markets at home and abroad.
There are about 20 major dragon boat manufacturing enterprises in Miluo, altogether recording annual production of about 4,000 units and total sales of 160 million yuan ($23.6 million), according to the local government. Dragon boats can range in price from 5,000 to 80,000 yuan each, depending on size and materials. Many of the vessels are sold in nearby Guangdong, Jiangsu and Fujian provinces as well as abroad in nations including Malaysia, Myanmar, South Korea and the United States.
Li Lizhong, director of Miluo's dragon boat association, said that although boats made in the city are still centered on the domestic market, its main manufacturers can together fill more than 50 major orders from overseas, which shows the growing market's potential.
Although business has been reduced by more than half for many local producers, due to supply chain disruptions and other impacts from the COVID-19 pandemic, the sector is now looking to meet pent-up demand.
The traditional boats of Miluo are famous for their striking dragon head and phoenix tail motifs, with matching hulls, oars and rudders. There are large, medium-sized and small vessels, ranging from 12 meters long to about 24 meters, and they can seat from just a handful of rowers to dozens. The width of a boat is generally 1.1 meters, adding to specific, stringent production requirements that can take about seven days to fulfill.
The making of dragon boats continues to be carried out with solemnity and professionalism, reflecting the importance of local customs and heritage.
For example, an auspicious day is decided upon to begin work on a dragon boat, and a master carver and two assistants are sequestered in a special room to carefully create the head of the dragon, which will be put on the front of the boat. All of this helps the craft survive and thrive through exacting standards and meticulous detail.