Dragon boats ride wave of sustainable growth
By Alexis Hooi in Beijing, Feng Zhiwei and Zhu Youfang in Yueyang, Hunan | China Daily | Updated: 2022-08-17 09:02




Share - WeChat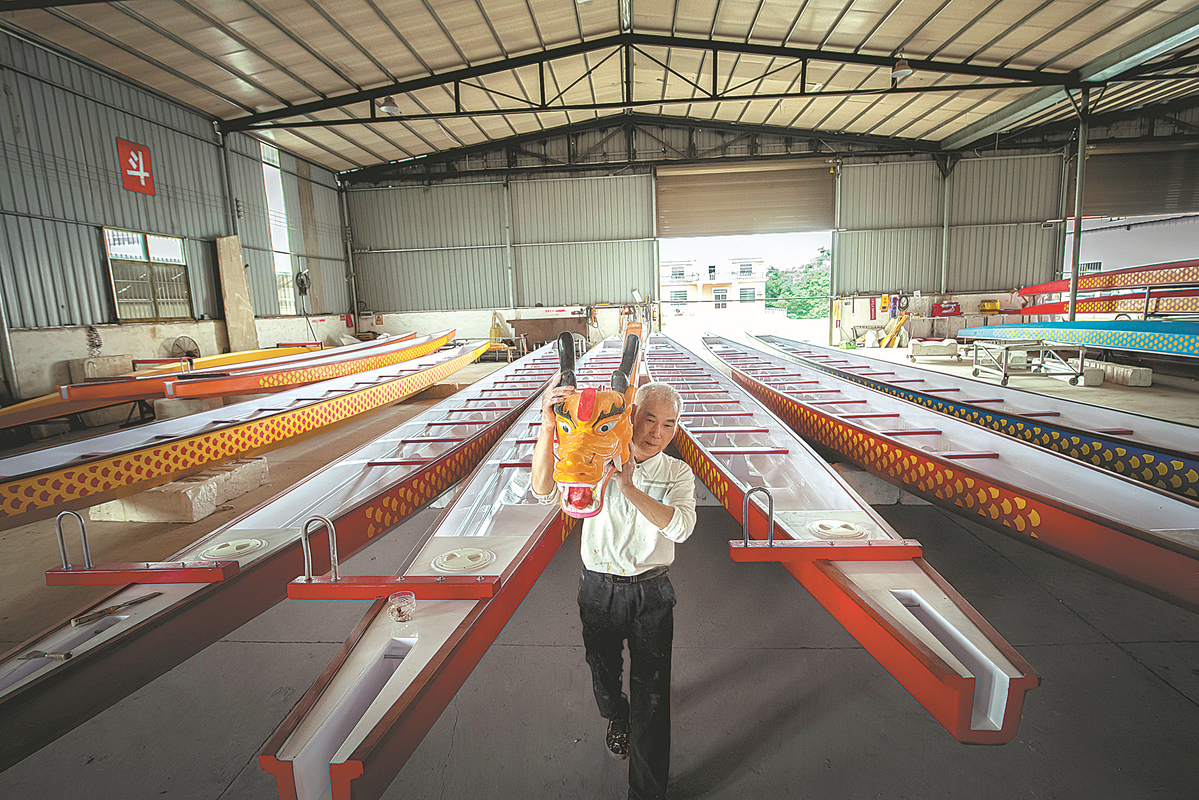 Craftsman Xu's workshop, which is at the forefront of the industry, produced nearly 150 dragon boats last year, which helped to bring in more than 3 million yuan-even amid challenges posed by COVID-19, he said.
To meet the evolving demands of modern boat races, Xu said he is also constantly improving and innovating his techniques.
"Products are mainly made from traditional wood and can also be made with reinforced fiberglass," he said.
To boost the speed of his vessels, Xu said he incorporates special hull contours to reduce resistance in the water, so they can move consistently and naturally. He has applied for national patents for his products.
"These boats, including the ones used for professional races, are sold all over the country," he said.
Yu Chungeng runs the Shenwang dragon boat manufacturing facility in the town of Quzici, where many of the businesses in Miluo's pillar industry are based. Shenwang is one of the leading dragon boat exporters, filling orders from Chinese and other customers in Southeast Asia.
"Our dragon boats are exported to the Philippines," Yu said. "In 2012, teams from the Philippines came to Miluo to participate in a dragon boat race. During the competition, they were impressed by the quality of our dragon boats and immediately bought seven vessels. We have maintained and grown business links since."
Shenwang's workshop covers more than 2,000 square meters, and the group has an annual production capacity of up to 800 boats.
However, the workshop has felt the pandemic's impact, with the headcount reduced significantly from the original 30 or so staff members to a mere handful, and annual sales down to a few dozen boats, Yu said.
Yu was optimistic about the industry, pointing to online sales and brand building as ways to tap local know-how, business infrastructure and networks, and to improve competitiveness and take advantage of the latest growth opportunities.
Similarly, Xu Guisheng, the master craftsman, was confident about the sector's prospects.
"Our boats will continue to help rowers win championships, and my business can only get better," Xu said.
"We make dragon boats not only for our livelihoods, but also to better pass on our traditions and skills," he added. "We have a responsibility to pass these on to the next generation."