A cinematic 'lesson' in the countryside
Share - WeChat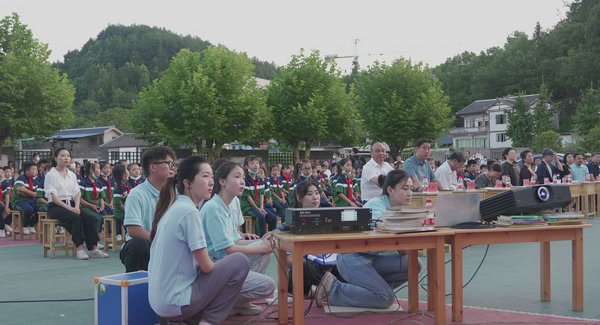 More than 50 years ago, most Chinese people living in far-flung areas enjoyed movies in the open-air thanks to movie-screening workers who trekked there with mobile facilities. Now, such a "tradition" is being relived with a campaign jointly launched by Beijing Normal University and China Film Archive.
On July 12, the drive, themed as "taking movies to the countryside", was unveiled in a primary school in Zunyi, Southwest China's Guizhou province, two days after the organizers announced the event in Beijing.
The revolutionary blockbuster 1921, a retelling of the founding of Communist Party of China, was screened to the school's children. Before the screening, actor Wang Renjun, who plays Chairman Mao Zedong in the movie, alongside the scriptwriter Yu Xi, showed up online to share the behind-the-scene stories and their understanding of the historical characters.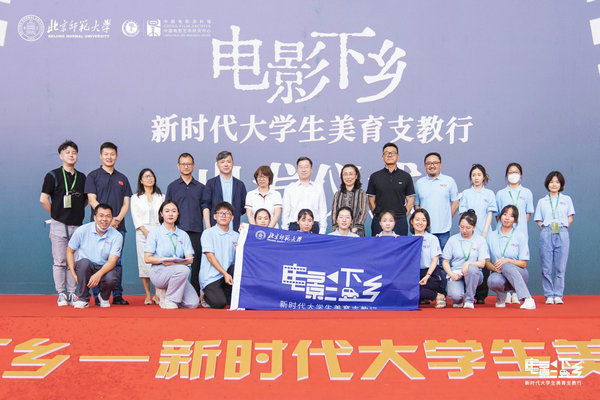 A group of Beijing Normal University's students, mostly studying at the first or second grades, have joined the campaign, designing special curriculums based on the movies to give local children art and culture lessons.
Xiao Xiangrong, dean of the School of Art and Communication at the university, said that he wished the campaign could help those children to become the "discoverers, admirers and creators of the beauty of art".
Besides, he also wished such an event could help the students from Beijing Normal University to obtain a more intuitive impression of how to teach children and youngsters, thus benefiting their teaching career in the future.
Most Popular