Promotional movie helps people find a whole new world
Share - WeChat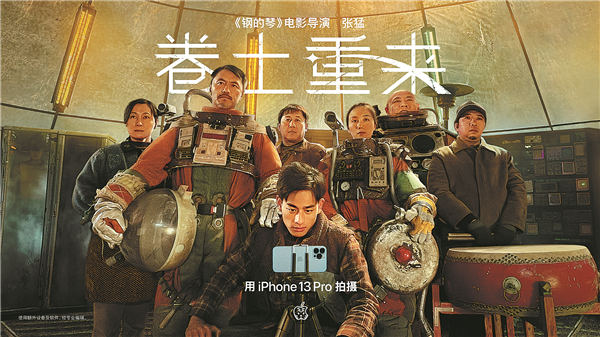 With Chinese New Year just around the corner, Apple released its celebratory short film The Comeback by Zhang Meng, director of The Piano in a Factory, on Jan 21.
It's the fifth year the US company has released such a film, shot with its iPhone. Previous directors joining the project included Peter Chan Ho-sun, behind Comrades: Almost a Love Story and The Warlords, Jia Zhangke, whose Still Life won the Golden Lion award for best film during the 63rd Venice International Film Festival, and The Farewell director Lulu Wang.
The Comeback is a story about a group of villagers trying to encourage tourism in their hometown-which is "as isolated as Mars" and frequently hit by sandstorms-by trying to shoot a film about astronauts finally landing on Mars and uploading it online for publicity.
The amateur villagers, led by Xiaoshu, a wounded, frustrated young stunt actor who has just returned home for Spring Festival, and his imaginative father, have designed the film's plot and scenery, making full use of local materials, hoping to create visual effects like those in a science-fiction blockbuster.
For example, they use a dust-covered metal pan to simulate the surface of Mars, a model truck partly submerged in sand to create the scene of a broken down Mars rover, and also employ a donkey to play the role of a unicorn-like "Mars beast" with silver wings.
The space suits are made from things like old video game consoles, defunct mobile phones and pressure cookers, and the Mars base is created from outdated computers and old refrigerators.
As well as showing the villagers' imagination and solidarity, the film is both heartwarming and occasionally harsh, touching on serious topics like father-son relationships and urbanization, as well as posing questions about how a remote village would survive and develop in a social media era.
It is common that, with an increasing number of young people going to cities for work, children and elderly people are often the few that are left behind in the countryside.
During a conversation with his son, the father in the film says the greatest thing about the project they are undertaking is that it has been way too long since the villagers worked something out together, and that the "Mars movie" is mainly to attract those who've left the village to come back and have a look.
"What others see as dirt is the Mars in our hearts," the father says.
The short film, combining elements of sci-fi, rustic nostalgia and comedy, was shot with the new iPhone 13 Pro, and sought to highlight the camera's features, such as its quick shift in focal point, macrophotography mode and low-light shooting capability, according to Luo Dong, the film's director of photography.
He says they didn't use additional lenses and adds that the phone's compact form, in comparison to the usual film cameras, enabled them to do some things they would not normally be able to achieve in traditional filmmaking.
The film actually presents a play within a play, so that the audience can clearly see how to shoot a movie like this.
Zhang, who was nominated for best director at the Golden Rooster Awards-a top honor in Chinese cinema-in 2011 for his representative The Piano in a Factory, says the film, while being shot with phone cameras, is very cinematic, and hopes that it will inspire young people to use their own devices to get an initial taste of filming and directing.
Most Popular