Joyful pursuit
Share - WeChat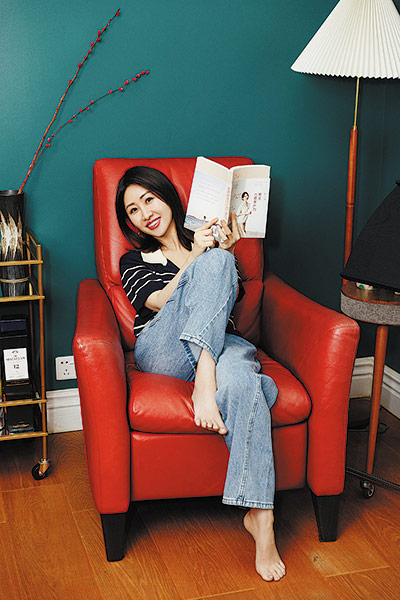 Fashion blogger and social media influencer launches book on 'living beautifully', Xu Haoyu reports.
A new book named You Are What You Wear, written by fashion blogger Fang Yimin, who has more than 30 million followers on social media, was released offline on May 14.
Since the online pre-sale started on April 22, the book has been a best-seller on the list on Dangdang, a Chinese online reading and book-selling platform.
Fang, who's widely known as Becky Li, talks about her experience and gives advice on "living beautifully" to readers in the book that she spent eight years writing. The book is a summary of 2,400 posts that Fang published in her blog on WeChat that she started in 2014, as well as the text of some public speeches, focusing on topics of common concern to modern women, such as "beauty quotient", workplace survival, emotional management and self-growth.
Fang shares her journey and tips from a woman's perspective. "The convoluted path and the tumble I took, the thrill and joy of growing up over the years are all in this book," she says.
Whether it is a fashion tip such as "finding your own style and details that affect your vibe", or money management strategies such as "my moneymaking skills and a few things that changed my perception of money", or self-management methods at work and in life such as "what entrepreneurship taught me, and how to overcome procrastination and learning to live with anxiety", Fang's insights at different stages of her life are incorporated in the book, which she hopes will inspire female readers while allowing them to explore their own hidden potential and pursue a better life.
Fang writes that the pursuit of beauty is productive. She argues the process of discovering and pursuing beauty itself is a process that nourishes the body and mind. In her opinion, the value of something lies in the enhancement of its quality. Every piece of clothing, skincare or furniture has a unique meaning, even if it is not that deep, as long as it can bring happiness to people. Shopping should not be narrowly seen as a simple way of feeding emotions, rather she encourages people to spend rationally and within their means.
Most Popular