Marvelous mothers
Share - WeChat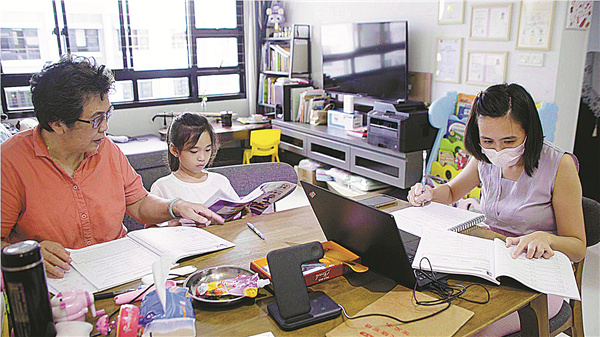 For those struggling between jiwa and foxi-the terms for parenting models, respectively equivalent to Western concepts of "helicopter and free-range" parenting styles-the documentary series Marvelous Moms is like a mirror that will help Chinese parents examine their own confusion and stress.
Running on the streaming platform Tencent Video since April 21, the documentary follows more than 10 Chinese families shortlisted from more than 100 candidates in China, the United States, Japan and Singapore, exploring a variety of parenting models formed from online trends and traditional values.
Director Jiang Youxi says she got the inspiration in early 2019, when she was shooting a documentary about Chinese students studying in the US.
"I was surprised to find that most people born in the 1990s or later achieved excellence in their overseas campus life. I was curious to figure out how they were raised and how this well-performing generation grew up," Jiang says in an online interview.
During the shooting, Jiang encountered a professor of quantum physics at Yale University, whose views made her realize that China's current public education system, which takes exams as a priority, has a positive impact on students, who can handle setbacks and work hard to pursuing their goals.
"For a long time, a lot of people have viewed 'happy education' as a superior education model," she says, adding that such a theory has been doubted by some American experts like Greg Lukianoff and Jonathan Haidt in recent years.
Jiang gives an example, The Coddling of the American Mind: How Good Intentions and Bad Ideas Are Setting Up a Generation for Failure, written by Lukianoff and Haidt, a 2018 best-seller listed by multiple media outlets, including The New York Times and the Financial Times.
The first chapter of the book starts with a famous quote from Chinese thinker Mengzi, also known as Mencius (372-289 BC), which says: "When heaven is about to confer a great responsibility on any man, it will exercise his mind with suffering, subject his sinews and bones to hard work, expose his body to hunger, put him in poverty, place obstacles in the paths of his deeds, so as to stimulate his mind, harden his nature, and improve wherever he is less competent about."
Most Popular