US artist Trey Abdella creates 'Almost Heaven' experience
Share - WeChat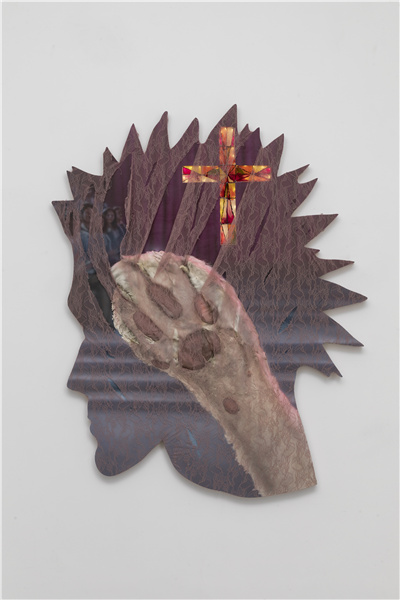 Several showpieces bespeak this effort.
In Holiday Spirit, the large canvas is covered by a melange of cut-up Christmas decorations including a fake Christmas tree, glittering light bulbs, and various stuffed dolls. On the top left corner of the artwork is a hologram fan generating dazzling 3D Christmas-themed images. A woman's anxious, sad face appears in the middle of the boisterous festivities.
"The anxiety triggered by Christmas is akin to Chinese people's anxiety during the Spring Festival," curator Huang Xufu said.
In the autobiographic work Sunday Service, a panel is shaped into a young male punk's head with a Mohican hairstyle. A church scene and an illuminated stained-glass cross are in the teen's head. A big bunny paw scratches the lace covering the teen's head, like trying to help him clear brain fog and beckons him to attend the Sunday service.