Policy boost spurs autonomous taxi segment
Share - WeChat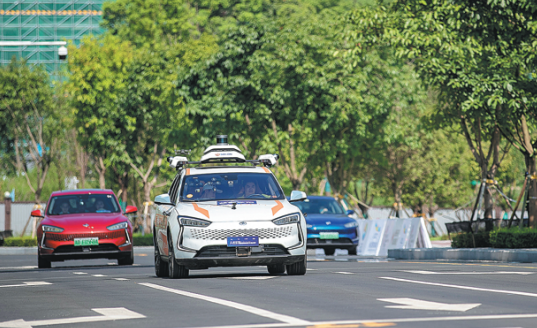 Autonomous driving has much in common with mountain climbing. Before reaching the summit and enjoying the view, a great deal of time and effort will be needed amid sometimes palpable risks.
For example, Level 4 functions that free drivers' hands, minds and eyes will likely undergo road tests of at least 100 billion kilometers-the equivalent of 1,720 times the distance to the sun-and a million or so problems might be encountered.
Yet, the continuous influx of investment and favorable policies are fueling companies to push back the frontiers of the unknown to explore commercialization of the technology that promises to offer safe and worry-free mobility.
Statistics show that at least 70 billion yuan ($10.81 billion) flowed into the sector this year to 50 companies that specialize in not only robotaxis and unmanned delivery cars but also such gadgetry as lidar and electronically controlled car frames, which are essential to autonomous driving.
Companies engaged in the sector have seen their valuations surge. Established in 2016, Pony.ai is now valued at $5.3 billion. Four-year-old WeRide has a valuation of $3.3 billion. Both focus on Level 4 functions and are testing their robotaxis.
"The rapid influx of capital shows that investors are confident in the sector's vast potential and its commercialization," said Deng Zhidong, a professor of visual intelligence at Tsinghua University.
Ron Zheng, vice-president of Roland Berger Greater China who is in charge of the consulting firm's automotive team, said he expects such investment to see steady growth.
"There are submarkets within the autonomous driving sector, and it is not clear which will be the major one. In other words, there is no 'bubble' at this stage," said Zheng in an interview with China Auto Think Tank.
For the wider public, robotaxis and unmanned delivery vehicles are the most noticeable developments in the sector.
Companies from Didi and Pony.ai to Baidu and WeRide are testing their robotaxi fleets on Chinese streets, offering free rides in designated areas to those who would like to try the novel technology.
Driverless vehicles from Pony.ai and WeRide helped deliver food and other goods in Guangzhou, Guangdong province, when new cases of COVID-19 pandemic were found in June.
Baidu was approved in May to charge passengers for driverless robotaxi services in Beijing's Shougang Park, which the technology company said marked another step toward commercialization.
The company aims to build a robotaxi fleet of 3,000 vehicles in two years, with total users expected to reach 3 million in 30 Chinese cities by 2023.
Baidu unveiled its latest driverless vehicle in June in collaboration with BAIC Group's premium arm Arcfox.
The model, called Apollo Moon, has a designed life of over 20,000 hours, which means it can be in service as a robotaxi for five years. It costs less than 500,000 yuan ($77,000), or around one-third the average price of Level 4 autonomous vehicles.
Baidu said cheaper prices will be a major factor in speeding up commercial operations of robotaxis in China.
Pony.ai's robotaxis are offering free rides in Shanghai, Beijing and Guangzhou as well as in the United States.
Zhang Ning, vice-president of the startup, said, "Our autonomous vehicles can maneuver themselves better than most Didi drivers."
He said the latest-generation vehicles, which will feature more advanced laser-based radar solutions developed in collaboration with Luminar, will begin volume production in 2023.
Zhang expects the sector to see faster development in the coming years as prices of sensors and other vital components fall sharply due to competition and sector-wide upgrades.
"It will make sense financially if an autonomous vehicle's cost equals an ordinary car plus a driver's wage, with drivers making around $10,000 a year," Zhang said.
In addition to passenger cars, companies including Pony.ai and TuSimple are exploring autonomous driving solutions for heavy trucks.
Li Hengyu, head of Pony.ai's truck division, said there is huge potential for autonomous driving in the logistics sector. He estimated that the technology can cut costs of a truck fleet by 40 percent, as there will be little need for warm bodies behind the wheel.
Statistics show that China's road freight totaled 33.8 billion metric tons in 2020, and over 30 million truck drivers were on the roads every day.
Local authorities in more Chinese cities are coming up with favorable policies to boost the sector's development.
Over 20 cities including Beijing, Shanghai and Chongqing have designated areas for testing autonomous technology. Beijing is opening a 10-km expressway road section for robotaxi tests as well.
Zhang said local governments have already done a good job of expanding test zones and following the sector's new developments.
"If relevant policies and legislation come out within a year, they will be a great boost to the sector," he said.