Plastic tableware — end in sight
Share - WeChat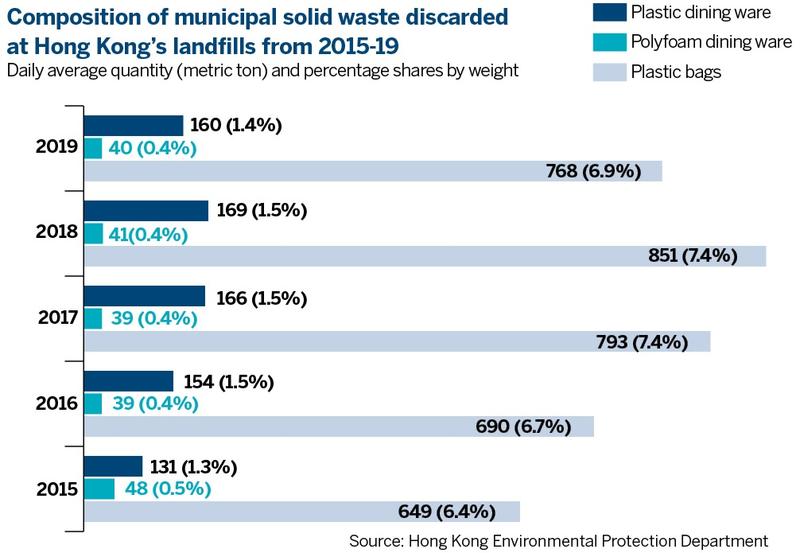 Viable timeline needed
However, the city's timeline for ending the use of plastic tableware lags well behind those of major economies, lamented Jeffrey Hung Oi-shing, the CEO of green charity group Friends of the Earth (HK).
In January last year, the Chinese mainland launched a five-year campaign against plastic waste. By the end of 2020, non-degradable, one-off plastic tableware had been banned for dine-in service at restaurants in major cities, according to Xinhua News Agency.
The European Union's prohibition of single-use plastic tableware came into effect last month. Plastic cotton bud sticks, cutlery, plates, straws, stirrers, balloon sticks and polystyrene drink and food vessels can no longer be sold throughout the bloc's 27 member states.
In the United States, a bill introduced in the Congress in February would phase out single-use lightweight plastic bags and plastic takeout-food packaging, including polystyrene, plastic stirrers and plastic utensils, as of Jan 1.
For Hong Kong, implementing the first phase of the ban in 2025, to be followed by the second phase 12 to 18 months later, is realistic and "very achievable", said Hung. "However, when the rest of the world is moving so quickly in phasing out single-use plastic tableware, Hong Kong's timeline is unrealistically long."
In the long run, he would like to see new business models being adopted, such as introducing reusable food and drink containers, and accepting utensils brought by customers themselves, although such a process would be more time-consuming.
Davis Bookhart, who heads the Hong Kong University of Science and Technology's Sustainability Unit, said the goals and timelines set in the road map are "quite generous" because a number of local restaurants have already stopped using disposable plastic products, and there are "quite a few" non-plastic alternatives available.