Top artist sees the light
Share - WeChat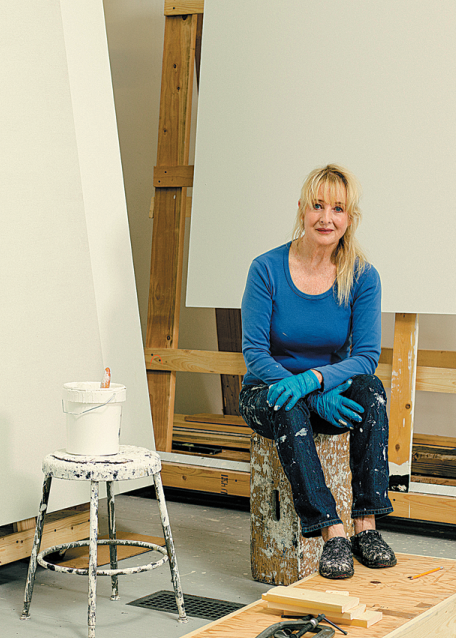 Based in Los Angeles, California, the 76-year-old artist discovered glass microspheres used to make road markings more visible in 1968.Incorporating this material into her work, she would scatter these tiny glass spheres in a thin layer over the surface of her paintings, allowing light to be refracted instead of reflected. This later became the basis of her best-known series, the White Light paintings.
In the 1990s, Corse created the Inner Band series by adding stripes which ran down the canvas, creating the illusion of them appearing and disappearing as the viewer walks alongside it.
Since 1968, Corse has worked on a series of light boxes through which she wanted to "free the light from the wall". Two of the works from this series, which look as if they are self-illuminated without the use of electricity, are on show in Shanghai. These works are in fact powered by high-frequency generators and a Tesla coil made by the artist herself.
Corse also applied the idea of painting with light on ceramic by creating tiles with patterns reproduced from the rubbings of rocks found near her home. The glazed surface reminds visitors of "the moonlight on rippling water", Liao says.
When visitors leave behind their preconceived ideas about art and follow the artist's exploration, Zhan says, "they will step into a new aesthetic space that Corse keeps expanding".
Corse is the recipient of a National Endowment for the Arts Fellowship, the Theodoran award from the Guggenheim Museum, and the Cartier Foundation award. Her works can be found among the collections of the J. Paul Getty Museum in Los Angeles, the Guggenheim Museum in New York, and the Long Museum in Shanghai.
Another exhibition taking place at the Long Museum West Bund is Looking Back and Moving Forward, which showcases important pieces from China's modern art history.
A leading collector of revolutionary art in China, director of the museum, Wang Wei, began collecting and researching the genre from the 1990s. The ongoing exhibition is a tribute to the centenary of the Communist Party of China and features drafts and written documents about the creative process of some highlighted artworks, which are on public display for the first time.
Contact the writer at zhangkun@chinadaily.com.cn
If you go
Painting with Light: Mary Corse
July 2 to Sept 5
Looking Back and Moving Forward
May 1 to July 25
10 am-6 pm, last entry by 5 pm, Tuesday to Sunday
Long Museum West Bund, 2298 Longteng Avenue, Xuhui district, Shanghai. 021-6422-7636.
Most Popular