Visiting history
Share - WeChat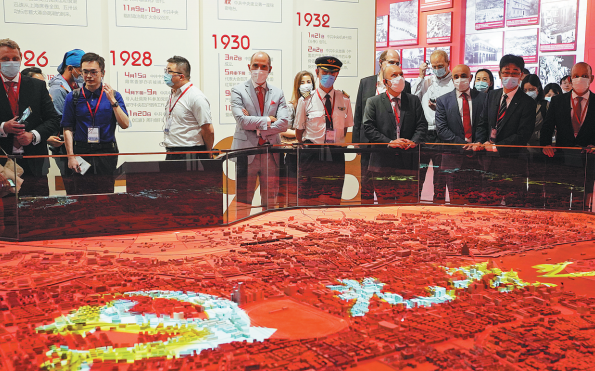 Longtime foreign residents of Shanghai pledge to help foster greater understanding of China, Alywin Chew reports.
Twenty Shanghai-based expatriates recently took turns to share their thoughts about China's development over the decades, with some even volunteering to play an active role in helping to correct misconceptions that the world might have about the country.
The group of expatriates, which comprised professionals from diverse industries, shared their thoughts during a roundtable session that followed a tour of the Memorial of the Site of the First National Congress of the Communist Party of China. Among them was Simon Lichtenberg, CEO of furniture company Trayton Group, sharing his account of China's development.
"All the foreigners here in this meeting love China and Shanghai. We have a keen understanding of China and the Party, but people outside China aren't the same," says Lichtenberg, who is a recipient of the Magnolia Gold and Silver awards.
The Magnolia Award is the highest local government honor for a foreigner's contribution to Shanghai's development.
"As members of this 'foreigners' club' in Shanghai, I believe we have a role to play in helping correct the misunderstandings," he says. "I am willing to contribute to this cause and I hope everyone else can do the same."
Lichtenberg says many pertinent issues in the world, such as tensions between China and the United States, are caused by a lack of understanding, and that bringing people together could help address this issue.
"My main target market is the US and many of our customers have come here. Because of this, they now better understand this country. They may not understand everything here, but the disconnect and misunderstanding is less," he says.
"Understanding is key. Come and see China for yourself."
Lichtenberg's first exposure to China was right in his own home in Denmark where his mother used to have posters of Chairman Mao Zedong on the walls. The family even had a copy of Mao's Little Red Book, the publication containing over 200 aphorisms from the Chinese leader.