Old art, new life
Share - WeChat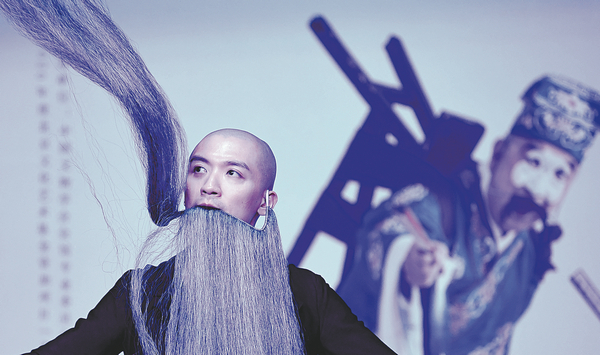 A photo on the cover of a new book written by Guo Baochang, a veteran film director, shows a smiley boy in T-shirt and jean shorts, with a small toy chair on his head, facing an old man, who has a wooden chair on his back. Both have paper fans. The old man is in Peking Opera makeup and costume and they seem to be playing a game.
After the book, The Marvelous Game, was published, Guo, a Peking Opera enthusiast, appeared at an old theater in Beijing to share his stories of the art form on July 2.
"It's been my longtime wish to write a book on Peking Opera, which I have loved since I was a little boy. The boy on the book cover is my grandson and I am playing a game with him by dressing up in a role from the classic Peking Opera piece, Shuang Bei Deng (Two Men Carrying Chairs)," says Guo, adding that it is a comedy, which tells the story of two "henpecked husbands" meeting up on the street and discussing their stories. "I hope that young people like my grandson will get to know more about Peking Opera and fall in love with it."
Tao Qingmei, a traditional arts scholar at the Chinese Academy of Social Sciences, co-wrote the book with Guo.
"We started to write the book in 2016. It took us years because Peking Opera is a sophisticated art form and we wanted to make the book easy and fun for everyone," says Guo.
Jingju, also known as Peking Opera, is a 200-year-old art form that combines singing, dancing, acrobatics and martial arts. In 1790, when four Hui Opera troupes visited Beijing as part of celebrations for the 80th birthday of Emperor Qianlong (1711-99), they stayed in the south of the city. Hui Opera, or huiju, is a form of Peking Opera from Anhui province.
In about 1840, Peking Opera began to formally take shape, growing rapidly during the reign of Empress Dowager Cixi (1835-1908), a patron of the art form. After this, Peking Opera went from strength to strength, with troupes formed in Beijing, Tianjin and Shanghai.
In 2010, it was declared an intangible cultural heritage of humanity by UNESCO.
Like many traditional art forms, Peking Opera is challenged by contemporary entertainment today and is losing its audience, especially among younger generations.