Nation urged to strengthen pig breeding industry
Share - WeChat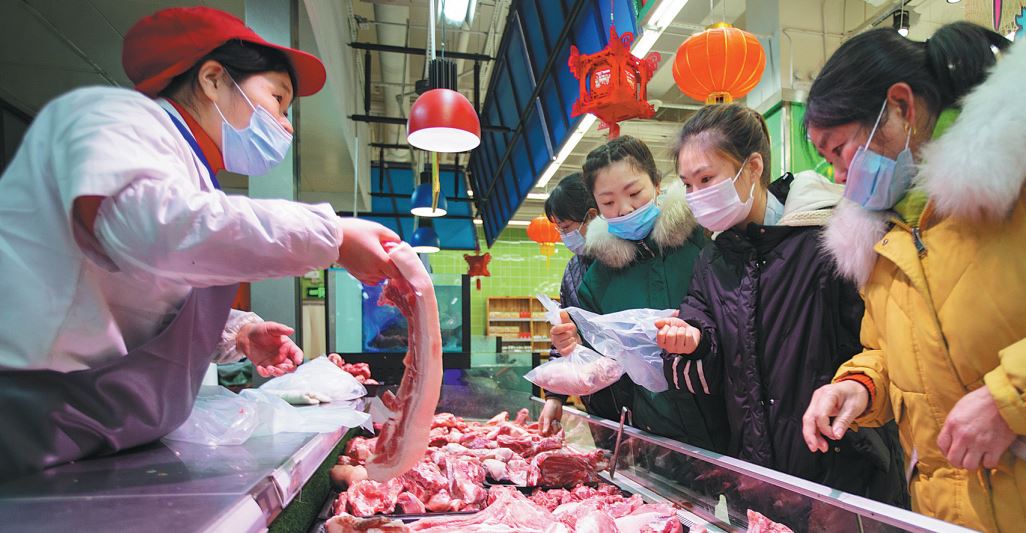 Experts, company chiefs call for reduced reliance on imports
When it comes to buying and eating meat, Chinese have a clear preference for pork, favoring it over beef, mutton and fish.
However, few people pause to consider where their pork comes from, and even fewer are aware that to meet growing demand, the country imports boar semen and pigs for breeding.
Zhang Xiangdong, a middle-aged family man from Beijing with a 10-year-old daughter, often buys pork online to cook the traditional Chinese dish of stewed pork with brown sauce at home.
"Pork prices have risen, especially last year during the pandemic. I sometimes hesitate when buying organic pork, which costs more, but I have never thought about where the meat is sourced," he said.
Some 90 percent of the pork on dining tables in China has overseas origins.
Last month, China imported several thousand breeding pigs to boost pork supplies across the country.
On March 14, a chartered plane carrying 985 such animals arrived in Chengdu, Sichuan province.
According to Sichuan Daily, the pigs were the first shipment of a record number of 2,400 breeding pigs imported from the United States by a livestock company owned by Chinese agribusiness giant Zhengbang Group.
The arrivals are undergoing a 45-day quarantine and are expected to produce another 20,000 breeding pigs and 650,000 pigs for sale annually in the province.
On March 23, a chartered plane carrying 1,066 breeding pigs arrived in Xiamen, Fujian province, from Denmark-the first batch of 3,216 animals supplied by the Danish Genetics company.