Demand for meals for one rises
Share - WeChat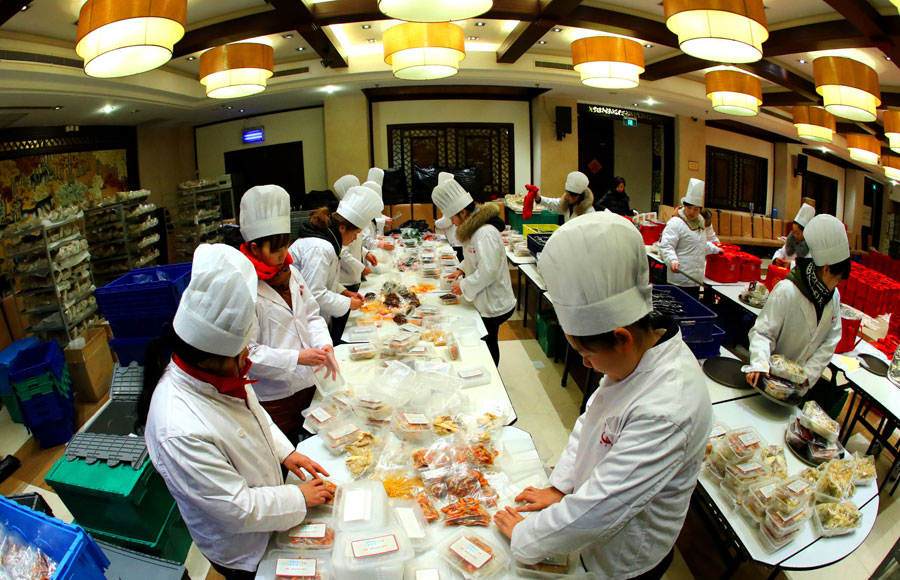 Demand for meals for one has seen a spike in many cities in China as people are advised to stay put during the Spring Festival holiday to curb the spread of the COVID-19, according to a report from supermarket chain RT-Mart, chinanews.com reported.
Data from the report showed sales of instant hotpot surged by 233 percent in Shanghai, while the sales of instant luosifen, a smelly noodle dish from Liuzhou, increased by 103 percent in Chongqing and 60 percent in Shenyang.
The report is based on sales data from nearly 500 RT-Mart outlets across the country during Jan 15-31.
For single migrant workers deciding to stay where they work instead of going back to hometown, a Lunar New Year's Eve dinner that will not cause waste becomes a problem.
Targeting this group of consumers, the catering industry is now offering ready-to-cook dishes for singletons.
In a RT-Mart store in Jing'an district of Shanghai, a special area that sells typical Lunar New Year's Eve dishes from different regions of China has received much attention.
Zhu Baoshan, manager of the store, said the offering is aimed to provide migrant workers staying in Shanghai, no matter where they are from, familiar dishes from hometown and more options of meals for one or two.
Chain convenience stores have acted to meet the new demand as well. Convenience stores used to offer a limited inventory of packed ready-to-eat meals daily. Now many have launched more diversified hot local specialties in small servings.
"To help customers spending the festival holiday alone have a decent meal on Lunar New Year's Eve, we are offering 24-hour available made-to-order bowl dishes in smaller portions, such as fried pork in scoop, stir fried mixed vegetable and fish fillet with sweet and sour sauce, in stores in East and North China," said Wang Dan from the public relation department of convenience store chain Bianlifeng.
"Compared to packed meal sets, bowl dishes can be mixed freely according to personal taste. The foods can be cooked in two minutes and served on site. Consumer can also place orders through food delivery platforms and enjoy the dishes after heating at home," Wang added.
Many restaurants, including some time-honored brands, have also rolled out Lunar New Year's Eve meal sets for one to two people on food delivery platforms.
"We expect ready-to-cook meal sets and ready-made meal sets for one to two people to better meet the demands of younger consumers," said Zheng Ruifang, manager of Lanxin Restaurant, a popular eatery in Shanghai.