Overall subway passenger traffic down in 2020
Share - WeChat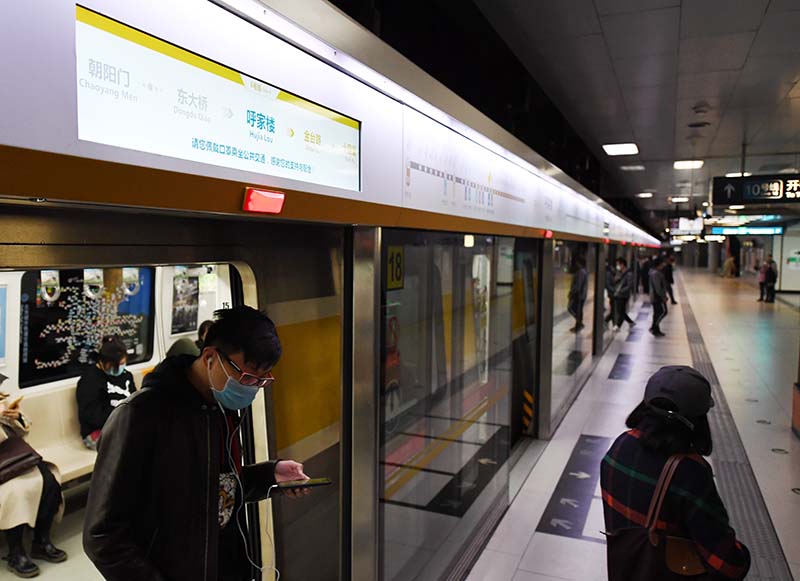 The Chinese mainland had 38 cities running subways with total passenger capacity reaching 17.53 billion visits in 2020, down 26.4 percent from a year earlier, said news website CB.com.cn, citing the latest report from the China Association of Metros on Friday.
The total passenger capacity by subway in Hong Kong, Macao and Taiwan reached 3.14 billion visits last year, a 26.11 percent decline year-on-year.
Four cities' passenger capacity by subway surpassed 2 billion visits, including Shanghai at 2.84 billion, Guangzhou at 2.41 billion, Beijing at 2.29 billion and Hong Kong at 2.07 billion. Moreover, passenger capacity by subway in Shenzhen and Chengdu was between 1 billion to 2 billion visits. Figures in Taipei, Chongqing, Nanjing, Xi'an, Wuhan and Hangzhou were between 500 million to 1 billion visits.
Total passenger capacity by subway in the Chinese mainland dropped nearly 30 percent year-on-year last year due to the impact of the COVID-19 epidemic, but four cities still saw positive growth, including Xiamen, Changsha, Jinan, and Hefei, with increases of 95.89 percent, 14.18 percent, 10.98 percent and 8.17 percent year-on-year, respectively.
Shanghai took first place in average daily passenger capacity with 9.01 million visits in 2020, followed by Beijing at 7.41 million visits.
The total mileage of urban rail transit (excluding trams) in the Chinese mainland hit 7,145.55 kilometers in 2020, with the top 3 being Beijing (704.69 kilometers), Shanghai (699 kilometers) and Guangzhou (531.1kilometers).
Construction of new subway mileage reached 1,175.04 kilometers in 23 cities last year, a surge of 31.19 percent year-on-year, with Chengdu in the top spot at 216.81 kilometers, followed by Hangzhou (170.7 kilometers) and Shenzhen (107.26 kilometers).
Last year, the National Development and Reform Commission approved new urban rail transit construction in Xuzhou, Hefei, Jinan and Ningbo with a total length of 455.36 kilometers and the total investment of 336.42 billion yuan.