Subway line to Terracotta Warriors about to open
Share - WeChat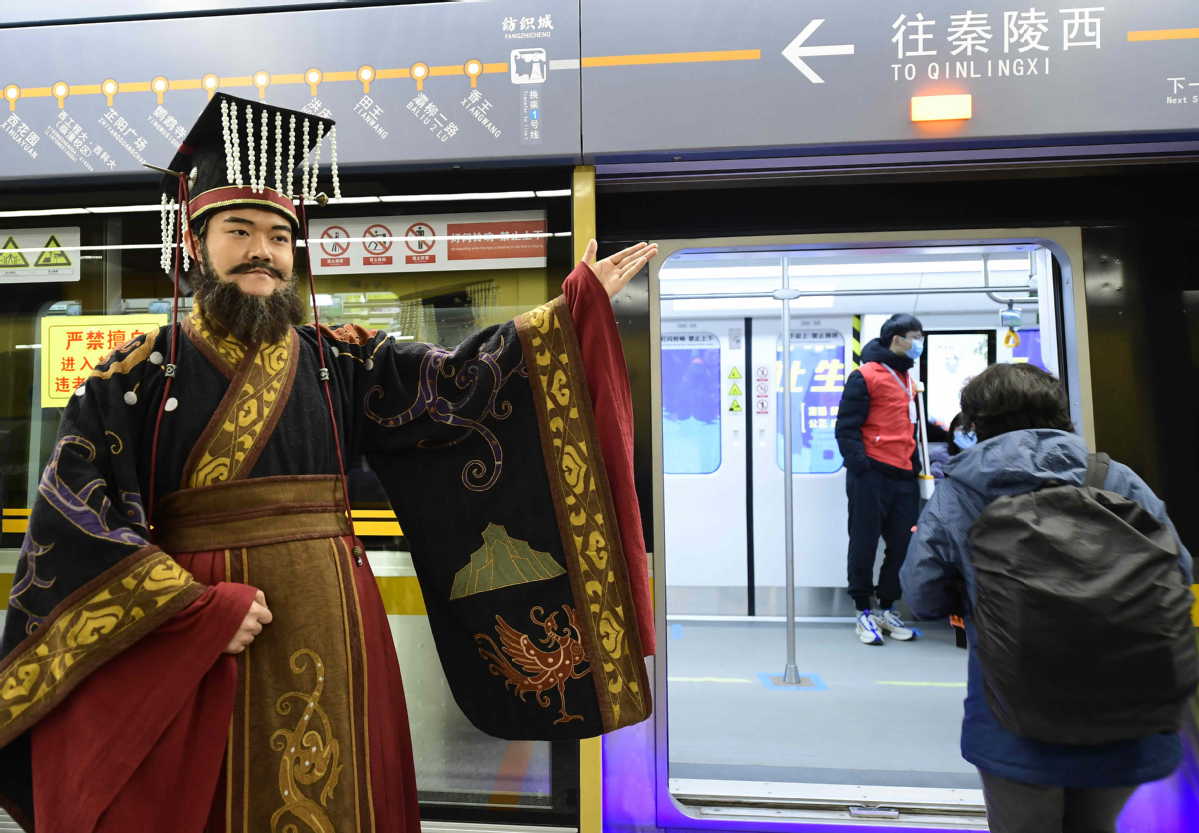 A new underground subway line linking downtown Xi'an, capital of Shaanxi province, to one of the world's most renowned archaeological discoveries, the Terracotta Warriors, is expected to go into operation by the end of this year, local transport authorities said.
The new 25.3-kilometer Xi'an Metro Line 9 has 15 stations, and will take passengers to Qinlingxi Station, near the Emperor Qinshihuang's Mausoleum Site Museum, home of the Terracotta Warriors, within 39 minutes from downtown Xi'an. Authorities said there would be a shuttle bus to ferry tourists from the metro station to the museum.
"The city has yearned for years for the operation of such a subway," said Yang Dangxiao, chief engineer of Xi'an China Railway Rail Transit, the firm contracted to build the subway, adding that the opening of Metro Line 9 will help promote tourism in Xi'an, and attract a larger pool of tourists from home and abroad.
The subway line incorporates "time travel" into its design theme, displaying ancient Chinese rhymes, ink painting and Chinese characters, Yang said, adding "this is what makes the subway line emblematic and unique".
The metro line in the ancient capital, which was the seat of 13 Chinese dynasties, will link the southeastern and eastern part of the city, and function as a "tourism and culture" line, since it will carry passengers directly to famous scenic spots such as Huaqingchi, an imperial palace featuring hot springs, and the Emperor Qinshihuang's Mausoleum Site Museum in Lintong district, 30 kilometers east of downtown Xi'an, Yang said.
He Ke, director of the vehicle department at Xi'an China Railway Rail Transit, said the trolley cars on Line 9 have been designed to travel at a top speed of 80 kilometers per hour, with modern technologies making the vehicles energy saving and environmentally friendly.
Tourists applauded the opening of the subway line. Li Zhaonan, 29, who traveled from Beijing to Xi'an in September, said he had wanted to visit the Terracotta Warriors for a long time but didn't expect the site would be so far away.
"On that morning in September when we planned to visit the site, my mother and I woke up at around 6 am to take a bus from our hotel lobby," Li said. "It took about an hour for us to arrive and we had to get up early to catch the bus.
"I can imagine that when the new subway line starts, it will be speedy and convenient, and will significantly shorten the travel time between downtown Xi'an and the museum."
Xi'an currently has five subway lines in service and three new lines will open by the end of this year, including Metro Line 9, local transport authorities said.