Steelmaker transforms production base into tech innovation park
Share - WeChat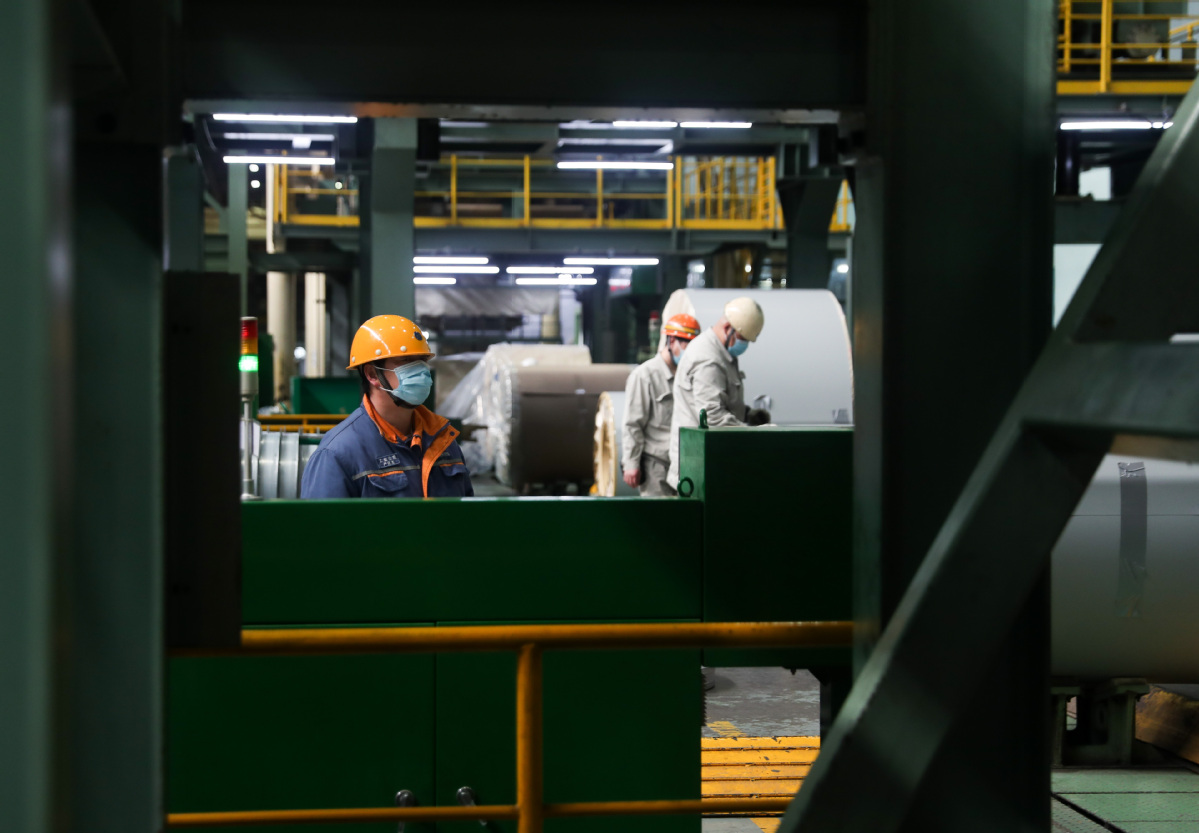 China Baowu Steel Group launched 10 major projects in late December in Baowu Wusong Park in Shanghai's Baoshan district, with total investment exceeding 13 billion yuan ($2.01 billion). The projects are part of the group's efforts to transform a steel production base into a modern technological innovation park, said its chairman.
"This area used to be a steel mill with a history that can be traced back to the 1930s. But now, we are going to build it into a technological innovation park. This very place where I am standing-a modern convention and exposition center-was converted from a blast furnace," said Chen Derong, chairman of China Baowu Steel Group, at a groundbreaking ceremony for the new projects.
The projects in its Wusong Park that were officially unveiled in June. They will be developed into 513,000 square meters of gross floor space, including an advanced materials research and development exhibition center, a cloud supercomputing center, a digital technology experience center and a technological innovation industrial project.
In the coming few years, the variety of units under China Baowu will include R&D, technology, clean energy, new materials and intelligent services, and the company will work to drive high-quality transition and development of Wusong innovation city, which is positioned as one of Shanghai's key technological innovation zones.
The innovation city is designed to promote and support technological innovation, financial services, industrialization of institutional achievements as well as serve as a platform for State-owned industry upgrades, said Chen Jie, Party secretary of Baoshan district.
The municipal government of Shanghai and China Baowu initiated a restructuring plan for the former Wusong industrial complex back in 2012, finalized its blueprint in early 2020 and launched construction in June. It will be developed into a role model for the transformation of former industrial bases.
More big-ticket investment will be made by China Baowu to drive the upgrade and transition of Wusong innovation city, said Chen Derong of China Baowu.
According to China Baowu, 830,000 sq m of projects will be completed by 2023, and the total space of both completed and under-construction projects will reach 5.6 million sq m by 2025.
The steel mill looks to generate more than 100 billion yuan in revenue from its industries situated in its Wusong Park in the future, reported ThePaper.cn.
The technologically innovative projects in Wusong Park are the latest efforts by China Baowu in its pursuit to become a truly global steel industry leader with technology, profitability and scale being the three pillars.
In December, China Baowu announced its annual output crossed the 100 million metric ton mark, making the steelmaker a global industry leader.
The steel giant is also on the right track in becoming a leader in terms of profitability, as it is projected to report a record high bottom line for 2020, Chen said.
In the meantime, China Baowu is working to scrap the stereotype that the steel sector is plagued by overcapacity and pollution. In the past three years, investment into R&D by China Baowu's Baoshan Iron and Steel Co Ltd alone reached 14.9 billion yuan, said Hithink RoyalFlush Information Network Co Ltd.