Steady shale gas bolsters clean energy
Share - WeChat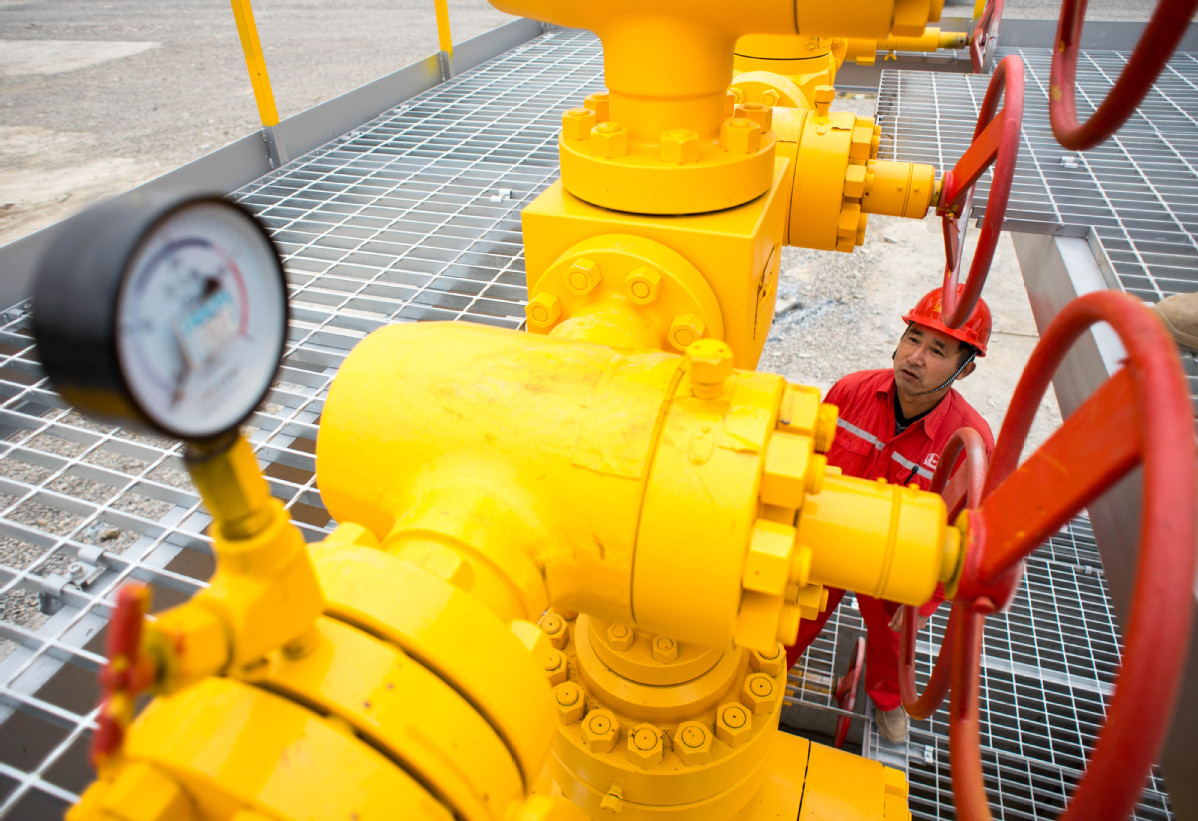 Steady output of shale gas by domestic oil and gas companies will bolster China's clean energy efforts and ensure adequate gas supplies for the current heating season, experts said.
China Petroleum and Chemical Corp, also known as Sinopec, said it has recorded the country's highest ever daily output of shale gas at 20.62 million cubic meters from its Fuling Shale Gas Field in Chongqing. As an important gas source for the Sichuan-East gas pipeline, the field is expected to produce 6.7 billion cubic meters of shale gas this year and meet the daily gas consumption requirements of over 40 million households.
Shale gas refers to natural gas that is tightly trapped within shale formations deep underground. It is widely dispersed across the world.
Sinopec, the world's largest refiner by volume, said certified new reserves at its Fuling shale gas field are about 192 billion cu m, while its proven geological reserves of shale gas have reached 940.8 billion cu m.
The company also started constructing China's first deep-seated shale gas field in Southwest China's Sichuan province in April, which, when completed, will have an annual production capacity of 3 billion cu m. Industry experts said Sinopec's shale gas field in Fuling, the first major commercial shale gas project in China, has set a new milestone in China's energy resource industry and contributed to shale gas development globally.
"China's shale gas production is still expanding despite the energy price crash," said Li Ziyue, an analyst with BloombergNEF.
"The increased output is driven by continuous investment of China's national oil companies to increase energy security. With newly-discovered shale gas resources jumping six fold to about 764 billion cubic meters, shale gas is expected to be the next growth engine to boost domestic gas output in China."
According to Sinopec, the Fuling shale gas field has achieved an almost full recovery of production through nonstop drilling rig operations and rapid resumption of fracking since the beginning of the year, despite the COVID-19 outbreak. It has also broken the records for the shortest gas field drilling cycle several times while increasing the drilling of high-quality reservoirs.
China produced 15.4 billion cubic meters of shale gas last year, 41.4 percent more than the previous year, mostly from the Sichuan basin and its surrounding areas. The country's proven shale gas reserves rose by 513.1 percent on a yearly basis in 2019, to exceed 764.4 billion cubic meters. Newly added technical reserves exceeded 183.8 billion cubic meters, according to a report from the Ministry of Natural Resources.
The figures are expected to continue rising, considering the advancement of technology and consistent investment, it said.
The annual production of China National Petroleum Corp's shale gas base in Southwest China has also exceeded 10 billion cubic meters, making it the largest shale gas field outside of North America, the company said.
The Changning block of the Changning-Weiyuan national shale gas demonstration zone, established in January 2016, is a major part of CNPC's shale gas base in the southern part of Sichuan province.