China's bank lending falls in October
Share - WeChat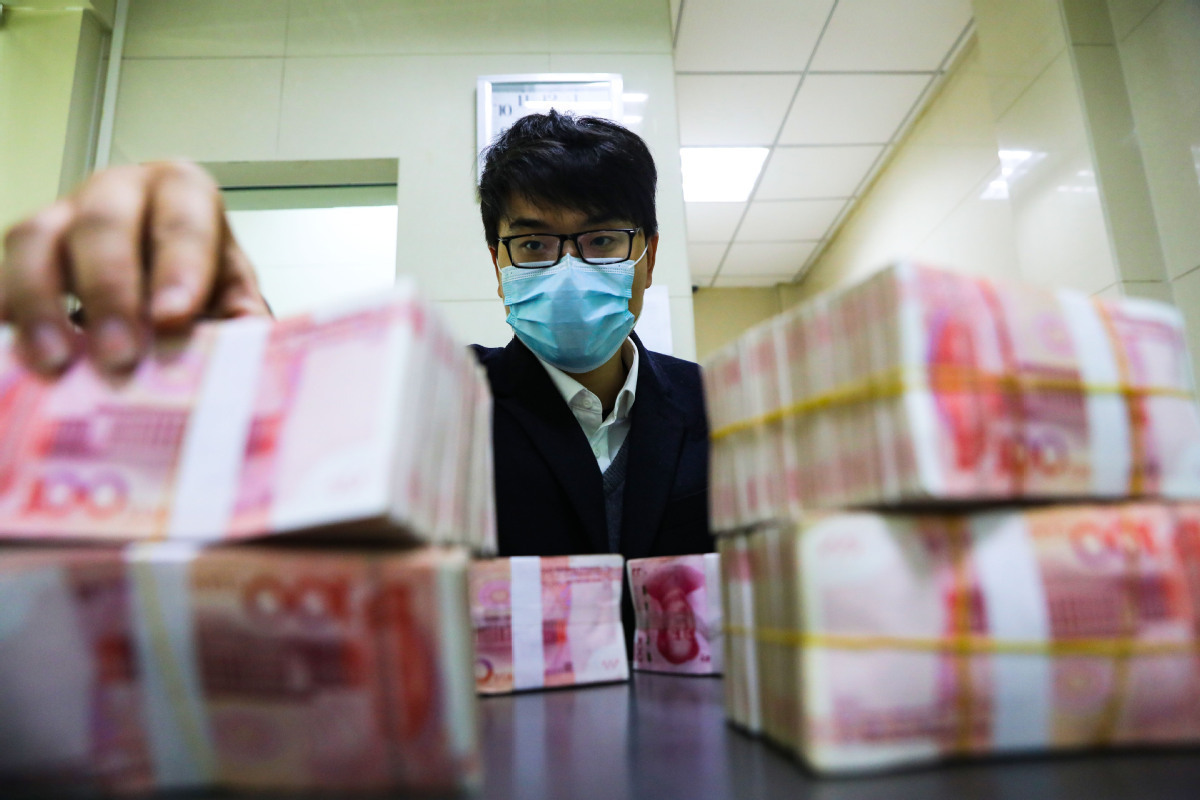 Credit offtake declines on seasonal factors, lower govt bond issuances
China's bank lending decreased in October after rising in the previous two months on the back of seasonal factors and lower government bond issuances, data from the People's Bank of China, the central bank, showed on Wednesday.
Lenders provided 689.8 billion yuan ($104 billion) in new loans in October compared with 1.9 trillion yuan in September.
Total social financing, a broad measure of credit and liquidity in the economy, fell to 1.42 trillion yuan from 3.48 trillion yuan in September. Total outstanding yuan loans rose by 13.3 percent to 168.9 trillion yuan last month, the data showed.
Broad money supply, or M2, saw a double-digit annual growth of 10.5 percent in October, slower than the 10.9 percent increase seen in September.
Lower government bond financing levels on a monthly basis contributed to the growth in TSF during October. Bond issuances declined last month as local governments used up their quota of special bonds, an instrument for infrastructure financing, said experts.
On Wednesday, the Ministry of Finance issued a notice on its website that urged local governments to make "scientific" bond issuance plans and choose suitable time windows to offer bonds. The bonds should be used to secure financing for projects that have been constructed so as to avoid unnecessary pileup of funds in the national treasury.
"Credit demand dropped in October, while the aggregate financing growth may continue to slow in the coming months. The government's fiscal spending might have lagged, as indicated by the higher funds in the national treasury," said Ming Ming, an analyst with CITIC Securities.
Ming expects the economic recovery to sustain as the credit expansion might have reached its peak.
According to PBOC data, shadow banking credit fell to 213.8 billion yuan last month, while net financing of corporate bonds rose from a month earlier.
China's economy has rebounded steadily from the novel coronavirus shocks, with a pickup in industrial output, services, and some consumption.
Sun Guofeng, head of the monetary policy department of PBOC, said at a news briefing last week that in the next stage, the prudent monetary policy will be more flexible and targeted and the same needs to be adjusted depending on the changing environment and market demand.
"Some policies launched for the special period will be changed at some time, while more long-term support will be offered in some fields," said Sun.
Liu Guoqiang, vice-governor of the PBOC, said earlier that China's current economic recovery has been maintaining steady momentum. The central bank's policy rate and loan prime rate, the benchmark lending rate, have remained stable. "The lending rates for corporates continue to drop, which is now at a relatively low level in history," he said.