Progress in phase-one trade deal talks signals hope
Share - WeChat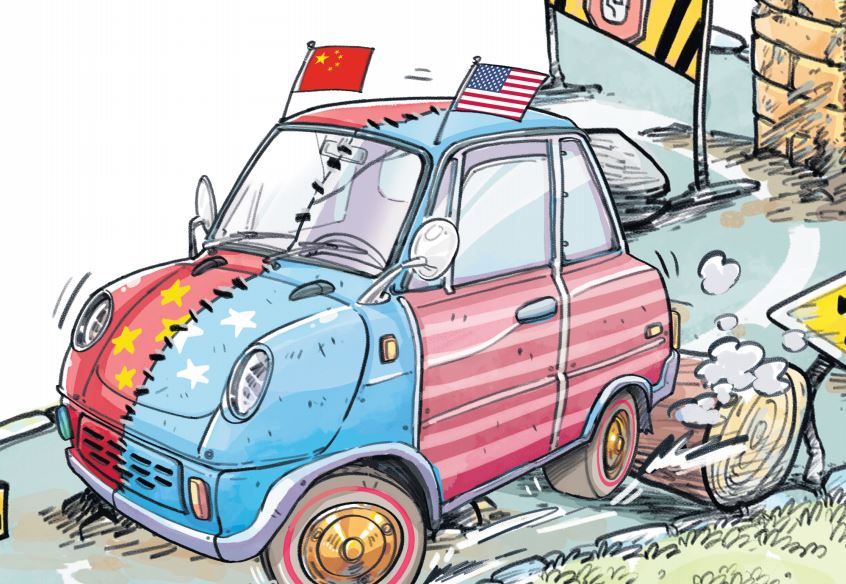 The news that China and the United States have resumed talks to implement the phase-one trade deal is a ray of sunshine to anyone hoping for a prosperous and peaceful future world.
During an Aug 25 phone call, Vice-Premier Liu He and US Trade Representative Robert Lighthizer and Treasury Secretary Steven Mnuchin agreed to continue to push forward the trade deal agreed in January, which reduced some US tariffs while China agreed to buy more agricultural and other products from the US. China also will continue market-based reform and opening-up, which it was strongly pursuing anyway as part of its long-standing policy of pushing efficiency-enhancing domestic reforms.
Economic research consistently shows that trade between the US and China has been beneficial for both countries in both the short and long terms.
A September 2019 study by Moody's Analytics concluded that the trade war up to that point had already cost the US economy 300,000 jobs and 0.3 percent of GDP. Another study by Bloomberg Economics estimated that the trade war would cost the US economy $316 billion by the end of 2020.The Federal Reserve Bank of New York found that the value of US stocks fell at least $1.7 trillion as a consequence of US tariffs imposed on China. And the American Farm Bureau found that US farmers lost $24 billion-per-year market in China, as cited in Brookings Institution research.
A 2019 paper by Sebastian Stumpner and Liang Bai published in the prestigious professional journal American Economic Review: Insights found that trade with China lowered US inflation, reducing the prices of American consumer goods by 0.19 percentage point per year. The trade also increased the variety of products available to American consumers.
In a statement released after the phone call, the Office of the United States Trade Representative said the parties addressed steps that China has taken to effect structural changes called for by the agreement that will ensure greater protection for intellectual property rights and issues regarding financial services, agriculture and technology transfer.
It's important to understand that these structural reforms are part of China's long-term plan of reform and opening-up of its economy.
A widespread push for market-based reforms has been key to China's fast economic growth over the last 40-plus years.
At the two sessions this year, Premier Li Keqiang stressed that the government is taking strong steps to aid private businesses, especially small and medium-sized enterprises that have been hard hit by the novel coronavirus. Li also called for greater steps forward in reform and opening-up to overcome obstacles and promote fair competition. He also called for rolling out more concrete steps to help businesses and create a market-oriented, law-based and internationalized business environment.
A recent guideline released by the CPC Central Committee and the State Council, China's Cabinet, stressed that the country will focus on improving the system of property rights and pursuing market-oriented allocation of production factors.
In the last several years, China has especially focused on opening up its financial sector and on ensuring that foreign firms are treated equally within the Chinese market.
Only days ago, the China Finance 40 Forum think tank outlined policy suggestions that further high-level opening-up of China's financial sector to international players will continue to be a key driver of the 14th Five-Year Plan (2021-2025). This plan would be a continuation of very significant financial sector opening-up already implemented in 2018 and 2019.
Also last week, the Ministry of Commerce announced that, on Oct 1, China will implement a new rule for handling any complaints of foreign-invested enterprises, as part of its efforts to build a market-oriented and law-based international business environment. This regulation is a further step to implement the Foreign Investment Law that significantly increased the openness of China's markets by allowing 100 percent foreign ownership in most areas and treating foreign firms as legally the same as domestic firms.
In 2019, China created a negative list that allows foreign firms to invest in most industries, only excluding sensitive industries that are explicitly excluded. Access is automatic and on an equal basis with domestic companies for industries not on the negative list.
In 2020, a large number of reforms that will allow more market access for foreign companies have either already been implemented or will be soon.
For example, foreign ownership restrictions on building commercial vehicles will be removed this year, followed by liberalization of the rules on passenger cars by 2022, to be followed by removal of all restrictions in the automobile market in the next few years. And starting May 1 of this year, foreign companies have been allowed to apply for licenses to conduct oil and gas exploration.
This year will also be remembered for a huge opening-up of Chinese financial markets. On Jan 1, overseas firms were allowed to set up their own futures trading entities and foreign insurers were allowed to set up 100 percent-owned units offering life insurance. Starting in April, foreigners could apply to set up 100 percent-owned mutual funds. Beginning Dec 1, global investment banks will be able to carry out banking business in China without needing a Chinese joint-venture partner.
China is continuing to take big steps to open up its economy, benefiting both China and its trading partners. The phase-one agreement is part of the more general reform and opening-up policy, which has transformed China and provided a very good market for foreign companies.
Good relations between the US and China are essential to building a world most of us want to live in. The two countries have few fundamental interests in conflict, and much to gain by cooperation. Deepening economic, cultural, and person-to-person relations between the two countries will lead to a mutually beneficial world for all. But, continuing animosity and talk of a new cold war opens up negative possibilities I hate to even think about. The restart of the trade talks gives hope that both countries are choosing the beneficial path.