Reforms to fuel speedy growth of State firms
Share - WeChat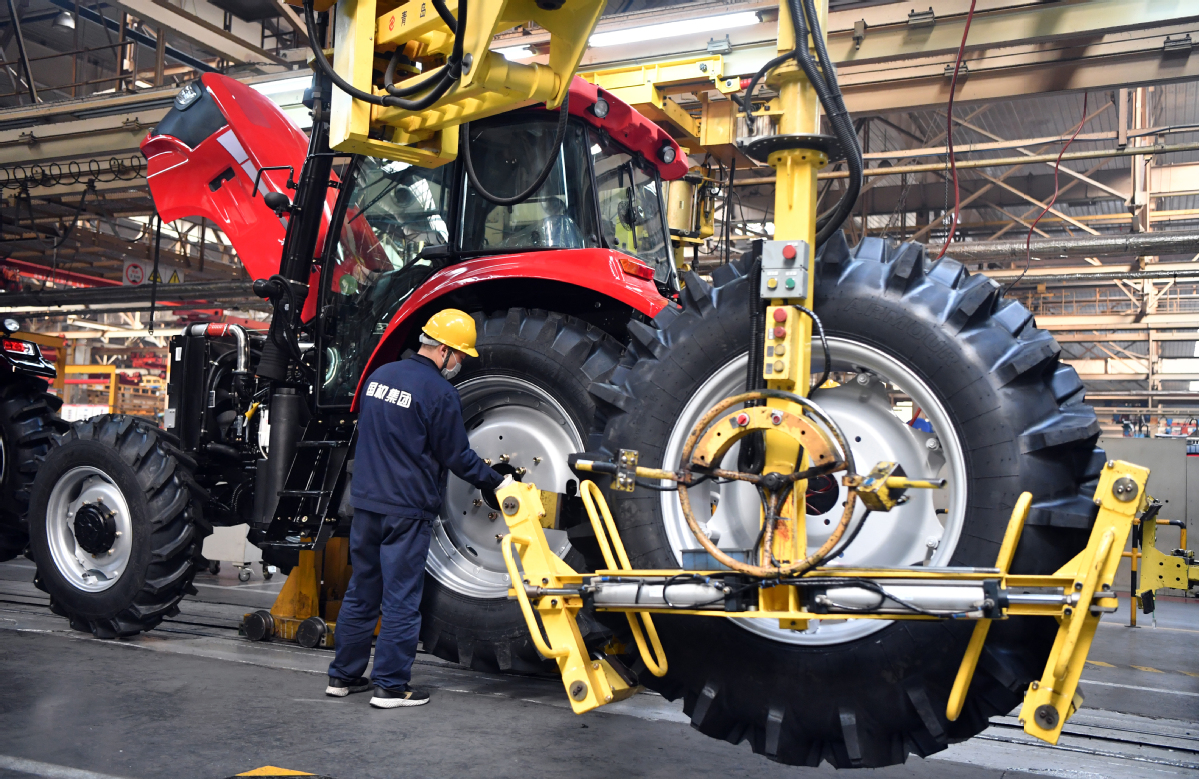 SASAC planning more steps to ensure supply of basic goods and commodities
China will push for "targeted integration" in the areas of grain storage, edible oil processing and maritime engineering within its centrally administered State-owned enterprises in the second half to improve their efficiency and the nation's grain security, according to the country's top State assets regulator.
One of the government's key tasks in the second half is to guide and facilitate central SOEs' steady business growth, take actions to improve product and service quality as well as develop more growth points in the domestic market, said Peng Huagang, secretary-general of the State-owned Assets Supervision and Administration Commission of the State Council.
The official said SASAC will optimize central SOEs' resources to develop both global and domestic markets, ensure the supply of basic goods and commodities, maintain the safety of industry and supply chains and strive to achieve quality and efficient economic growth in the second half.
SASAC will also adequately increase its encouragement and support for the stable growth of central enterprises, innovation activities and major projects in terms of performance appraisal and salary distribution, he added.
Local governments have already announced their plans to reorganize and introduce mixed-ownership reform into their SOEs to better optimize the structure of State assets and maximize social capital to diversify their marketing and financing channels.
In addition to announcing earlier this month the reorganization plans of mining enterprises Shandong Energy Group Co Ltd and Yankuang Group Co Ltd, the Shandong provincial government also unveiled last week restructuring plans for Shandong Hi-speed Group Co Ltd and Qilu Transportation Development Group Co Ltd, two locally-administered SOEs specialized in investment, construction, operation and management of transportation infrastructure.
The Heilongjiang provincial government will conduct mixed-ownership reform in 170 projects, especially in vital sectors and key enterprises in its SOE system over the next three years, it said in a recently released SOE reform plan.
Dong Yu, deputy dean of the China Institute for Development Planning at Tsinghua University in Beijing, said SOEs must have a value proposition for the local economy and must communicate it clearly to local business communities.
With the new round of reform, they cannot be seen as an extension of the government exploiting local resources for the benefit of the national economy. This misperception will be confronted and addressed proactively during the 14th Five-Year Plan (2021-25), Dong said.
The SOEs having a strong need to enter overseas markets due to new trade initiatives and strong domestic competition from private sector, and those whose sales are being reshaped by digital technology should step up their efforts in market-oriented reforms, said Jiang Yu, assistant researcher at the Development Research Center of the State Council.
As many central SOEs have been urged by the central government to implement more opening-up policies to expand foreign investors' shareholding in certain sectors, he said State-owned groups in the retail, manufacturing, healthcare, transportation and logistics sectors should also move with a greater sense of urgency.
Central SOEs have not only played a vital role in assisting in China's battle against COVID-19, but also actively participated in other activities such as stabilizing job and export markets, supporting new infrastructure projects and taking part in poverty alleviation and flood control in the first half, said Li Jin, chief researcher at the China Enterprise Research Institute in Beijing.
Fixed-asset investment by China's central SOEs surged 7.2 percent on a yearly basis to about 1 trillion yuan ($143.03 billion) in the first half, despite the adverse impact of COVID-19. The growth was 5.9 percentage points higher than in the first five months of the year, and 11.7 percentage points more than that of the first quarter, SASAC said last week.
Central SOEs have increased their monthly fixed-asset investment since fully resuming operations in March. From March to June, the growth rates of their monthly fixed-asset investment came in at 4.1 percent, 11.8 percent, 13 percent and 21.2 percent, respectively.