Central SOEs providing more jobs amid COVID-19 headwinds
Share - WeChat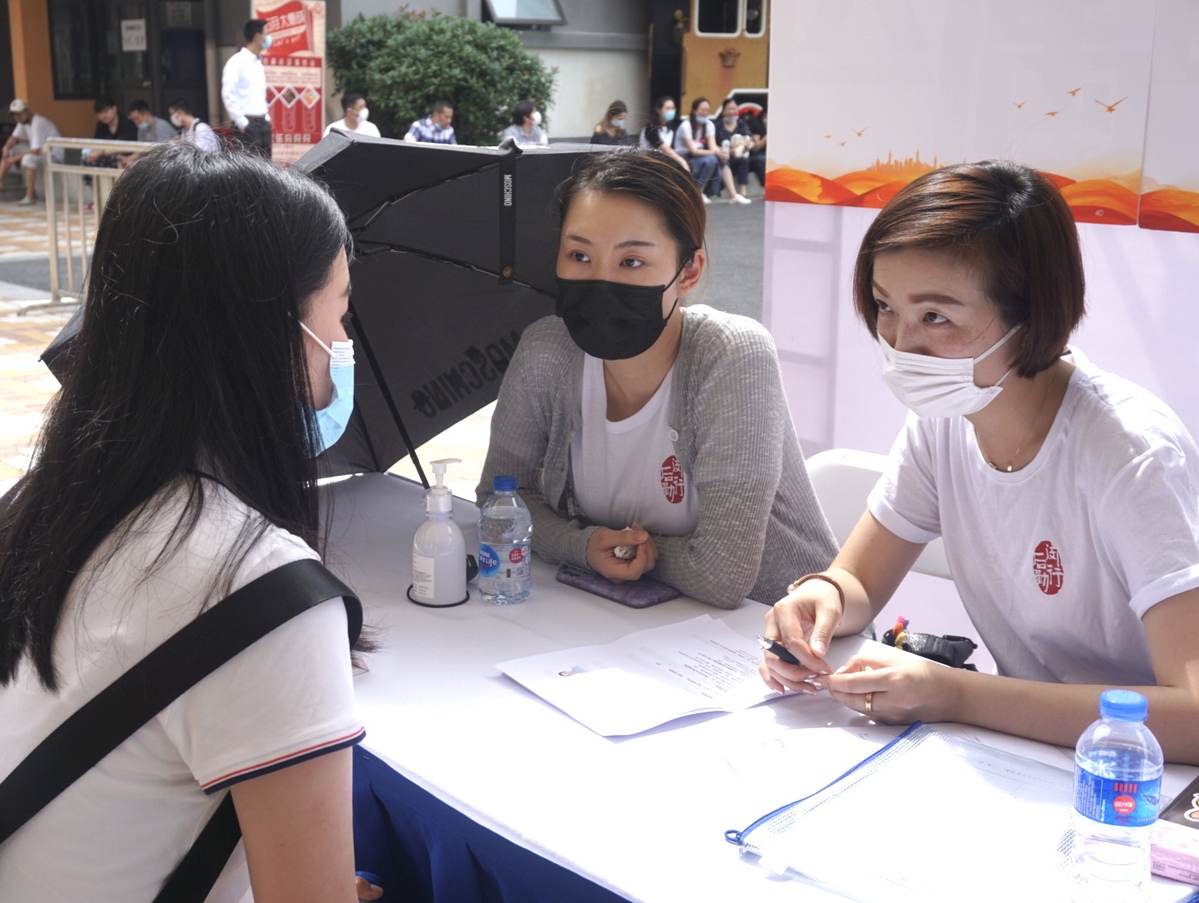 SASAC urges firms to create positions for fresh graduates and migrant workers
China's centrally administrated State-owned enterprises have provided over 1 million new jobs for college graduates and migrant workers in the first half of this year, thanks to the early recovery of the national economy and supportive government policies, according to the country's top State assets regulator.
With China endeavoring to stabilize its job market via initiatives, such as new infrastructure, urbanization and transportation projects, the State-owned Assets Supervision and Administration Commission of the State Council has mobilized central SOEs to boost their recruitment for college graduates and migrant workers in a series of actions taken since late March.
To further mitigate the impact caused by COVID-19, the majority of central SOEs and their units have sought new employees via online recruitment events and other activities without any charge to help stabilize the country's job market this year.
Even though spring is usually an active hiring season in China, the unexpected outbreak disrupted the pace of recruitment, especially for new graduates, said Wu Manqing, general manager of Beijing-based China Electronics Technology Group Corp, or CETC.
At Peking University alone, CETC and its 40 subsidiaries provided more than 700 jobs in 80 professional categories to graduates in May, said Wu, who has hosted and attended many online job fairs by partnering with universities, county-level governments and trade associations since late March.
Under their plans, China National Petroleum Corp, China Three Gorges Co and China Coal Technology and Engineering Group Corp plan to recruit 8,000, 1,748 and 1,700 graduates from colleges this year, respectively, said SASAC.
The number of college graduates this year is as high as 8.74 million, a rise of 400,000 from last year, said the Ministry of Education.
Graduates are facing greater challenges in finding jobs due to the pandemic. To ease the burden, the State Council has asked to expand the scale of recruitment by SOEs, public institutions and the military, along with graduate school enrollment and professional internship posts.
The coronavirus also stranded a large number of migrant workers in the country over the past several months, resulting in labor shortages in some regions, said Liao Tao, general manager of a goods delivery unit of Beijing-based China Post Group Corp.
To help migrant workers get back to work, many central SOEs-including China Huadian Corp Ltd, China Communications Construction Co Ltd, China State Construction Engineering Corp and China Petrochemical Corp-have conducted "point-to-point" nonstop transportation services and established a series of urban infrastructure and public services facilities to help migrant workers find work in their vicinity.
SASAC also formulated a special recruitment plan targeting migrant workers in less developed counties. It requires central SOEs, especially labor-intensive ones, as well as China International Intellectech Co and SDIC Human Resources Service Co-two State-owned human resources service providers-to offer more positions for job seekers in counties under the poverty line. Approaches such as listing vacancies online and direct recruiting in counties with modest conditions will be adopted.
To maintain solid economic fundamentals, the government has emphasized the importance of focusing on the "six priorities" of safeguarding employment, people's livelihoods, the development of market entities, food and energy security, the stable operation of industrial and supply chains and the smooth functioning of society.
SASAC has also urged central SOEs to ensure production efficiency and continue to expand their sales channels in economies involved in the Belt and Road Initiative as these moves will drive upstream and downstream businesses within the industrial and service chains to maintain production and operations in a stable and orderly manner.
Although the COVID-19 pandemic, geopolitical uncertainties and trade tensions will undoubtedly bring many new complexities and concerns, they will not be barriers that slow down SOE reforms, operations and efforts to create new jobs. Rather they will be catalysts, said Liang Jun, president of the Guangdong Association of State-owned Capital in Guangzhou.
As the upcoming three-year action plan for State-owned enterprises' reform (2020-22) will effectively support China's efforts to steer the economy toward innovation and technology-driven high-quality growth, China's SOEs will focus more on their main businesses, establish sound market-oriented operating mechanisms and further cut their monopolistic positions to better adapt to the changing market environment, Liang said.
China currently has 97 central SOEs, down from 117 six years ago, as a result of the central government's policy of restructuring SOEs to improve their earning capabilities and efficiency.