Digitalization key driver of SOE reform, economic growth
Share - WeChat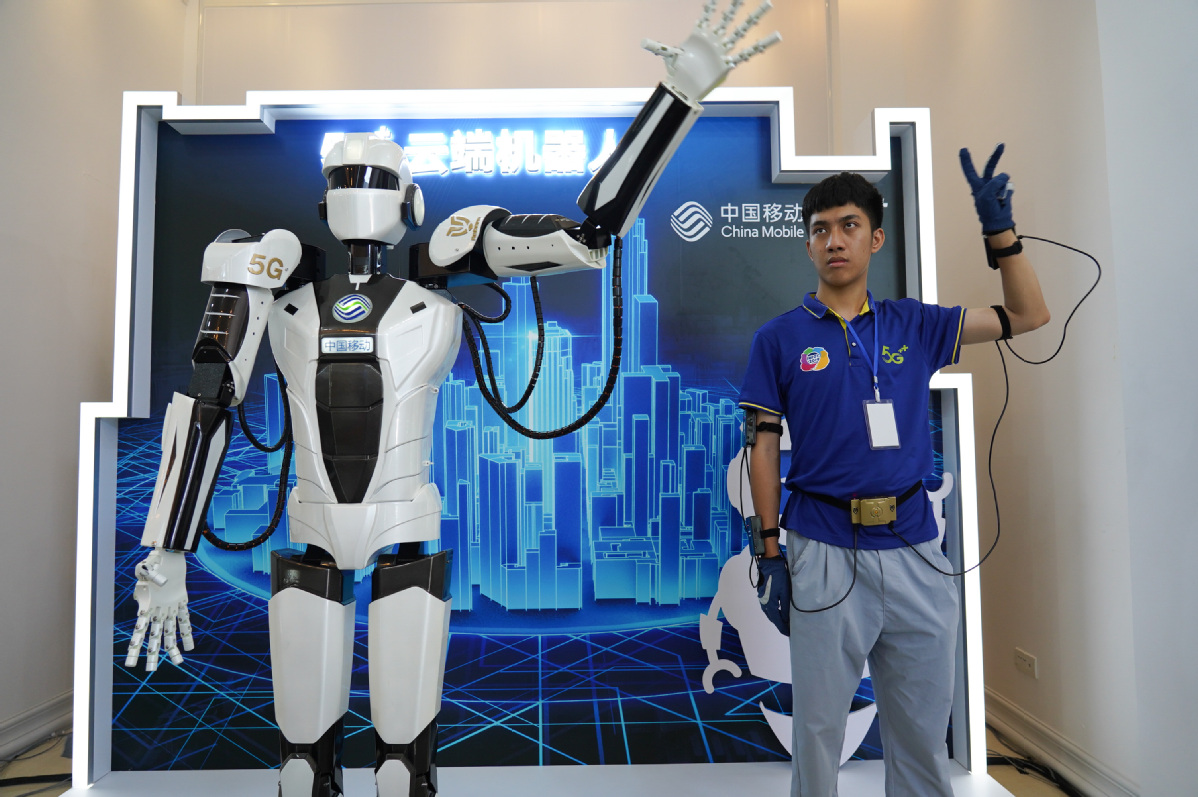 The unexpected outbreak of COVID-19 brought unprecedented difficulties and challenges for people in China. China's State-owned enterprises or SOEs have been playing an extraordinary role in fighting the pandemic. Some have mustered their resources and expertise to build makeshift hospitals or manufacture protective masks.
Others in the food, public utility, telecommunications, transportation and other sectors have worked hard to ensure people's livelihoods and stabilize the national economy. Their efforts have paid off, and over 90 percent of SOEs have now resumed normal operations.
Digitization will be a key driver for moving the economy back onto its growth track. In fact, the digital economy now accounts for more than a third of China's gross domestic product. China's Academy of Information and Communications Technology projects that the nation's digital economy may reach 60 trillion yuan ($8.4 trillion) by 2025.
After the COVID-19 pandemic, businesses will embrace digital technologies more broadly and profoundly than ever before. However, SOE leaders need to be aware of three major bottlenecks that may slow the digital transformation.
First, investments in new, digitally based infrastructure are needed to pave the way for Digital China's next era. For example, 5G will be a critical component. More than offering just faster connection speeds, 5G technologies will accelerate the development of cutting-edge digital technologies for large-scale commercial use and also usher in a new wave of digital industries and consumption.
Second, a revitalized industrial sector will require urgent actions to reinforce and reinvent the agility and resilience of supply chains. As China moves toward high-quality manufacturing, digital transformation will be increasingly necessary to not only accelerate the integration of supply chains, but also reshape industries by leveraging data-driven technologies and systems integration. Industrial structures and supply chains are becoming much more diverse and more reliant on ecosystems.
Third, SOEs still have gaps to fill in their digital transformation. SOEs have undoubtedly made significant, positive contributions in the fight against COVID-19. But their efforts have also revealed problems in their digital capabilities. Gaps exist in many areas-from high-level technical architecture design and development, data and systems integration, IT operations and maintenance, to IT security and control.
As China's 14th Five-Year Plan (2021-25) goes into effect next year, the gaps between digital's potential and digital's reality must be closed, if technologies and data are to be essential drivers of China's future growth and SOE reform.
During the 14th FYP period, China will fully enter the era of the digital economy. As the backbone of China's economic and social development, SOEs are positioned to be the driving force of innovation and growth. Digital transformation will be the catalyst for the SOE reform that is needed. But to achieve the enterprise-level digital transformation that is required, SOEs need to balance three sets of factors.
First, strategy and implementation. Digital transformation must be an ongoing, top management commitment, rather than a one-off initiative. Digital transformation needs to be the highest corporate priority, implemented across the entirety of business operations. More than simply transforming their core technologies, SOEs need to transform the way they make decisions, the way they work, the way they collaborate with business partners, and the way they serve clients.
Digital transformation is a revolution that calls for a top-down approach. Once the transformation's leadership team is determined, other levels of management will also be expected to embrace the changes. In practice, digital transformation is not simply about establishing big data platforms, purchasing hardware or installing IT systems. Enterprises need to develop a comprehensive plan to realize the value of digital transformation across the organization-from strategy to operations, from front-end to back-end, from client-side to service-side. In this way, the entire organization and its culture will be reimagined.
Second, innovation and capability. In this ever-changing digital age, innovation contained within companies is no longer enough. During the 14th FYP, SOEs will need to open their doors to external innovation in order to become more agile, effective, cost-competitive and sustainable.
For SOEs, learning from outside partners will expand the boundaries of innovation and bring consumers, suppliers, business partners, industry experts, and research institutions together to create a unique innovation DNA. SOEs need to join a global innovation network with an open mindset and participate in cross-industry, cross-domain and cross-regional collaborations to maximize the outcomes of their digital transformations.
A successful innovation system requires more than just technologies. It depends on the passion and capabilities of the people who will bring new innovations to life. Therefore, SOEs need to empower their employees with the digital technologies that will enable them to innovate. But they also need to invest in new talent strategies to create a "liquid workforce" that will make their organizations more agile and competitive. A liquid team can be built in multiple ways such as via human-machine collaboration, project-based working and internal talent pools.
Third, delivery and operations. Digital transformation is a dynamic, never-ending process through which enterprises apply digital technologies to continually develop digital products and services. As digital technologies penetrate every corner of an enterprise, agile and constant innovation will become the driving force for competitiveness and also enable a move to intelligent operations.
Enterprises with intelligent operations are capable of making the right decisions in real time. They integrate talent, data and intelligent technologies comprehensively. They transform and optimize processes and speed up their responsiveness. And they continuously improve user experiences. In short, organizations that use digital transformation to create intelligent operations achieve breakthrough business outcomes. Whether they are used to power smart factories or enable intelligent management structures, digital technologies can help SOEs reduce costs, enhance efficiencies, control risks, explore new markets, increase revenues, and create new industrial ecosystems.
Only by building their innovation DNA and intelligent operations now can SOEs achieve the sustainable digital transformation that will catalyze reform and drive growth in the coming years.
The writer is chairman of Accenture Greater China, a strategy and management consulting firm headquartered in Shanghai.