Reforms to help STAR Market scale listing peak
Share - WeChat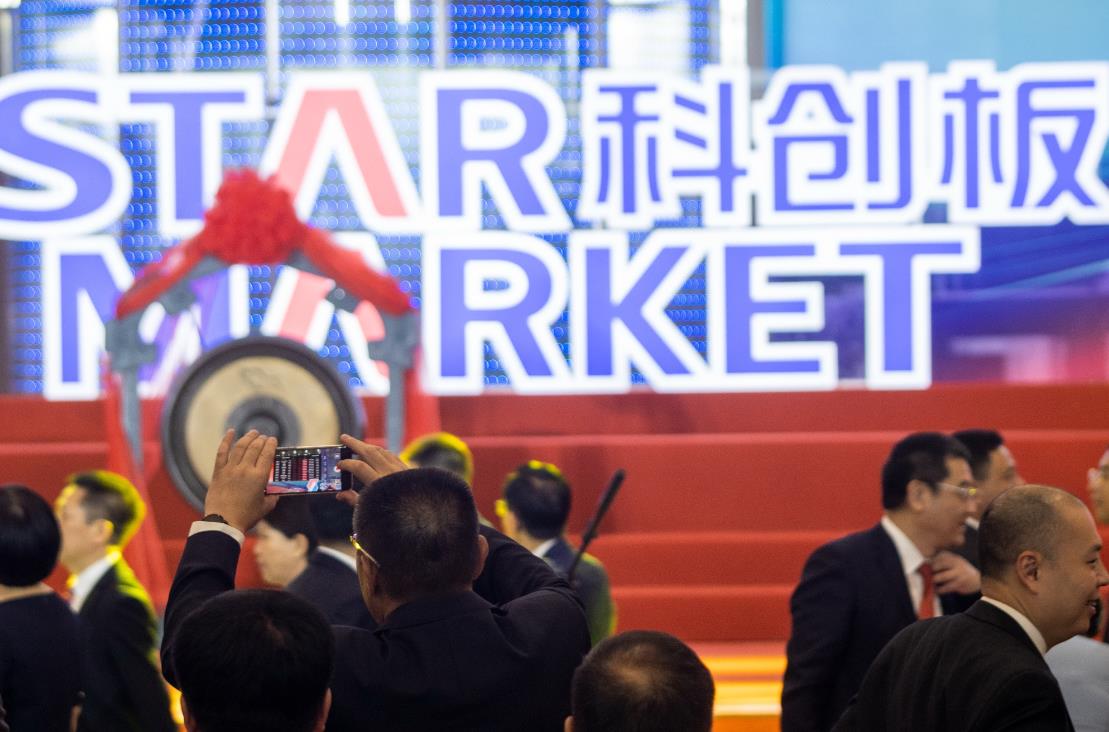 China's Nasdaq-style STAR Market in Shanghai needs to enact more reforms to become the top listing destination for tech firms and be a key participant in the country's capital market reforms, participants at the two sessions said on Wednesday.
Xie Dong, a member of the 13th Chinese People's Political Consultative Conference National Committee and head of the Shanghai Municipal Financial Regulatory Bureau, said the STAR Market should play a bigger role in facilitating the development of "new infrastructure" and online economy as China has entered the next stage of COVID-19 epidemic control and prevention.
"The epidemic has boosted the development of companies providing contactless services, fintech, artificial intelligence and big data. The STAR Market should be able to provide direct financing to these companies. New infrastructure technology providers for 5G and extra-high-voltage are others to be closely watched," she said.
A T+0 settlement mechanism and market-making system can be introduced at the STAR Market to enhance market liquidity and pricing efficiency, said Xie.
Zhu Jiandi, a deputy to the 13th National People's Congress and chairman of BDO China Shu Lun Pan Certified Public Accountants LLP, said supervision mechanism of the STAR Market should be further improved so that companies are aware of the high penalties for unlawful acts.
In this sense, the delisting process also needs to be improved, as it will result in more delisting cases, he said. In the meantime, a credit track record should be kept for intermediary institutions such as sponsors, accounting firms and law firms to create a better overall business environment, said Zhu.
The STAR Market, together with the registration-based IPO system first experimented at the board, was initiated in 2018 to streamline the country's capital market infrastructure.
It took only eight months to launch the new board at the Shanghai Stock Exchange. To date, there are 105 companies listed on the board, and the annual reports of the sci-tech innovation board last year showed that companies gained a total revenue of 147.12 billion yuan ($20.6 billion), up 14 percent on a yearly basis, according to the Shanghai Stock Exchange.
In less than a year, a number of industry leaders have made successful debuts on the STAR Market, including Beijing Kingsoft Office Software Inc, AI technology leader Montage Technology Co Ltd and railroad manufacturing behemoth China Railway Signal and Communication Corp. To further attract global industry leaders and more capital inflows, innovations should be made so that big names such as Huawei and COMAC can list part of their prime operations on the STAR Market, said Fan Yun, a deputy to the 13th National People's Congress and vice-chairman of the Shanghai Federation of Industry and Commerce.
"A special team can be set up under the State Council to coordinate different departments and push forward the initial public offerings of large technology companies at the STAR Market. Special exemptions should be made for the listing of large red-chip enterprises," she said.
In addition, both domestic and overseas eligible technology companies should be welcomed on the STAR Market. Companies with new business models should also be welcomed, said Fan.