Chinese companies have big hopes for large-screen displays
Share - WeChat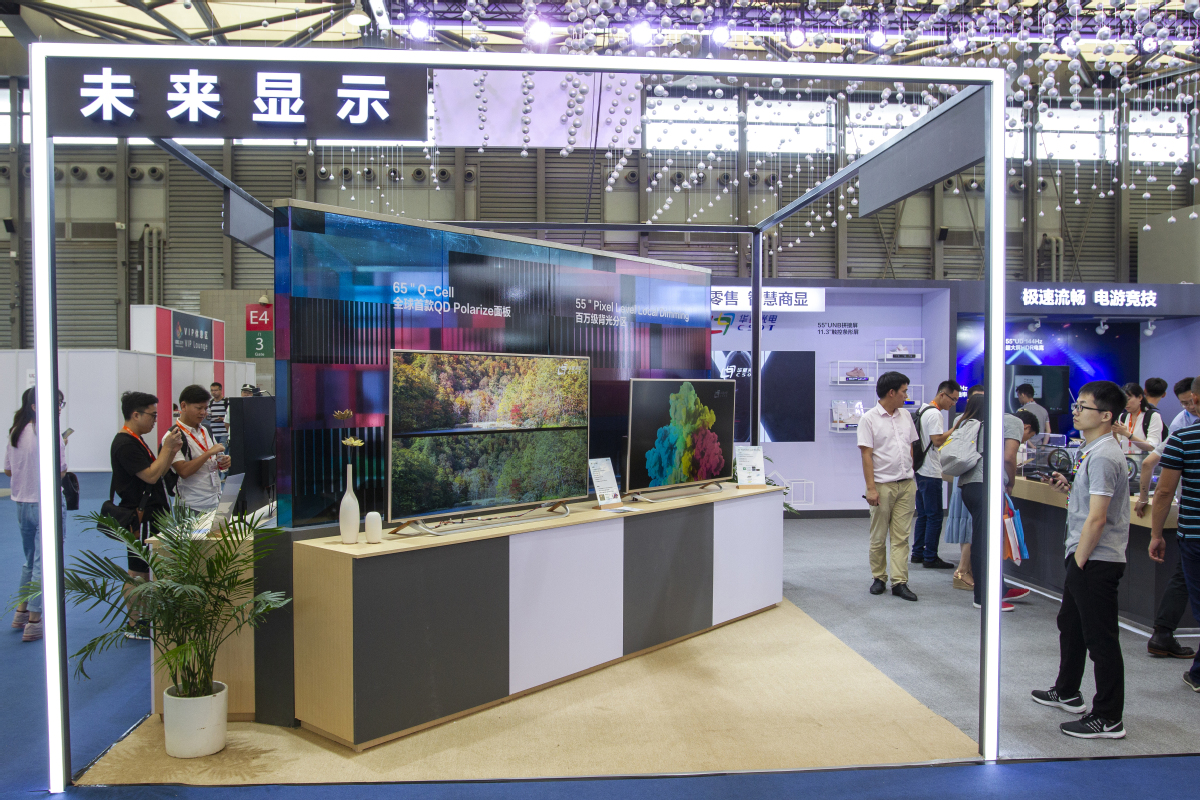 Chinese companies have gained a competitive edge in the large-screen display industry and the exit of South Korean counterparts such as Samsung Electronics and LG Display from the liquid crystal display market will bring opportunities for China's panel makers despite the challenges posed by the COVID-19 pandemic.
Market research firm Sigmaintell said BOE Technology Group Co Ltd-a leading Chinese supplier of display products and solutions-became the world's largest shipper of LCD TV panels for the first time in 2019.
The Beijing-based company shipped 53.3 million units of LCD panels in 2019, with production capacity increasing by more than 20 percent on a yearly basis.
The consultancy said the LCD TV panel production area of Chinese manufacturers will account for more than 50 percent of the global total this year, surpassing South Korean competitors who are accelerating the shutdown of large-sized LCD panel production capacity due to competition from Chinese manufacturers.
It estimated the production capacity of large-sized LCD panels will continue to increase in China over the next three years. In addition, global LCD TV panel shipments stood at 283 million pieces last year, a slight decrease of 0.2 percent year-on-year. Meanwhile, the shipment area was 160 million square meters, an increase of 6.3 percent year-on-year.
"Chinese companies have gained an upper hand in large-screen LCD displays. Samsung and LG's decision to exit from the LCD sector means Chinese panel makers will take a dominant position in this field," said Li Dongsheng, founder and chairman of Chinese tech giant TCL Technology Group Corp.
Li said South Korean firms will focus on organic LED screens and quantum dot LED displays, while Chinese TV panel makers are catching up at a rapid pace.
The pandemic will accelerate reshuffling in the display industry as supply has surpassed demand in the past few years and competition has become very fierce, he added.
"The outbreak has caused a periodic drop in demand in the global display market and sped up the restructuring of the entire industry. Chinese enterprises are in a favorable position, and I believe that they will further enhance their competitiveness," Li said.
Data consultancy Digitimes Research said it comes as little surprise that Samsung has opted to withdraw from the LCD panel sector as its LCD business was losing money in every quarter of 2019 due to challenges from Chinese competitors.
"China's semiconductor display industry has made large advances in the past decade, changing the display industry's global competitive landscape. China has transformed into the world's largest consumer market and manufacturing base for display terminals, with huge market potential," said BOE Vice-President Zhang Yu.
BOE said its Gen 10.5 TFTLCD production line achieved mass production in Hefei, Anhui province, in March 2018. The plant mainly produces high-definition LCD screens of 65 inches and above. With a total investment of 46 billion yuan ($6.5 billion), the company's second Gen 10.5 TFT-LCD production line launched operations in Wuhan, Hubei province, in December.
The Gen 11 TFT-LCD and active-matrix OLED production line of Shenzhen China Star Optoelectronics Technology, a subsidiary of TCL, officially entered operations in November 2018, producing 43-inch, 65-inch and 75-inch LCD screens.
Chen Lijuan, an analyst at Sigmaintell, said panel manufacturers should not just invest in production lines, but also pay more attention to the establishment of the whole supply chain, including raw materials, equipment and technology.
Bian Zheng, deputy director of research at AVC Revo, a unit of market consultancy firm AVC, said China will have a 51 percent market share in global TV shipments in 2020, while South Korea will have 25 percent, adding that large-screen TV panels will bolster healthy development of the industry.
Bian said the OLED and QLED will be the next-generation flat-panel display technologies to be in the spotlight. LG Display is currently the world's only supplier of large-screen OLED TV panels.
OLED is a relatively new technology and part of recent display innovation. It has a fast response rate, wide viewing angles, super high-contrast images and richer colors. It is much thinner and can be made flexible, compared with traditional LCD display panels.
Li Yaqin, general manager of Sigmaintell, said 65-inch TVs will become the mainstream in people's living rooms in the future, but OLED TVs will not be able to immediately spur customer purchases at this time though the future trend is for higher-tech options.