Cultural sector finds new ways to tell stories
Share - WeChat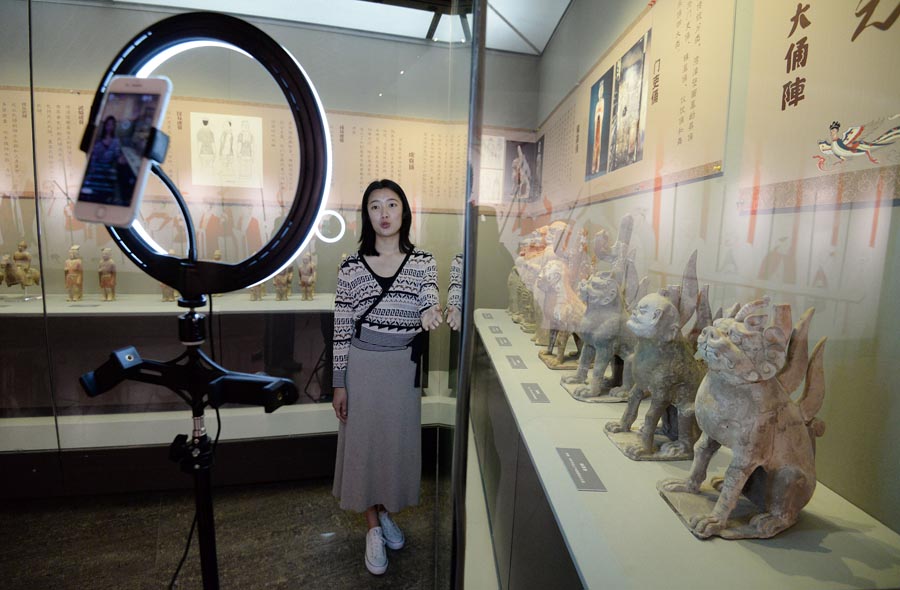 Online museums
Last year, the 5,535 museums registered on the Chinese mainland saw a combined 1.23 billion visits, setting a record, according to statistics released by the National Cultural Heritage Administration on May 18, International Museum Day.
The number of visits will inevitably fall this year.
Before Spring Festival, museums nationwide closed their doors almost overnight to contain the virus. Though many have reopened since March, caps on the number of daily visitors and restrictions on the areas allowed to reopen are being strictly observed by institutions nationwide.
For example, the Palace Museum in Beijing, aka the Forbidden City, received a record-breaking 19 million visits last year-more than any other museum in the world.
It began reopening to tourists on May 1 after a 98-day hiatus, but only 8,000 visitors are allowed to enter the compound every day-from 80,000 before the outbreak.
In addition, online platforms have changed how people digest museum exhibitions.
"Thanks to the fast development of technology, exhibitions 'in the cloud' boomed during the physical closure of venues," said Liu Yuzhu, director of the National Cultural Heritage Administration and a member of the 13th National Committee of the CPPCC.
According to Liu, more than 2,000 online exhibitions were organized by museums nationwide during the Spring Festival season.
Using virtual reality, livestreamed guides, lectures and other online methods, they attracted over 5 billion views-more than four times the number of visits to China's museums last year.
"The people's warm welcome shows that physical closure never means losing the amazement prompted by cultural heritage as museums have marched toward 'smart formats' in recent years," Liu said.
He Yun'ao, a professor of history and archaeology at Nanjing University in Jiangsu province, believes that while the pandemic brought great inconvenience to museums, it also uncovered people's enthusiasm for cultural heritage.
For example, in March, He, a member of the 13th National Committee of the CPPCC, delivered a lecture about Nanjing's history via a museum's social media account. It was viewed by 460,000 people.
"I'm used to lecturing to up to 200 students in class. How could it be that so many people were interested in a topic which even I thought was a little bit too academic?" He said.
"Before, many museum operators, who are also scholars, were reluctant to adopt online formats. But now they have to look for ways to embrace change and get in touch with the people."
The attraction of cultural heritage has also gone far beyond the professionals' expectations in some areas previously considered less attractive to nonprofessionals.
During the May Day holiday, daily livestreams were organized to show the final round of appraisals to choose the country's 10 best archaeological discoveries last year.
Since the first annual list, dubbed "The Oscars of Chinese Archaeology", was issued in 1990, the appraisal had always been done behind closed doors.
However, as the experts judged the 20 finalists through online Q&A sessions packed with archaeological terminology, the live broadcasts attracted over 28 million views.
"Chinese people's scientific literacy and knowledge have greatly improved," He said.
"The surprising popularity also reminded museum operators that the visitors they'll receive are no longer tourists rushing from one stop to the next. New ways have to be continuously created through high-tech channels to make cultural relics understood on a deeper level."
Many museums have invited He to deliver online speeches. For many venues, initial trials of livestreams or social media became regular events within a few months.
"Once triggered, the 'going online' trend will not stop when the coronavirus situation is over," He said.
"As such, the spaces offered by museums can be greatly expanded."