Chinese businesses back on even keel as timely support measures bear fruit
Share - WeChat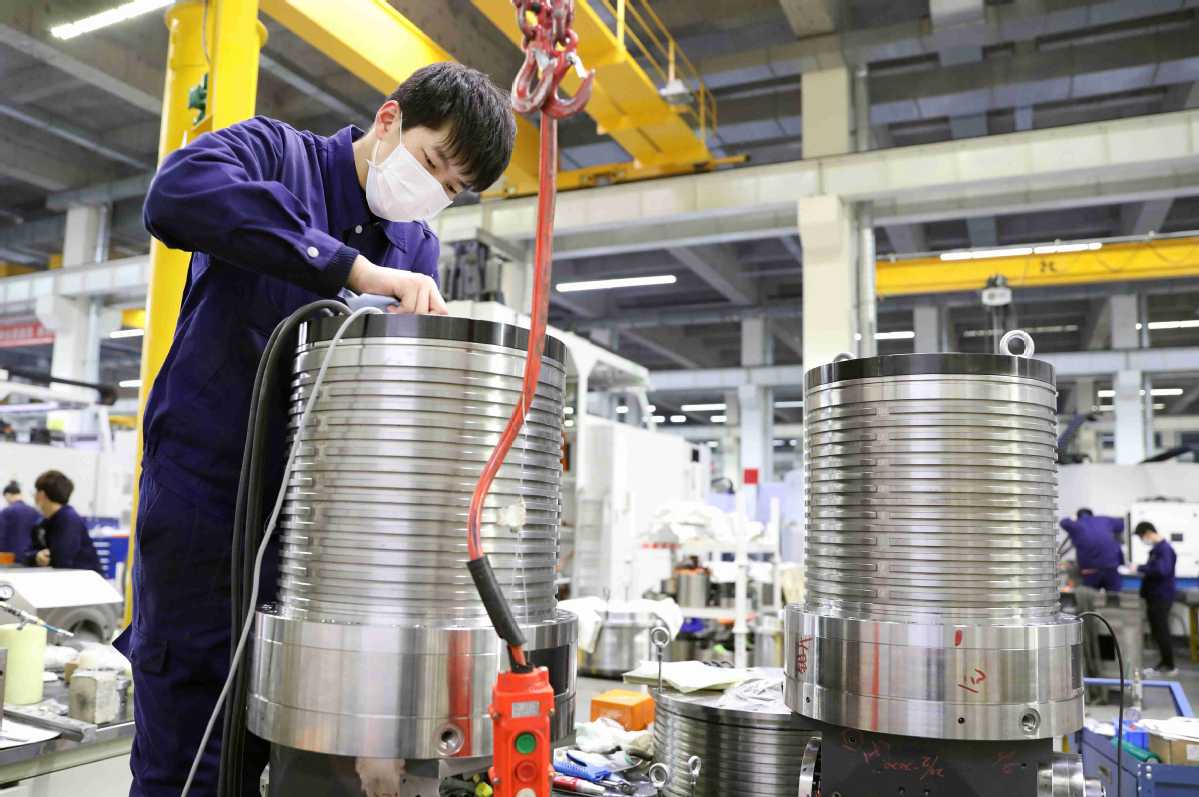 Chinese businesses have resumed normal operations at a much faster pace than anticipated, thanks to the timely measures enacted in the country to curb the novel coronavirus outbreak, the nation's top industry regulator said on Thursday.
By Tuesday, China's major industrial enterprises had an average work resumption rate of 99 percent and 94 percent of the employees have returned to work, said Xu Kemin, an official with the Ministry of Industry and Information Technology.
"As the coronavirus is spreading rapidly across the globe, the manufacturing sector now faces some new problems such as dwindling domestic and overseas market demand, rising production costs, financing difficulties and logistics impediments," he said.
According to Xu, to hedge against the risks, the ministry will come up with a series of measures to promote the coordinated resumption of industrial chain operations, including vitalizing the domestic market, developing new forms of businesses such as telemedicine, online education and telecommuting, and speeding up construction of new infrastructure in fields like 5G networks, the internet of things, big data, artificial intelligence, industrial internet and smart cities.
More efforts will also be made to solve problems faced by companies due to the coronavirus outbreak, accelerate the resumption of work in key areas and key industries, maintain the stability of the international supply chain and increase the supply of active pharmaceutical ingredients, daily necessities and protective goods for international market.
The government has also rolled out a series of measures such as offering financing support to help those hit by the epidemic, such as small and medium-sized enterprises.
As of Wednesday, small and medium-sized enterprises nationwide had a work resumption rate of 84 percent, up from 76.8 percent at the end of March, according to ministry data.
Qin Zhihui, deputy director of the ministry's small and medium-sized enterprises bureau, said SMEs in 25 regions had a work resumption rate of over 80 percent, with companies in Hubei province making rapid recovery strides.
SMEs in the secondary industry had a much higher work resumption rate than those in the producer service industry, which also reported a higher rate than the consumer service sector. Meanwhile, the bigger SMEs were way ahead of micro businesses in terms of work resumption, Qin said. Many SMEs also saw a sharp decline in orders as demand fell due to the rapidly spreading epidemic.
The ministry will look to implement supportive policies in a meticulous manner and encourage SMEs to use digital technologies, while fostering a strong public service system.
He Fei, a senior researcher at the Financial Research Center of the Bank of Communications, said some SMEs may still find it hard to restore production capability to normal levels.
"Unlike large enterprises, production resumption for SMEs still faces some constraints due to lack of funding, shortage of employees and protective medical gear," He said.
The government should accord top priority to work resumption in SMEs as such a move will help in the faster recovery of industrial chains, the researcher said.
"The government must take measures to further cut taxes and rents for SMEs. More efforts are also needed to provide financial services that are conductive to resolving funding issues," He said.
The All-China Federation of Industry and Commerce and more than 100 financial institutions have launched a noncontact loan plan to support SMEs. Till date, loans of more than 300 billion yuan ($42 billion) have been disbursed to over 8 million SMEs, self-employed traders and farmers.