Trump: Reopening is up to governors
Share - WeChat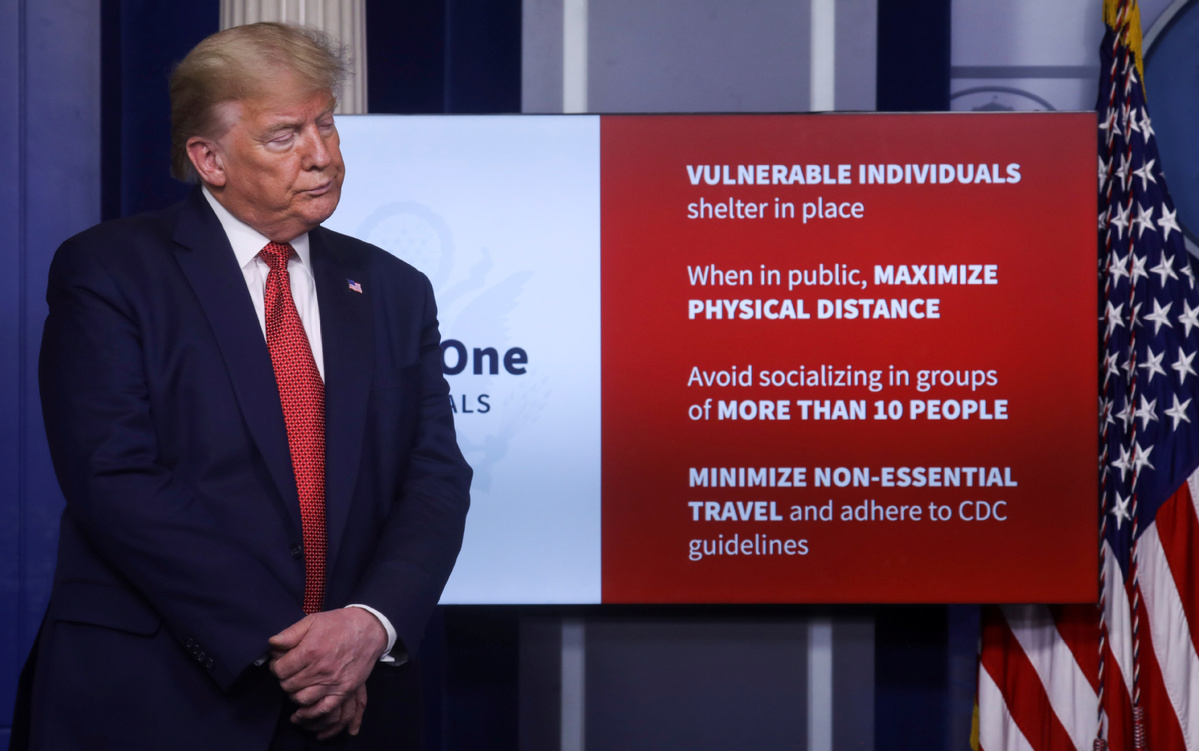 US President Donald Trump unveiled new guidelines Thursday aimed at reopening the nation's economy amid the coronavirus pandemic by putting the responsibility on governors to decide how and when to restart their states' economies.
"We are not opening all at once, but one careful step at a time," Trump said at a coronavirus task force press briefing Thursday in Washington. "We're starting our life again. We're starting rejuvenation of our economy again."
Earlier Thursday, in a phone conversation with the governors about the guidelines, Trump told them: "You're going to call your own shots," according to an audio recording provided to several media organizations. "We'll be standing right alongside of you, and we're going to get our country open and get it working. People want to get working."
Putting the responsibility on the governors is a reversal from what Trump said three days ago, when he insisted that "the president of the United States calls the shots" and that he had the "total authority" to decide how and when the country reopens.
Called "Opening Up America Again'', the guidelines are not mandatory and are broken into three phases. Each phase requires a 14-day period of "downward trajectory" of COVID-19 cases in order to move on to the next phase.
The first phase keeps current social distancing guidelines in place, including limiting gatherings to fewer than 10 people, and working from home and keeping schools closed.
Bars should remain shuttered, but larger venues, including some restaurants, theaters, gyms and churches, could operate under "strict physical distancing protocols". Americans should continue to limit non-essential travel, the guidelines say.
During the second phase, in areas that show no signs of a resurgence, students can return to school, residents can resume nonessential travel and bars could operate with "diminished standing-room occupancy". The guidelines still encourage companies to practice telework, and vulnerable people are still encouraged to stay home.
The third phase continues a gradual easing of restrictions, allowing vulnerable people to return to social settings while practicing physical distancing.
Trump and many business leaders have said it is imperative to revive an economy that has been battered by record jobless claims and steep falls in the stock market.
An additional 5.245 million Americans filed first-time jobless claims last week, the US Labor Department reported Thursday. The latest unemployment filings boost the total to about 22 million, nearly erasing all the job gains made since the financial crisis of 2008.
Trump's own healthcare experts have warned that reopening too soon will lead to more spikes in coronavirus cases at a time when the epidemic appears to be ebbing.
Officials from the US Centers for Disease Control and Prevention (CDC) warned that reopening the nation will require a massive capacity to test, track and treat people for the virus.
The White House announced Thursday that 65 senators and 32 House members would serve as part of an Open Up America Again congressional group.
Trump and members of his administration spoke to lawmakers Thursday to discuss plans to restart the economy as well as a range of topics including relief for small businesses, the medical supply chain and mental health.
In New Jersey, Governor Phil Murphy on Thursday ordered a probe into long-term care facilities after a "makeshift morgue" was found at a nursing home devastated by the coronavirus, raising questions about the death toll at homes for the elderly.
Murphy said he asked his attorney general to launch an investigation after becoming "outraged that bodies of the dead were allowed to pile up" in a room at a nursing home in Andover, a town in the northern part of the state.
New Jersey has reported more than 3,500 COVID-19 deaths, second in the US after New York.
The US has more cases and deaths than any country in the world, with more than 653,000 diagnosed cases and at least 30,998 deaths, according to data compiled by Johns Hopkins University.
With 42 states under stay-at-home orders, organized protests have popped up in several states challenging the restrictions on gathering.
Protesters showed up in Virginia's state capital of Richmond on Thursday, following one in Michigan on Wednesday. Utah, North Carolina and Ohio also saw demonstrations this week, and more are planned for the coming days, including in Oregon, Idaho, Texas and New Jersey.
Many municipalities have begun counting probable deaths caused by COVID-19, including New York City, the epicenter of the disease in the US.
The global death toll stands at more than 141,000 people, according to data from the university. More than 2.1 million have been infected with the novel coronavirus worldwide.
A federal loan program — the Paycheck Protection Program —intended to help small businesses keep workers on their payrolls has run out of money. Millions of businesses can't apply for the loans until Congress replenishes the funds.
Congress initially allocated $349 billion for the program, which was intended to provide loans to businesses with 500 or fewer employees. More than 1.4 million loans have been approved as of Wednesday.
New York state's shutdown will last until at least May 15, Governor Andrew Cuomo said on Thursday. He announced that the state's official death toll had risen by 606 to 12,192, an increase in fatalities that was the state's lowest in 10 days.
Cuomo said that "more essential" businesses with a low infection risk would be prioritized for reopening, but he didn't give a specific timeline. "Less essential" industries with a high infection risk would be the "last priority", depending on infection decline and precautions put in place.
On Friday starting at 8 pm, the state is requiring people to wear facial coverings in public when they can't keep 6 feet of social distancing. It applies to sidewalks, grocery stores, buses, subway cars and ride-share services.
Reuters contributed to this story.