Delivery service offers caterers a boost to trade
Share - WeChat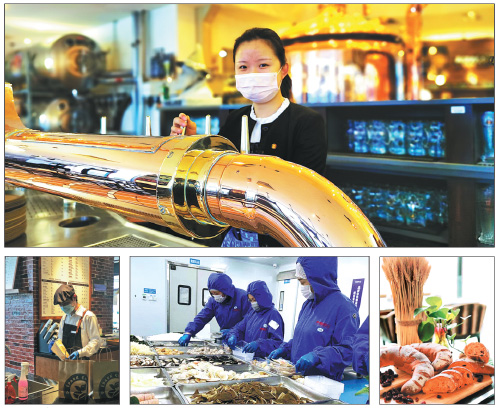 As staying and working at home is an important measure to combat the novel coronavirus, hotel groups are offering delivery and takeout services, to meet surging online food orders and reach out to potential customers.
"We had started a delivery service before the outbreak, but on a small scale. This time the outbreak has spurred the demand for food delivery and we see this as an opportunity to scale up such a service," said Wang Dayong, a senior operations officer with China CTG Hotel Group.
The group, which owns Grand Metropark hotels and Metropark hotels across the nation, is using a food safety management system to ensure customers get safe food.
A string of jobs, ranging from the purchase and quality control of food supplies, storage, food preparing, packaging and delivery to disinfection, are being undertaken daily, making sure the whole process is carried out in a safe way. "We disinfect cutlery in hotel kitchens three times a day, even though we don't use them all," Wang said.
Employees wear masks and gloves, have their temperature taken twice a day and wash their hands often to prevent infection, he said.
Though dine-in services in many cities are suspended, hotels under China CTG have developed clever ways to offer food to those whose movements are restricted.
Grand Metropark Hotel Hangzhou offers delivery via Alibaba Group's Ele.me, an online food delivery platform. Menu items include coffee, bread and sandwiches. It started offering three lunchboxes filled with meat and vegetables to customers working nearby from Feb 19. This generated an income of around 10,000 yuan ($1,420) by Feb 23. "The price of each set meal is between 30-50 yuan," Wang added.
In East China, hotels such as Grand Metropark Universal Dinosaur Town Hotel in Jiangsu province are preparing many different kinds of Chinese pastries like steamed stuffed buns, handmade wonton and dumplings. "Heat them up in a microwave and enjoy our professionally prepared food," Wang said.
Many hotels have offered convenience to people who prefer to pick up meals in-store. Kempinski Hotel Beijing Lufthansa Center, with delivery via Ele.me available, lets customers order on its official WeChat mini program. Customers can schedule a time to pick up their food. The whole process is safe and contactless, a hotel executive said.
The hotel's signature outlets are offering customers an array of dining options, all with meticulous attention to detail. Paulaner Brauhaus, boasting German beers and Bavarian cuisine, has prepared bottled beers for delivery. Beijing's popular bakery Kempi Deli can arrange the delivery of cakes.
According to data from another online food delivery platform, Meituan Dianping, 3,058 merchants have recently entered the market. They include high-end hotels such as Hilton Chengdu and Qujiang Yinzuo Hotel.
A representative from Meituan said that more and more catering brands will arrange delivery. The platform has given newcomers quick access to the system by simplifying entry review processes and offering operational support.
Zhu Danpeng, a specialist in China's food industry, said in an interview with Beijing Business Today that there has been a change in China's consumption pattern. Once there were three types: high-end, middle-end and low-end. Now six types from high-end to low-end exist.
This means enterprises are more likely to reach their target customers. "Joining an online food delivery platform is a necessity for high-end catering brands. And the practice is important for the industry, too," Zhu said.
"High-end brands offer products at a high price with high profit margins while facing heavy costs caused by rent, staff and raw materials," Zhu said. "The takeout service can relieve cash flow pressure to some extent and increase customer retention. It will play a supportive role behind widening scenarios the entire high-end industry is working on."
Wang said: "People's lifestyles and habits have been altered by this novel coronavirus outbreak. They may once have got interested in something cheap but after the outbreak they will be tempted by safe, nutritious food. This is exactly what luxury hotels like us can offer."