Kempinski Hotel Beijing Lufthansa Center celebrates the 10th anniversary of Lady in Red
Share - WeChat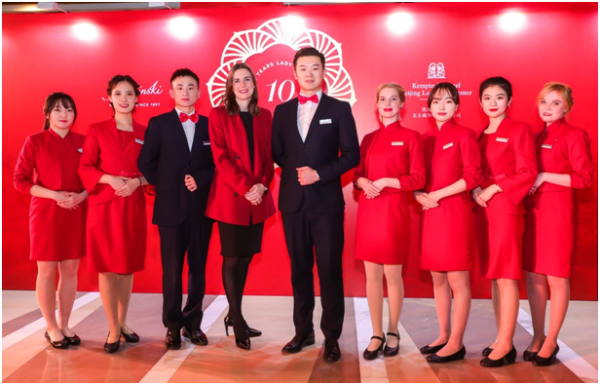 Ten years ago, the Lady in Red was introduced to Kempinski Hotel Beijing Lufthansa Center's lobby to provide a genuinely personalised, intuitive guest experience based on cultural empathy, guest intelligence and an understanding of each individual guest's needs. Dressed in a striking and elegant tailor-made red outfit that reflects the sartorial traditions of Beijing, the Ladies in Red evoke an authentic sense of place and occasion, showcasing the cultural nuance and classic European elegance for which Kempinski is known worldwide.
As this unique brand ambassador's birthday approaches, every Kempinski hotel pays tribute to the Lady in Red this year. As the first hotel to introduce the Lady in Red concept to Asia, Kempinski Hotel Beijing Lufthansa Center surprised guests with a variety of birthday celebration activities, kicking off with an "Ignite the Night" guest celebration on January 17, 2020.
"Ignite the Night" is a daily sunset tradition performed by the Lady in Red, but on that evening, it ceremoniously began the Lady in Red's 10-Year Anniversary Celebration. For this grand celebration, the Lady in Red integrated European elegance and the start of the local Chinese New Year celebration with a spontaneous graceful evening dance performed by Kempinski Hotel Beijing's Ladies in Red. Alongside the performance, guests were invited to enjoy the 10th anniversary cocktail hour during the first night's celebration. Along with the "Ignite the Night" cocktail party, a variety of surprises are in store for guests throughout the month-long celebrations.
Dedicated to please, educate and entertain, these brand ambassadors are alert to any opportunity to go one step beyond to craft unforgettable experiences for well-travelled guests, acting as both the perfect host and trusted companion during their stay with Kempinski Hotels. As they play a pivotal role in every guest's stay, they are team players who are very well connected to their colleagues at the front office, in the food and beverage department and with the concierge, working closely side-by-side with them.