Lucky winner discovers a world of opportunity, challenge from travel
Share - WeChat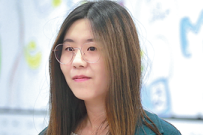 A new world of opportunities has arrived out of the blue for a lucky woman in Beijing, but travel to exotic destinations is also ushering in an era of self-discovery for the 27-year-old who had never been overseas before.
She was the sole winner of a competition organized by fintech company Alipay. Incredibly, her name was announced on Oct 7, 2018, out of 3 million participants.
The prizes on offer made up an astonishingly long list of items that included accessories, cosmetic products, as well as free deluxe accommodation and trips to countries in Asia, North America, Africa and Europe.
Indeed, the list of the prizes would take more than three minutes to completely read. The value of the goods on offer was estimated to be worth more than 5 million yuan ($720,600). The deadline to claim and cash in the prizes was the end of 2019.
The former IT engineer, known as Xinxiaodai on Weibo, wrote with obvious excitement on social media, "Am I free from work for the rest of my life?"
The short answer is yes but with the win came a new set of challenges as she became an overnight internet sensation and now has more than 1.3 million followers online.
Netizens quickly gave her the sobriquet "Chinese koi", a fish that represents luck and fortune in Chinese culture.
One month after her win, she quit her job of three years at a State-owned enterprise in the capital and became a travel blogger with a friend.
Her travel blog features travel tips, packing guides, videos and photography from around the world.
She has diligently kept flight ticket stubs as mementoes of her trips to six countries-Thailand in January, Canada in May, the Maldives in June, Australia in September, Japan in October and New Zealand in November.
She also went to Taiwan in March, Yangzhou, Jiangsu province in April, Chongqing in July, Chengdu, Sichuan province in August, Xiamen, Fujian province in November and Harbin, Heilongjiang province in December.
By the end of the year, she had still only cashed in half of the awards.
From having up-close encounters with elephants in Phuket in Thailand, whale watching in Juneau, Alaska, spotting kangaroos in Australia and snorkeling in Maldives, she has memories to last a lifetime.
"For me, travel means exploring a fascinating world and to find my inner self," Xinxiaodai wrote on Weibo.
However, she also discovered that being a frequent flyer has its drawbacks.
"It seems that I have more freedom, but actually there is less time that belongs to me," she told GQ magazine.
Her life on the road, dominated by departure and arrival times, terminals, making connections, hotel check-ins and just the sheer helter skelter meant that she sometimes reflected on more stable things such as deep winter, when the snow is so heavy that people can't get out of the door, and stay in the house alone reading books and watching movies.
For the past year, she has been hurrying here and there and worrying about money, which influenced her both psychologically and physically.
The Alipay awards often only covered a part of a trip such as a one-night accommodation or a cruise ticket for an outward voyage, which means that sometimes she had to pay out of her own pocket.
She soon found that she spent more than 200,000 yuan during her trips, according to GQ. When her adventure began, her savings were about 60,000 yuan. She maxed out her credit card during her Alaska cruise in May.
To make ends meet during trips, Xinxiaodai promoted certain items on social media. She also managed her own travel blog.
"Now travel is my job," Xinxiaodai said.
She has also suffered from frequent jet lag and a lack of sleep. This exacted a toll on her health and in the first half of last year, she said, she visited hospitals on more occasions than in the previous 26 years combined.
"I couldn't fall asleep sometimes, because there were too many things to plan and worry about before and during the trips," she said.
Some netizens commented that the marketing stunt was "a consumerism trap", which encourages the winner to spend even more. Others questioned her decision to quit her job, saying that "people have to choose what they really want. She really didn't need to cash in all those rewards".
But whatever the drawbacks, Xinxiaodai is making choices.
"Nothing is perfect, but it really feels good to share true feelings and get everything under control," Xinxiaodai said in her summary last year.
"Perhaps my trips will continue this year," she added.