The issues that made our year
Universities in the firing line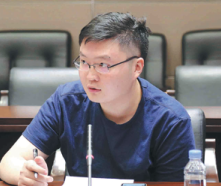 From a plagiarism case involving actor and PhD graduate Zhai Tianlin, to sexual misconduct by teachers at two famous universities, the reputation of China's higher education sector was tarnished by several high-profile misconduct cases last year.
They triggered widespread criticism online, which prompted punishments from universities and education authorities.
In February, the Beijing Film Academy stripped Zhai of his Phd, and he was removed from Peking University's postdoctoral program.
Last month, Qian Fengsheng, 55, an associate professor at Shanghai University of Finance and Economics, was fired after one of his students alleged that he locked her in his car and sexually assaulted her.
Also last month, Peking University fired Feng Renjie, 36, an associate professor, for professional misconduct after online posts alleged that he was having inappropriate relationships with various women, some of whom were students.
Teachers who sexually harass students will pay a price and the education authorities will continue to expose their misconduct and punish them according to relevant regulations, the Ministry of Education said.
Teachers should not engage in inappropriate relationships with students and should not molest or sexually harass them under any circumstances, it said.
There will always be people who try to break the rules or take advantage of their position, and when such incidents happen, education authorities and universities should not downplay them.
Only when violators are seriously punished for their misbehavior can examples be set and measures taken to dissuade and prevent others from repeating the mistakes.
Last year, it wasn't all bad news for Chinese universities, though.
For the first time, four of the top 10 universities in Asia are on the Chinese mainland, according to the latest rankings released in November by QS Quacquarelli Symonds in London.
There was only one mainland university in the top 10 when the rankings were first published in 2009, and just two in the top 20.
In 2017, Beijing listed 42 universities aiming for world-class status to make China an international power in higher education.
World-class universities should not only have the best rankings, but also administrators who are not afraid to weed out rotten apples who spoil their companions.