The issues that made our year
Reality always trumps online knowledge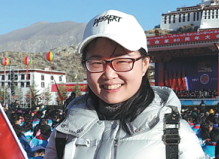 Every time I tell someone I'm a journalist, they ask the same question, "Do you travel a lot?" My answer is always "Yes. As a national news reporter, I travel a lot nationwide, even though the internet and social media mean everything is accessible online."
"Why bother then?" they ask."Why bother enduring potential traffic difficulties, the fatigue of being swayed in cars and sometimes working overtime when you could be nice and comfortable in the office?"
Well, I guess it's because no second-hand information culled from the internet can equal the reality; but most of all, traveling can help maintain one's curiosity, which is an essential trait for a journalist.
In March, I visited the Tibet autonomous region, taking a 12-day road trip of more than 1,000 kilometers from Chamdo to Lhasa. During the trip, I learned how the Lhoba ethnic group took less than 40 years to modernize from their isolated, primitive hunting lives in the mountains, where they could barely made ends meet. I saw deep gorges and fallen rocks along the way, and it was under these harsh conditions that local road maintenance workers toiled day after day to ensure traffic safety.
In May, I visited Zhongjian Island, a reef in the South China Sea, to report on the garrison stationed there.
I saw the deputy commander choke up when he spoke about his distant wife and daughter. I heard sailors relive the night they were battered by a typhoon, with tidal waves smashing windows, flooding the rooms and destroying all the trees and food supplies.
In July, I went to Tianjin, poking around a remote town where the farmland was littered with unwanted shared bikes.
I saw abandoned parts piled in heaps, covered in vines and growing rusty. I heard local people tell how they were tricked by failing shared bike companies, which explained the bleakness and closure of such bike manufacturers jostling with one another on the town's streets.
Such experiences continued throughout the year. Each was a new adventure, and without seeing and hearing the stories with my own eyes and ears, I could not have formed images in my head and written them as vividly as possible to bring the stories alive.