The issues that made our year
Eco-protection efforts blossom in rural areas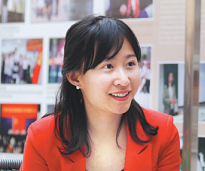 Having lived in Beijing for 15 years, I had never had strong feelings about relocating to a small city until November, when I spent a week conducting interviews about the construction of forest cities in Jiangxi province.
What I saw completely changed my view of third-and fourth-tier cities, which used to be tagged as "underdeveloped"-a term that usually refers to poor infrastructure and public services-compared with large cities.
In Nanchang, Jiangxi's capital, I was astonished to see how local people enjoy eco-friendly lives at the Aixi Wetland Forest Park. At 467 hectares, it is larger than the Beijing Olympic Forest Park, the capital's biggest such facility in the urban district.
Compared with the Beijing park, Aixi's is more impressive, not simply because of its land coverage, but also its dominance in terms of plant diversity and the number of wild birds it hosts.
It is home to nearly 1,000 wild plants, including trees, grasses and flowers, and also hosts about 2,000 wild geese, egrets and swans.
I saw ease and happiness in the smiling faces of people in the park-young and old-walking the hiking trails, camping with their families or exercising with their peers.
I found an unexpected library in a two-story wooden house, where people sat reading on chairs or straw mats. There is a charge for coffee and tea, but the library is free. People just need to make an online appointment to visit.
Reading must be even more enjoyable in a place so close to nature, I thought, as I stood on the library's second floor, hearing the rustle of leaves in the wind and seeing wild ducks flying across the lake.
Isn't this the life that millions in Beijing and Shanghai dream of and struggle for: to breathe fresh air, have a harmonious relationship with wildlife, live at a slower pace and be closer to nature with their families?
Fourteen years ago, when he was Party secretary of Zhejiang province, President Xi Jinping coined the phrase "Clear waters and lush mountains are invaluable assets."
While the whole country is now stepping forward with the aim of building a beautiful China through eco-construction, the medium-sized and small cities have been pioneers.
In recent years, the country has seen tremendous improvements in eco-protection.
Last year marked the 15th anniversary of the Forest Cities Construction Project, and the 20th anniversary of the Natural Forest Protection and the Conversion of Cropland to Forest and Grassland programs.
In August, the National Forestry and Grassland Administration announced that China's forest coverage had soared from 12 percent in the 1980s to 22.96 percent.
Last year, China built 2,750 nature reserves, covering 1.47 million square kilometers, accounting for 15 percent of the country's total land area.
By December, 138 cities had been certified as State-level Forest Cities, and the forested area in each of them had risen by 13,333 hectares in each of the past five years.
In Jiangxi, I met some owners of startups, many born in the 1980s. They chose to run their own businesses in the province after spending some time working in large metropolises. Most of the businesses are related to green industries such as organic food production and eco-tourism.
They told me that there are more job opportunities in smaller cities now. They said they were confident about the potential of smaller cities, because those places have significantly improved environments and living conditions.
How have the eco-protection efforts influenced the country? The people will tell you.