Foreign firms to gain broader market access
Share - WeChat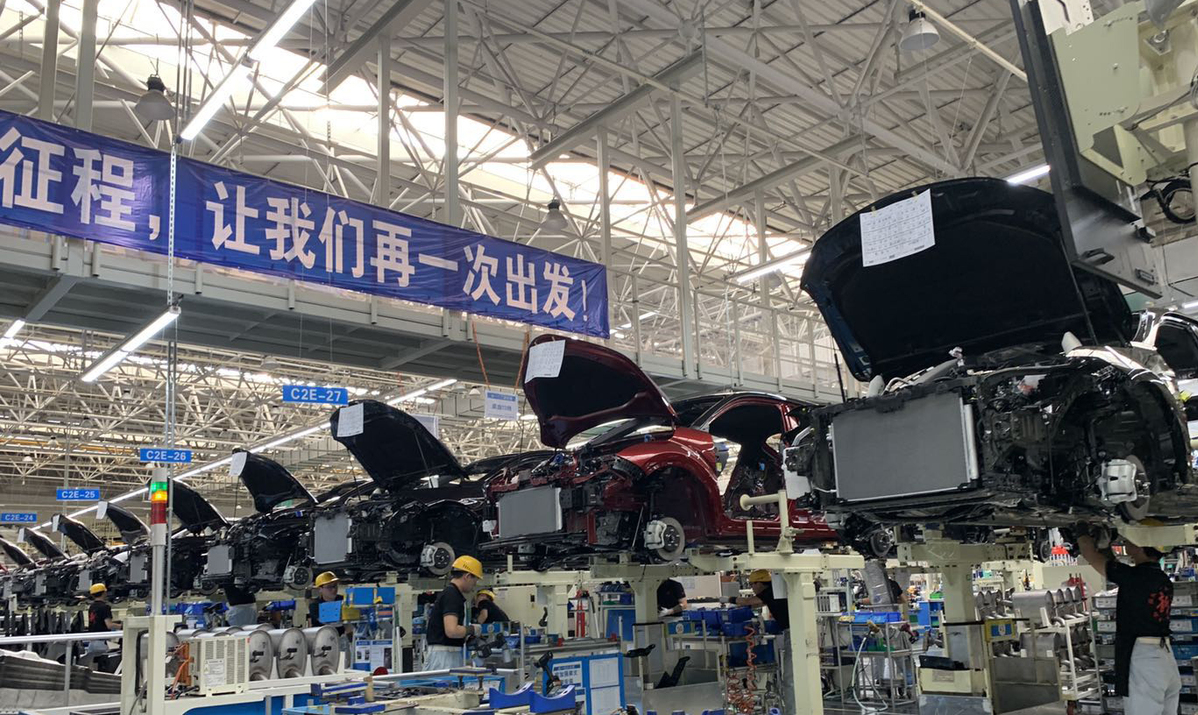 A negative list indicates areas where investment is prohibited or restricted; all other areas are presumed to be open.
The law is an important signal to the outside world that China is committed to further opening up and improving the investment environment for foreign investors, a major testament that the country is actively taking concrete initiatives, said Pascale Sourisse, president of Thales International, an international arm of Thales Group, the French industrial conglomerate.
"It undoubtedly reinforces our confidence in the Chinese market," she said.
This sentiment was echoed by Ingrid Zhang, president of Novartis Pharmaceuticals China, who believes that new products from the pharmaceutical sector can be approved faster than before.
Apart from diversifying its sales network and market presence in lower-tier cities, Schneider Electric of France will increase its research and development investment in China by 50 percent over the next two years to invigorate its operations, said Yin Zheng, its executive vice-president who is also the president of its China unit.
Supported by China's Foreign Investment Law and other policies, Yin said that the group will focus on areas including the digital economy, the development of the Belt and Road Initiative, green development and modern manufacturing in China.
As China's industrial sectors are upgrading, new investment opportunities are emerging for foreign businesses in the transformation of traditional industries, high-end and smart manufacturing, Yin added.
The Foreign Investment Law offers a range of benefits for foreign investors in China, including moving to more liberal corporate governance rules, creating greater flexibility in funding new businesses and leveling of the playing field by entrenched use of negative lists, said Paul McKenzie, managing partner for Shanghai and Beijing offices at international law firm Morrison and Foerster.
The law also prohibits the use of administrative measures to force transfers of technology, a recognition that the conditions of any intellectual property license are a commercial matter for negotiation between parties based on fairness, as well as to address intellectual property infringement.
Since last year, China has established more intellectual property rights courts at both central and provincial levels to boost global companies' confidence in the country.
The law's implementation is expected to stimulate foreign investment growth this year, said Tang Wenhong, director-general of the department of pilot free trade zones and free trade ports at the Ministry of Commerce.
Notable growth can be seen in areas that were previously not as open as others, such as the services sector including finance and insurance securities, he said, adding that the majority of foreign investment entering China will no longer require approval from local authorities. These new judicial rules can help fight monopolies and other forms of unfair competition in the domestic market.
In addition, the government started to implement regulations on optimizing the business environment to promote productivity and high-quality development on Jan 1, the same day the law became effective. This move demonstrates its resolve to embrace the outside world and promote economic globalization.
A total of 36,747 foreign-funded companies were newly established across China between January and November last year, data from the Ministry of Commerce showed.
Foreign direct investment into the Chinese mainland during the period stood at 845.94 billion yuan, up 6 percent year-on-year, while the number of foreign-funded projects with investment of at least $100 million reached 722, up 15.5 percent from the same period a year earlier.
Under the new law, factors such as fair treatment and transparency to participate in government projects and procurement will encourage global companies to deploy more financial resources in China, not only in the factory business, but also in areas of innovation, service and third-party market development, said Wei Jianguo, vice-chairman of the China Center for International Economic Exchanges.
Thanks to China's huge consumer base, and complete and efficient supply chain, he predicted that about $140 billion worth of FDI will stream into China this year, making the nation the world's leader in terms of FDI inflow volume.
Affirming China's efforts in improving foreign companies' access to the country in recent years, McKenzie from Morrison and Foerster said that there will be challenges for investors and government regulators alike, given the lack of detailed guidance on implementation so far. The law rewrites only the broad principles to govern foreign investment.
Practical implications including the effect of the Foreign Investment Law on cross-border mergers and acquisitions, and corporate governance in Chinese subsidiaries of foreign companies, depend on implemention rules, he said.
"We will adopt a more open and inclusive attitude when dealing with such lawsuits to protect the rights of foreign investors and offer a sound legal environment for the country's further reform and opening-up," said Gao Xiaoli, deputy head of the No 4 Civil Division of the Supreme People's Court.
The law applies to all contracts arising from direct or indirect investment by foreign individuals, enterprises or other organizations in China, including contracts on the establishment of foreign-invested companies, new projects or the transfer of shares, property or stock rights.
However, courts will not support a contract if the investment area is on China's negative list. If it is a restricted sector, judges will have to review the detailed circumstances, she said.