Modern masterpieces
Share - WeChat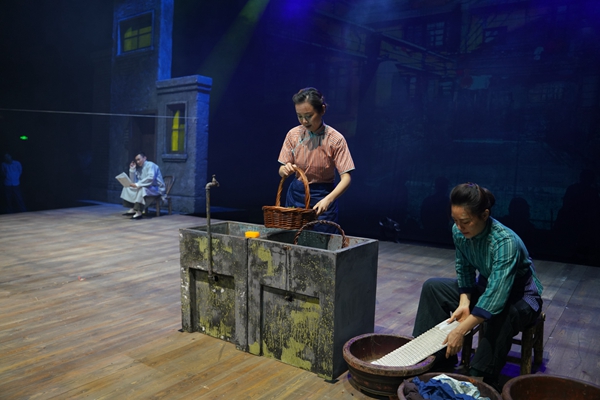 A media preview by the Shanghai Dramatic Arts Center offers a sample of the new productions it plans to stage next year, Zhang Kun reports in Shanghai.
From such Western theater classics as Miss Julie and Death of a Salesman, to stage adaptations of Chinese masterpieces by Lao She and Xia Yan, and other contemporary interpretations of familiar tales, the Shanghai Dramatic Arts Center is offering audiences a glimpse of eight out of the 52 productions it will present next year.
The cultural institution took the media on a tour of its main building on Nov 26 through the three main theater spaces, various rehearsal rooms and backstage areas, before eventually stepping onto the stage to take part in a rehearsal among professional actors.
Guided around the facility wearing headphones, the audio tour for the media outlined some of the 52 heavyweight productions scheduled to be performed in 2020 at the venue to celebrate the SDAC's 25th anniversary. The first work to be staged next year will be I Love Peach Blossom, a modern adaptation of an ancient Chinese adultery-murder tale over Jan 16-21. Running from March 10 to 22, The Three Musketeers will be directed by British director Andy Arnold. Impressed with his adeptness for making modern interpretations of Western classics, the SDAC invited Arnold to bring to life in Chinese the French literary classic by Alexandre Dumas.
Two important Chinese literary works will also receive major productions to showcase the overall quality of the venue next year. Adapted from the unfinished autobiographical novel by Lao She, Beneath the Red Banner will be presented from Feb 18 to March 1, while Under the Roofs of Shanghai by Xia Yan will be performed over Oct 23-Nov 1.
"Next year we will be commemorating the 70th anniversary of the company," says Zhang Huiqing, general manager of the SDAC. "So it is a great opportunity to revive Xia Yan's beloved play Under the Roofs of Shanghai.