Theater festival embraces youth input
Share - WeChat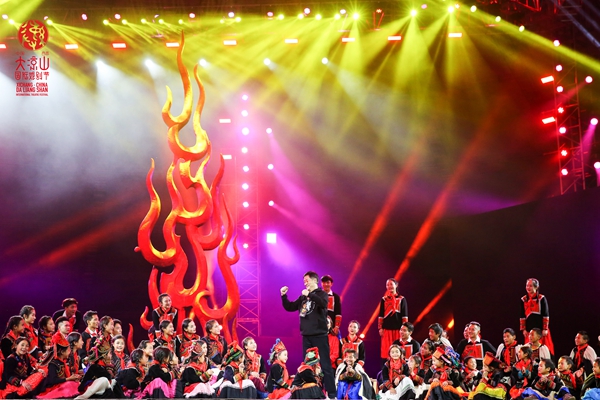 The Yi ethnic group started to celebrate their new year at the end of November. This year, a theater festival made the occasion even more jubilant, with a grand gala, street performances and hundreds of theater productions.
The destination at the foot of the Daliangshan Mountains and beside picturesque Qionghai Lake in Xichang, Sichuan province, welcomed its first-ever Daliangshan International Theater Festival from Nov 19 to Dec 1.
It was initiated by 23 artists from home and abroad, and featured 312 performances from eight countries and regions. The types of performances ranged from the traditional theater formats of plays and operas to more modern genres, such as experimental opera, physical theater and even puppetry using puppets made of ice.
The performances and events are categorized into three major sections. The "mountain" section features high-quality works in midsize and large-scale theaters, such as Red Mountain, a modern local opera production that staged its 100th performance at the festival.
The "lake" section values innovative experimental theater and openair works, and the "city" part mainly consists of academic and educational shows, forums and exhibitions that promote local theater development and foster cross-cultural theater exchanges.
The festival also has a specialized section for ethnic groups from across China to showcase performances of local intangible cultural heritage.
Pu Cunxin, a veteran Chinese actor and one of the founders of the festival, says that organizing this first edition was very challenging and time was tight, but the team braved the obstacles and made it happen.
Most Popular