In adversity, pianist finds positive note
Share - WeChat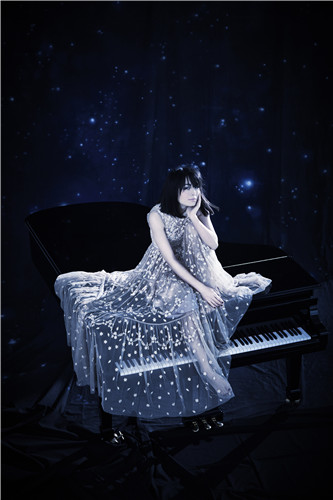 "After many medical appointments and examinations, I was finally diagnosed with multiple sclerosis," wrote German-Japanese pianist Alice Sara Ott, on her social media platforms in February, adding that when the doctors first raised the possibility of it being MS last year, she felt as if the world had collapsed around her. She found herself aboard an emotional roller coaster with feelings of panic, fear and devastation.
However, with right balance of treatment and therapy, the symptoms have eased and the pianist is back, continuing her concert season.
From Nov 17 to 20, she performed in three Chinese cities-Guangzhou, Guangdong province, Chongqing, and Chengdu, Sichuan province-in support of her most recent album, Nightfall, which was released by the Deutsche Grammophon label in August 2018.
"The years 2018 and 2019 have been eventful in many ways. The word 'darkness' has a new meaning now," says the pianist. "I can still remember the moment when I lost control of my hands during a concert in January. I had to stop the concert and then cancel further performances. Thankfully, everyone was so supportive."
Two months before the recording of Nightfall, her father had a heart attack and almost died. "All my personal surroundings and encounters influenced me, which changed the music made," she says.
With the album, Ott takes a very personal look at that magical moment in between day and night, light and darkness, basing her explorations on works by Claude Debussy, Erik Satie and Maurice Ravel-all of whom were contemporaries, living, working and dying in Paris. They were friends, but also rivals, with each man writing in his own, very individual, style.
The line between friendship and rivalry can blur, much like the relationship between darkness and light, or for Ott, hope and fear.
"I always am a positive person. I am 31 and I still have a long life ahead of me. I don't want to spend the rest of my life being pitiful and sad. That's not who I am," she says.
The album was also a celebration of both her 30th birthday and her 10th anniversary as a Deutsche Grammophon artist. On it, the pianist examines her relationship with that trio of composers, whose music not only made an indelible impression on the Parisian arts scene at the turn of the 20th century, but also had a significant influence on her. "When I was in my mid-20s, I liked playing the music of Liszt and Chopin. I was not a fan of Satie until I started to research and analyze his work," the pianist says.
Often written without bar lines, and in red ink, Satie's scores skipped on the usual tempo and dynamic markings. Instead, he offered challenging, philosophical notes such as "wonder about yourself", "open your head" or "provide yourself with clairvoyance", according to Ott.
"I have to think twice to understand the meaning behind it. Sometimes there is more than one. I like this kind of twisted mind or split personality," says Ott, who plays minimalistic snapshots of Satie's Gymnopédies and Gnossiennes on the album.
She also included the dark, romantic and intricate storytelling of Ravel's Gaspard de la nuit, based on poems by the French Romantic poet Aloysius Bertrand, and the most famous movement, Clair de lune from Debussy's dance-based Suite Bergamasque, which was inspired by the French poet Paul Verlaine's poem of the same name.
Ott also appears on the soundtrack album for the new German movie, Lara. The movie follows the titular character, a severe and demanding civil servant who has dedicated her entire existence to molding her son into a professional concert pianist-a reflection of her own unrealized dreams and ambitions.
"I've met many mothers like her in the music business, those who are ambitious and want to do the best for their children, but actually they are doing the opposite," observes Ott.
Thankfully, her parents were not like that. Born in Munich to a German engineer and his Japanese pianist wife, Ott's love for the piano began, somewhat accidentally, at the age of 3, when her parents took her with them to a concert because they couldn't find a babysitter. A year later, she started to take piano lessons.
"My whole life was spent questioning: Am I German? Am I Japanese? What am I? I found my answer when I became a musician, because in music, nationality doesn't matter at all," she says.
"What is important is that you understand the background of the composers and their philosophies by studying the scores and messages they include. As soon as you start to play, it has become your own piece."
Ott, as a child, was obsessed with jigsaw puzzles, so she approached music like a game.
"That made playing pure pleasure. I was just having fun. I spent so much time on the piano that my mother thought it must be ruining my health, and she would pull me away from it," she says.
In 2002, at 13, she became the youngest finalist in the history of the Hamamatsu International Piano Competition in Japan. She also won a top prize at the Val Tidone International Music Competition in Italy in 2004.
Her international career developed with a series of high-profile European performances, including a critically acclaimed 2006 rendition of Ravel's Piano Concerto in G major with Zurich's Tonhalle Orchestra under the baton of conductor David Zinman.
"Her technique is dazzling, her tone wonderfully varied, from crystalline purity to powerfully raw, and the energy propelling her playing seems unstoppable," wrote The Guardian of Ott's performance.
The 2019 and 2020 season has seen her perform with leading orchestras, such as the Berliner Philharmoniker. Ott also performs as artist-in-residence at the National Centre for the Performing Arts and will perform in Beijing next August.