Urbanization drives demand for tunneling machines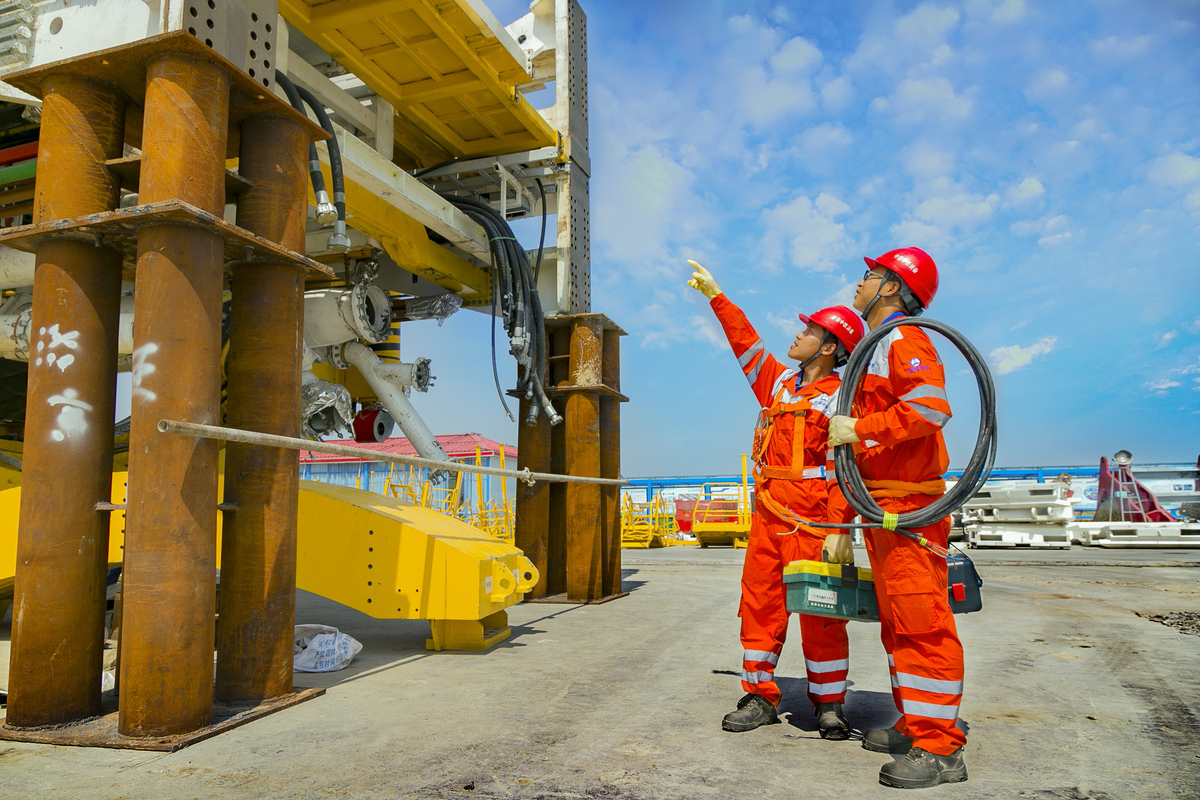 Orders for homegrown equipment soar on growth in large infrastructure projects
BEIJING - A super large tunnel boring machine (TBM) measuring 15.03 meters in diameter has begun an underwater tunneling project in Shantou city, in South China's Guangdong province.
Measuring 130 meters long and weighing 4,800 metric tons, the slurry TBM, with a maximum thrust of 25,000 tons, can cope with complex terrains such as soft silt and hard granite bedrock, according to its manufacturer the China Railway Engineering Equipment Group Co Ltd (CREG), one of the leading TBM suppliers worldwide.
Under 10-bar pressure from water, air, earth and slurry, the machine will bore a tunnel 3,048 meters long at a depth of 20 meters.
Its cutter head smashes the bedrock into small pieces, which are mixed with stones and sediment and then delivered out of the tunnel.
China's TBM demand has increased alongside the country's rapid development. Many large infrastructure projects such as urban subways and railways that traverse mountains or waterways often require the technical and operational support of TBMs.
The TBMs can excavate tunnels using a circular cross section that drills through a variety of soils and rocks, and they seamlessly lay down concrete segments to build tunnels, subway tubes and sewer lines.
The China Association of Metros said that by the end of June, 34 Chinese mainland cities had subway lines. Jinan and Lanzhou are welcoming their first metro lines.
The fast expansion of rail transit has boosted demand for TBMs, and domestic demand accounts for 60 percent of the world total, CREG estimated.
The 18 manufacturers of TBMs have a combined annual output of about 1,000 units, said Song Zhenhua of the China Construction Machinery Association (CCMA).
TBMs are getting larger as tunnels become wider to integrate utilities such as railways, highways, water supply and drainage pipes, telecommunication and power cables.
Safety is the top priority, though, no matter how large or complicated the projects are.
A 4,760-meter-long tunneling project with vehicle freeways and subway rail lines is now under construction in Jinan, in East China's Shandong province.
The tunnel is equipped with fire hydrants, broadcasting devices, emergency phones and video monitoring devices to ensure evacuation within six minutes in the upper vehicle freeway and 30 minutes in the lower subway rail lines in case of an emergency, said project designer He Yingdao.
Separately, China's largest slurry TBM with a diameter of 15.8 meters started work on a project in Shenzhen, South China's Guangdong province, in August.
Over the past few decades, China relied on foreign tunneling expertise, with Beijing bringing in experts for its first subway lines in the late 1960s, said CCMA secretary-general Su Zimeng.
In 2008, China's first independently developed earth pressure-balanced TBM made its debut.
With around 30,000 precision components and mechanical engineering, electric, sensing, information and dynamic technologies, a TBM is considered a gauge of a country's level of equipment manufacturing expertise.
In the past decade, China's TBM industry has seen great progress, with those products exported to more than 10 countries and regions for projects such as subways, highways, railways and in water conservancy.
About 70 percent of components and parts of Chinese TBMs are domestically made, said Song."Our products are cheaper than those produced by other countries and excellent after-sales service is also our commitment."
By the end of June, CREG had received 916 orders and manufactured 842 TBMs, a level that is five times higher than five years ago.
Manufacturers and experts are working to promote the repurposing of TBMs. The machines are specifically tailored in different shapes and diameters for each project.
"It's a pity that such high-end equipment is hard to be reused," said Su Zimeng. He suggested the tunneling industry agree on unified standards, such as the maximum width and height of tunnels, so the machines can be used in more than one project.