Chinese man starts around-the-world flight in Chicago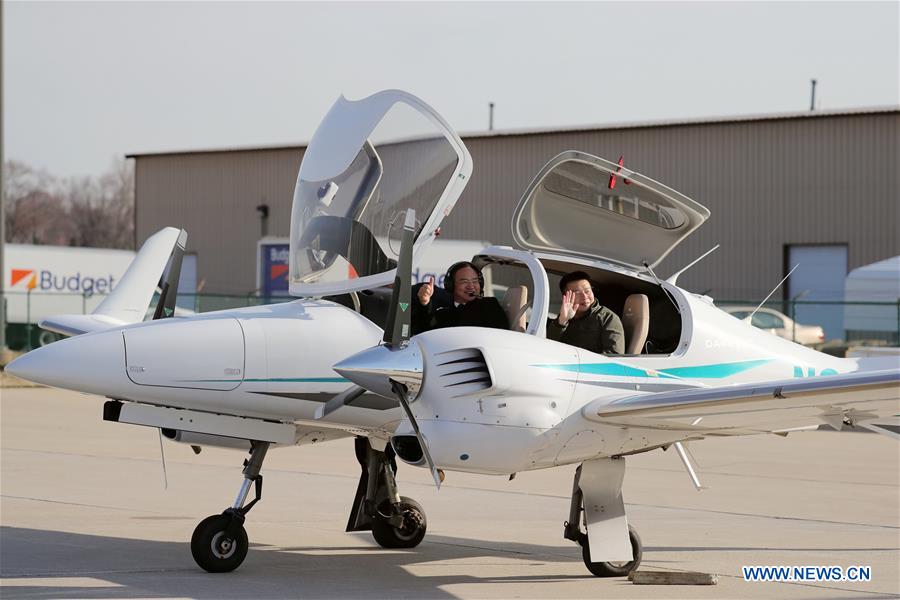 CHICAGO -- A 57-year-old Chinese man kicked off his second flight around the world on Tuesday in a Diamond DA42 aircraft from Chicago, the third most populous U.S. city.
Bo Zhang, in captain uniform, carefully examined every major part of the aircraft, put two pieces of luggage into the cockpit, and waved goodbye to relatives and friends in a small airport, an hour's drive southwest of Chicago.
Zhang plans to fly to Canada, enter the Arctic circle, cross the Davis Strait into the Greenland and the Iceland. He will go further to Europe, then turns to Turkey, Kazakhstan and Russia before entering China. Afterward, Zhang will go past northeast China, Russia, the Bering Strait and fly back to Chicago. The around-the-world flight will pass through 23 countries and is scheduled to take two months.
Zhang made history in 2016 when he performed his first flight around the world in a propeller-driven aircraft. On Aug. 7, 2016, Zhang took off from Beijing in a TBM700 Single-engine turboprop aircraft, went past 23 countries, measured 40,818 km and landed safely in Beijing on Sept. 24, 2016, after 44 landing points in 49 days.
Compared to the first flight, Zhang faces bigger challenges this time. The DA42 aircraft he flies this time is piston propelled and has no pressure cabin, which means limited endurance and flying altitude. Theoretically the voyage mileage of the aircraft is only 1,500 km.
"So I need to skip forward along the coastal lines," Zhang told Xinhua.
With the first flight experiences and skills, Zhang is confident that he will complete the flight.
"I am excited before every flight. This is an around-the-world flight, I am as excited as I did more than two years ago. I am more confident," he said.
Zhang plans to arrive in Hangzhou, capital of East China's Zhejiang province, before the last week of April to attend the Yunqi 2050 Conference, a volunteer-only, non-profit conference that gives Chinese youth a stage to make their voices heard and maximize their energy and talent.
"China is energetically developing general aviation industry at present. Through the flight, I want to let the youth know what aviation is, and unveil the mysteries that shroud aviation. Aviation is in fact not far from our daily life," Zhang said.
Zhang also wanted to share with the youth, "young people should have ideals and aspirations, and as long as one persists, he will be able to achieve the goal."
Having obtained his Master's and Ph.D degrees at the University of Illinois at Urbana-Champaign, Zhang had a special feeling for the U.S. state of Illinois. That is why he chooses Chicago as the start and landing point for his second around-the-world flight.
Built in 2001, the Diamond DA42 aircraft Zhang flies belongs to China's Zhejiang Wanfeng Group.