China's Terracotta Warriors exhibited in Thailand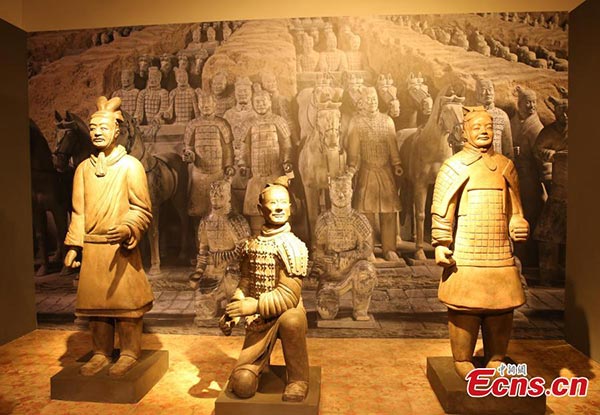 China's renowned Terracotta Warriors have been brought to Thailand for the first time for an three-month exhibition at National Museum Bangkok that started from Sunday.
The opening ceremony of the exhibition "Qin Shi Huang, The First Emperor of China and Terracotta Warriors", was held on Sunday afternoon, after which many Thais flooded into the Siwamokkhaphiman Throne Hall to take a glimpse of the over 2,000-year old Terracotta Warriors, or funerary sculptures depicting the armies of Qin Shi Huang.
Held jointly by Thailand's Fine Arts Department, Ministry of Culture and China's Shaanxi Provincial Administration of Cultural Heritage, the exhibition collected 86 items of artifacts from 14 leading museums around Shaanxi province, said Qian Jikui, deputy director of the Shaanxi Provincial Administration of Cultural Heritage, during the opening ceremony.
Qian told the audience that the exhibition is divided into four parts, Before the Qin Empire, Qin Empire: Unification and the Birth of China, Terracotta Army: Its Discovery and Mystery, The Prosperous Empire of Han with Terracotta Army being the core part.
"We are trying to show people the history and culture of Qin Empire, from its beginning to its impact on the later history of China," Qian said.
Wissanu Krea-ngam, deputy prime minister of Thailand, told the opening ceremony that it is a very rare chance to see Terracotta Warriors and other Chinese artifacts of great value in Bangkok and he encourages Thais to take the chance to learn more about China's history and culture.