Silk Road hub takes cultural lead
Share - WeChat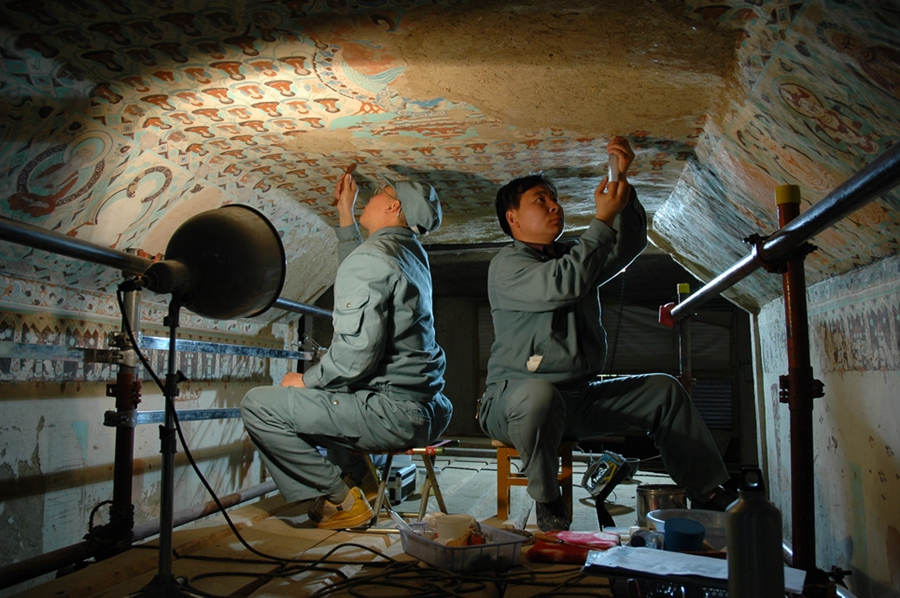 Dunhuang Academy director looks to iconic Mogao Caves art in renewed global role for Chinese culture, Alexis Hooi and Wang Linyan report.
They are often depicted drifting through the air, descending from the heavens among wisps of clouds and wearing silken robes that convey the lightness of their flight.
The apsaras, angel-like beings known as feitian in Chinese, are a symbol of the historic Silk Road oasis of Dunhuang in Gansu province. Common motifs in the city range from towering sculptures of ethereal musicians clutching Chinese pipa lutes at crossroads, to intricate drawings of winsome beauties bearing floral tributes enameled on mugs.
For Dunhuang Academy director Zhao Shengliang, the feitian also offer an important way to "brand "traditional Chinese culture and help spread an appreciation of it across the world.
"When people think about traditional Chinese culture, they'll think about the Dunhuang feitian, about the beauty of its art."
Zhao, 55, was speaking to China Daily on the grounds of the academy in one of his first major interviews since he took up the position earlier this year.
The leading research institute manages and studies the nearby Mogao Caves, one of the greatest repositories of ancient Buddhist art dating back to the 4th century, covering the golden age of the Tang (618-907) and other seminal dynasties. The monumental impact of the murals, sculptures, scripts and other major artifacts discovered in the 500 or so caves at the UNESCO World Heritage Site on the outskirts of the oasis in the early 20th century continues to be felt beyond the cultural, historical and religious spheres.
Zhao lists tapping Dunhuang art and its legacy to promote Chinese culture to the world as a top priority for the academy.
The academy has grown over the seven decades since the establishment of the People's Republic of China and "our development, our direction, has essentially remained unchanged", says Zhao, who is the fifth person to head the institution. His predecessor, Wang Xudong, is the current director of the Palace Museum in Beijing.
"Our main responsibility is to protect, research and promote. These are still what we do because first, you need to effectively protect the cultural relics. Then you need to research them well. It's only after researching them well that we are able to understand what they are, what they are composed of, what their value is," Zhao says.
"Finally, we can properly develop and promote the value of these priceless treasures."