China's Terracotta Warriors exhibited in Thailand
Share - WeChat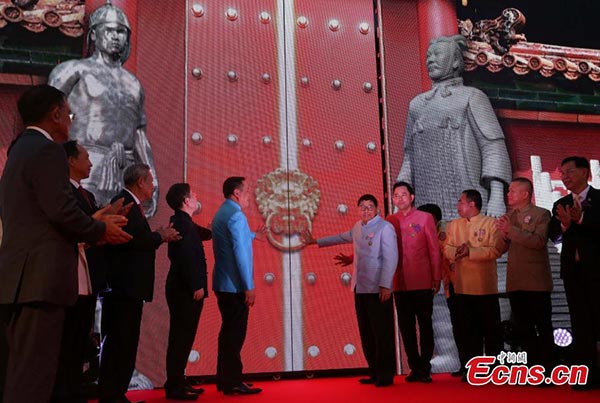 China has a long history and Qin Shi Huang is a prominent figure, the deputy prime minister said, adding, "We called China Chin in Thai and it is assumed to derive from Qin, the name of Qin Shi Huang's empire, which reveals how influential Qin was."
He also hailed Thailand-China exchange and friendship for hundreds of years and said the exhibition came at a great year which marks the 70th anniversary of the founding of the People's Republic of China and the 44th anniversary of the establishment of Thailand-China diplomatic relations.
Chinese Ambassador to Thailand Lyu Jian said during the opening ceremony that the exhibition marked that China-Thailand friendship have reached new height.
The Terracotta Army, discovered in 1974, reveals the sophistication of ancient Chinese civilization and its conservation demonstrates the development of Chinese technology, the Chinese ambassador noted, adding that the exhibition would further promote mutual understanding between Chinese and Thai peoples and their friendship.
Thai Minister of Culture Itthiphol Kunplome told Xinhua after the opening ceremony that the exhibition proves how close Thailand-China relations are and it would become a great chance for Thais to learn about history and also to attract tourists.
Itthiphol said it is expected that 200,000 visitors would come to the event during the 3-month long period until Dec 15 this year.
The exhibition attracted many Thais' attention on social media as many commented they would go to visit it for sure and thanked the efforts of both governments to make it happen.
Rakchaneewan, a Thai visitor told Xinhua that she was moved after seeing those artifacts as she can see and feel the ancient Chinese civilization just here, and she hopes the friendship between Thailand and China would last forever.
Most Popular