Chef serves traditional Chinese fare with a unique touch
Share - WeChat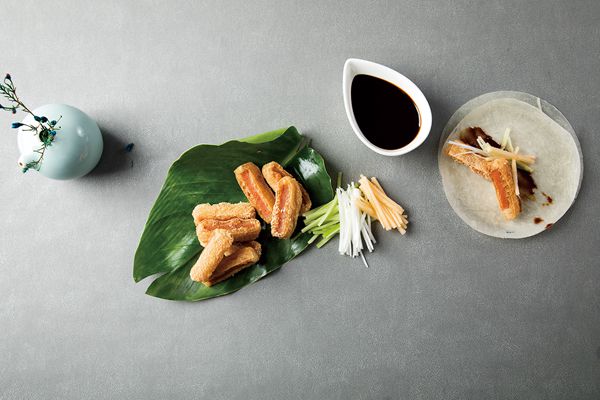 Take a lotus-leaf-like pancake, smear it with some special fermented flour sauce, place slivers of roast duck, cucumber and shallots on it and roll it up. It's the traditional way of eating a Peking roast duck.
The duck is crispy on the outside and tender on the inside. The only difference at Lin's Dining Lounge is that this is a vegetarian dish-the "duck" is made using sticky rice and vegetarian ham-and the sticky rice gives the "meat" a taste similar to duck.
Yang Weida, executive chef of the restaurant, has created this dish as he has been familiar with roast duck since his childhood.
"In our team, we have a chef who used to work for a Peking roast duck restaurant. He makes sure that the flavor is like the real thing and uses his own recipe to make the special sauce," says Yang.
At Lin's Dining Lounge, Yang puts all his culinary experience onto the dishes, aiming to bring Beijing diners "something delicious, without meat".
The 32-year-old chef from Beijing began to study cooking at a culinary school in the city in 2002 and graduated three years later. His first chef job was at the Kunlun Hotel in Beijing, a five-star hotel that has several restaurants focusing on different cuisines including Japanese, Cantonese and Western.