BAIC becomes Daimler's third-largest stakeholder
Share - WeChat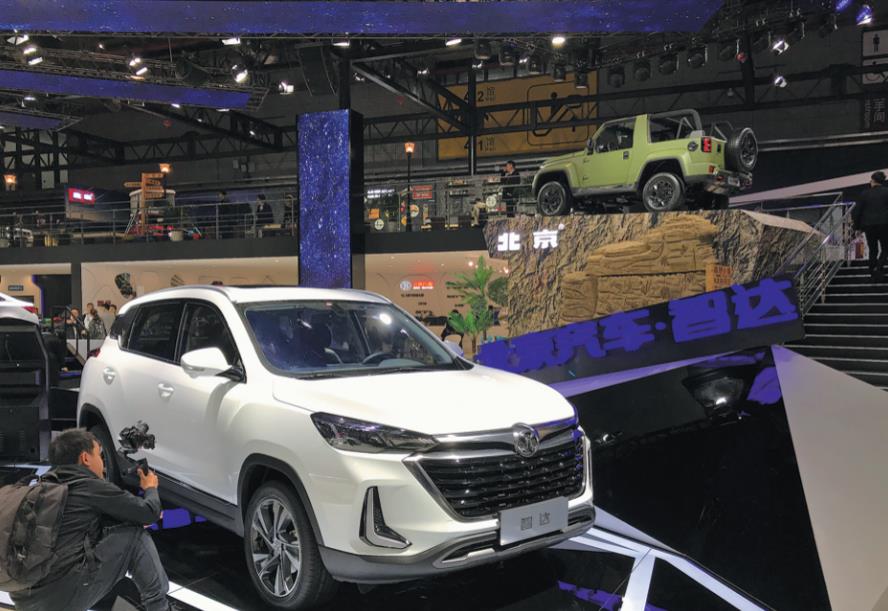 Chinese carmaker leans on German giant for profit stability
BAIC Group has acquired a 5 percent stake in Daimler AG, a reassuring move for the State-owned carmaker concerned about profitability in a sluggish market, and with the German automotive giant under the helm of a new head seeking further success in China.
Neither side disclosed the amount of money involved in the acquisition made public last week of a 2.48 percent stake and voting rights amounting to a 2.52 percent stake, but it was estimated to be around 2.5 billion euros based on Daimler's stock prices.
The deal has made BAIC the third-largest shareholder of Daimler, fulfilling its intention of cross-holding that dates back to 2013 when the German carmaker acquired a stake in the group's Hong Kong-listed arm.
The two sides reached a consensus back then, but it did not materialize because of formalities involved with BAIC being a State-owned company, according to media reports.
In a statement last week, BAIC Chairman Xu Heyi said: "It has been a long-term wish to deepen the partnership with Daimler through investment. We have joined hands for more than a decade and the partnership has yielded remarkable results."
The two created their first joint venture - Beijing Mercedes-Benz Automotive Co - in 2005, which has been locally producing Mercedes-Benz models in the country.
Mercedes-Benz sold more than 650,000 cars in China last year, making it one of the most popular premium brands in the country, with 70 percent of the total produced at the joint venture.
In its financial statement, BAIC said its profits in 2018, which grew 4.2 percent year-on-year to 37 billion yuan, were primarily the result of the increased sales from the joint venture with Mercedes-Benz.
Its joint venture with South Korea's Hyundai grew by less than 1 percent while BAIC's own companies slumped.
Strengthening its partnership with Daimler will help BAIC weather the downturn in China given Mercedes' strong position in the still growing premium end of the market, according to Yale Zhang, managing director of Shanghai-based consultancy Automotive Foresight.
"It is the largest cash cow for BAIC, and without it BAIC would be struggling," Zhang said.
A closer relationship with Daimler is becoming even more important as China's passenger vehicles market, the largest in the world, is falling since its drop in 2018, which was the first time since 1990.
But luxury foreign brands have been less affected by the downturn than cheaper marques, making Chinese manufacturers increasingly dependent on foreign joint ventures for profits.
In the first half of the year, Mercedes-Benz delivered 350,000 vehicles in China, up 1 percent from the same period last year.
In the same period, China's passenger car market fell 14 percent year-on-year.
The move is also expected to benefit Daimler, which now has a new boss and wants to secure further success in the world's largest market.
In a statement on Tuesday, Ola Kallenius, who succeeded Dieter Zetsche as Daimler's chairman in May, said the company is "very pleased" that long-standing partner BAIC is now a long-term investor in Daimler.
The carmaker did not use such wording when China's Zhejiang Geely Holdings Group became its largest shareholder last year.
Daimler even reassured BAIC that any new industrial alliances involving Mercedes and a Chinese partner would only happen after a consensus with BAIC.
"This step reinforces our successful partnership and is a signal of trust in the strategy and future potential of our company," said Kallenius, who is also head of Mercedes-Benz Cars.
"The Chinese market is and remains a crucial pillar of our success - not only for sales, but also for our product development and production," he said.
Analysts said China is even more important to Daimler as it is transitioning under the new boss toward its strategies including electrification and vehicle sharing.
It needs revenue from China, where sales account for around a quarter of its global total, to fund its transition and China is also the largest market for electric vehicles, they said.
Statistics from the China Association of Automobile Manufacturers show that more than 1.2 million electric cars and plug-in hybrids were sold last year, and 1.6 million are expected this year.
Daimler is scheduled to produce its electric EQC vehicle in China starting from this year and another model, the EQB, is to arrive around 2021.
It holds a 3 percent stake in BAIC's new energy vehicle arm BJEV, the largest electric carmaker in the country.
A senior executive at BJEV told China Daily in an earlier interview that it is benefiting from Daimler's test and validation capabilities to develop a new generation of electric vehicles.
Daimler is however not putting all its eggs in one basket.
In March, it agreed to build electric smart-branded city cars together with Geely, which acquired a 9.69 percent stake for $9 billion in early 2018.
It runs a joint venture with BYD, another new energy vehicle giant in China, to develop and produce Denza-branded electric vehicles.