Expo shows dynamics in largest car market
Share - WeChat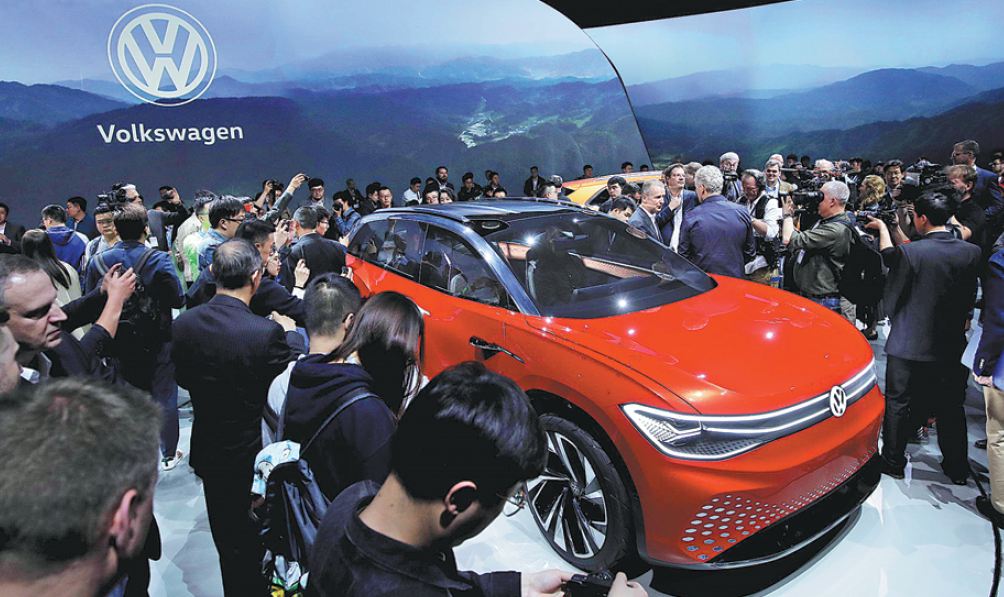 Global carmakers, local brands and new players aim for edge in competitive landscape
The biennial Shanghai auto show, one of China's two most important motoring events, has attracted around 1,000 carmakers and auto suppliers worldwide to showcase latest products or present renewed strategies, offering a glimpse into the kaleidoscope of the world's largest and most vibrant auto market.
Something that the vast assortment of automakers share is their conviction on the prospects of electrification and autonomous driving technologies.
Almost all of the 100 vehicles that made their global debuts at the ongoing event, be they international or Chinese brands, feature some form of electrified powertrains and at least Level 2 autonomous functions.
Sales of new energy vehicles in China accounted for half of the global total last year, and the Chinese authorities want half of new vehicles sold in 2020 to feature some extent of automation.
Future lies in China
Volkswagen AG, the world's largest carmaker by sales volume, said it will secure its future success by recognizing China as the powerhouse of the automotive world.
"Nowhere else can you experience this electric revolution than in China. Here, e-mobility is accelerating at a tremendous speed," said Volkswagen AG CEO Herbert Diess.
"People's mindsets and governmental guidelines are more positive toward e-cars than in any other country," said Diess. He said the car group plans to deliver 22 million new energy vehicles by 2028, with more than 50 percent coming from China.
Skoda and Audi, Volkswagen subsidiaries targeted at different customer groups, are presenting electric and autonomous concepts: the Skoda Vision iV and the Audi AI: ME.
Though Audi did not specify the year of the Level 4 vehicle's volume production, Skoda's Level 3 concept will become a reality in 2020, according to its CEO Bernhard Maier.
Toyota held global debuts of its electric C-HR and Izoa vehicles at the auto show, which are expected to hit the market in 2020, and Ford is to introduce 10 new energy models in three years as part of its blueprint to seek a turnaround in the country.
BMW's iNEXT is a highlight at the premium carmaker's booth where up to 10 new models are displayed. The electric SUV with a range of 600 kilometers and Level 3 autonomous technology is scheduled to soon drive into daily lives from its Dingolfing plant in Germany.
China is expected to continue to be the most important market for BMW's latest models, as it has been for the past few years. The group is planning to introduce 25 models in China this year alone, one of the largest product offensives in BMW's history.
Going global
With international brands touting "in China for China", Chinese carmakers are sparing no efforts in their attempts to go global by offering better products.
BAIC Group, partner of Daimler and Hyundai, unveiled three models under its high-end electric brand Arcfox, pursuing extreme performance, human-centered features and borderless design.
Arcfox's first production model is to hit the market in 2020, and future models are to be sold globally, according to one of its executives.
The brand is the result of BAIC's accumulation of expertise in new energy vehicles in the past few years with three major partners-Daimler, Huawei and Magna-helping in the brand's development, said BAIC Chairman Xu Heyi.
He said Arcfox represents the efforts of the group's three-pillar strategy that covers premium and high-quality, innovative and signature products.
Great Wall Motor, China's largest SUV and pickup maker, is showing its latest SUVs, pickups and electrified vehicles at the auto show.
Its concept Vision 2025, featuring 5G and autonomous driving, incorporates the combined results of its eight research and development facilities worldwide.
Wei Jianjun, the company's chairman, said Chinese carmakers must go overseas if they do not want to vanish in China.
He said Great Wall Motor is on par with international brands in terms of quality but doesn't enjoy the same reputation, and that's the first problem it will resolve when going global.
Hongqi, whose parent company FAW is determined to develop into China's top premium brand, is making rapid progress since the release of a new strategy in January 2018.
It has 16 exhibits at the auto show, including the HS5 SUV, the electric E-H3 and the intelligent cabin that was unveiled at the Consumer Electronics Show in Las Vegas earlier this year.
"We believe Hongqi will come onto the world stage in a more confident and graceful way, and help fuel China's automotive industry's effort to go upward as a whole," said FAW Chairman Xu Liuping in an earlier interview.
New players
The auto show is also a gathering for new players that are trying to get established in the competitive market.
Enovate, a startup brand founded by former Volkswagen executive Zhang Hailiang, announced the presale of its first model, the ME7 SUV, which made its debut last year in Guangzhou, Guangdong province.
The startup said it had just finished its series A funding round, raising 2 billion yuan and bringing its total funds to 6.5 billion yuan for its plan to produce smart electric vehicles.
Enovate said it has started to build its online and brick-and-mortar network. It has announced plans to help build charging facilities in the country.
Grove, which claims to be the first carmaker in the world to focus on hydrogen vehicles, is presenting three models at the Shanghai auto show, with volume production expected to start in 2020.
The startup, based in Wuhan, Hubei province, said the vehicles can run more than 1,000 kilometers on a single tank of hydrogen and can be refilled in minutes.
Grove said its dealerships will open in China's tier-one cities in 2020, tier-two cities in 2021 and then throughout other big cities from 2022.
SAIC Maxus, founded in 2011, is also showing its fuel-cell technology, the G20 FC, at the auto show, which has a comprehensive driving range of 550 km.
Among its exhibits are also the G20 MPV, which hit the market on April 16, and electric MPV EG50.
Already one of the fastest-growing brands in the country, SAIC Maxus is known for customized models including the D60 SUV, which is also present at the event.
Its wide range of models have boosted its popularity in China and overseas.
Last year, the company sold 84,017 units, up 18 percent from the previous year. Of them, 16,295 vehicles were sold outside of China, up 60.3 percent year-on-year.
Oshan, a 12-month-old passenger car brand, is presenting two SUVs and one small-sized electric vehicle, in the hope of winning over the country's young customers.
The brand said it will offer 12 models, including four new energy vehicles by 2021, by leveraging the resources of its parent company Changan Auto.
Cao Yingying and Zhang Dandan contributed to this story