Honeywell targets digital shift of Chinese companies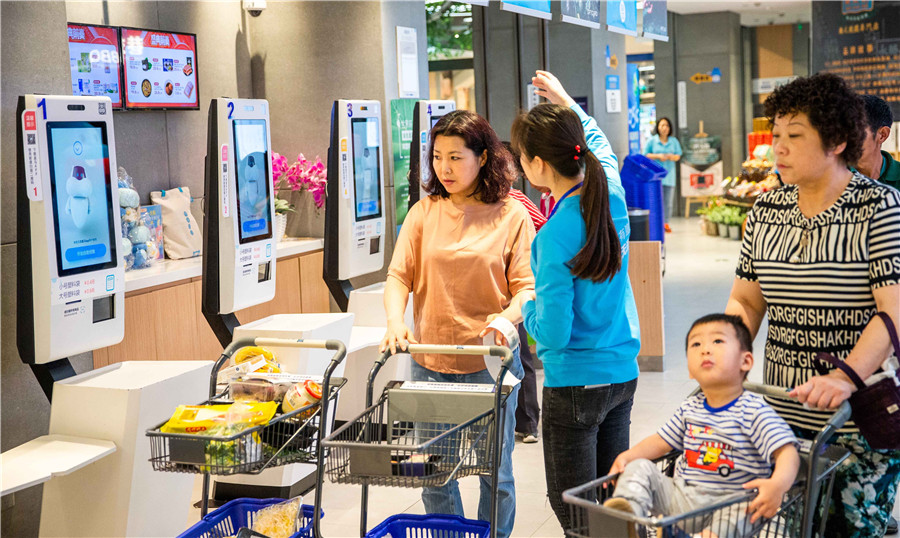 US conglomerate gives RT-Mart more than 20,000 mobile computers
US-based conglomerate Honeywell will continue to promote the development of new retail solutions from procurement, commodity production and processing, and commodity settlement and operation of an entire supply chain as part of its broader drive to bolster digital and intelligent transformation of Chinese companies.
"China is one of the world's leading markets for technological innovation, digital transformation and industrial internet of things development," said Gaven Chai, president of Honeywell Safety and Productivity Solutions China.
Chai noted smart supply chain solutions such as connected logistics and intelligent warehousing are the key factors influencing the digital transformation of new retail-related enterprises.
"On one hand, we will continue to conduct mergers and acquisitions in the smart supply chain sector, while strengthening cooperation with integrators. On the other hand, we will increase our research and development efforts to continuously improve end-to-end supply chain solutions," Chai explained.
The company sees growth opportunities from home appliances, cold chain, and pharmaceuticals industries in China. It signed a memorandum of strategic cooperation with Chinese home appliance giant Hisense Group to collaborate on building an integrated logistics ecosystem and help build the country's leading internet logistics network platform.
It will invest more in platform building and further strengthen cooperation between domestic and foreign companies, Chai said.
In addition, Honeywell is finding opportunities in the rapid development of new retail logistics and is offering dedicated solutions to many enterprises.
According to Chai, the company has provided the workers of supermarket chain RT-Mart with more than 20,000 sets of mobile computers to improve the efficiency of its retail operations. Alibaba's Hema Fresh required a lot of self-service equipment, which Honeywell provided through a wide range of self-service cash register OEM scanning solutions.
"For e-commerce, shoppers are increasingly expecting a variety of options for shopping, both in-store and online, as well as for how they receive or pick up their orders. This omni-channel distribution model is putting increased pressure on retailers to provide better access to both online and offline channels to achieve data interoperability," Chai noted.
Chai said Honeywell's end-to-end intelligent supply chain solutions are sufficient to meet the application needs of e-commerce.
"Smart logistics depends on the continued development of next-generation technology and networks, and the 5G era will have a significant impact on the logistics sector. One benefit is to capture and share information instantly and deliver that data to the equipment, the work and enable end-to-end seamless integration," Chai said.
It will also promote the deployment of artificial intelligence in the field of logistics, and distribution centers can benefit from 5G systems to help improve automation, productivity and safety.
"The core of 'new retail' is consumer-centered, which means the comprehensive integration of membership, payment, inventory, service and other data, and the linkage of online and offline industry, which will definitely have a profound impact on the future development of Chinese business," said Cao Lei, director of the China E-commerce Research Center.