Honeywell benefits as a result of Internet Plus boost
Share - WeChat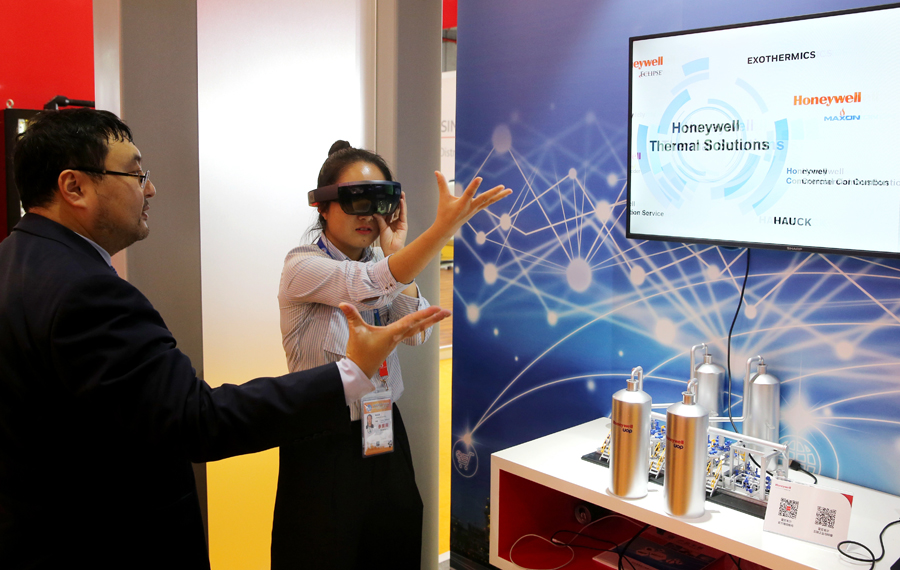 Honeywell International, a US manufacturing and technology conglomerate, said China's Internet Plus strategy is providing huge opportunities to develop and deliver innovative connected products, services and solutions that help address challenges intelligently.
"Honeywell will make every effort to integrate with China's booming economy. That's why we have exhibited the leading connected technologies at the China International Import Expo in Shanghai, the first import-themed national-level expo," said Shane Tedjarati, Honeywell's president of high-growth regions.
"In recent years, China has undergone an amazing digital revolution, which is transforming the way we live and work with exciting new technologies that connect us and incorporate software and data in new ways."
According to Tedjarati, China is the single largest contributor to Honeywell's global growth, and the company's largest market outside the United States. The company's $2.9 billion-plus business in China saw double-digit growth last year, accounting for more than 20 percent of its global growth.
On Wednesday, the company signed cooperation agreements with State-owned chemical producer Sinochem and with Baosteel, one of China's largest steel manufacturing groups, to provide connected plant technologies and artificial intelligence technologies in Chinese factories to achieve advanced interconnected plants.
Honeywell has introduced a series of connected high-tech technologies at CIIE, including systems for aircraft, factories and buildings, to support China's digital economy.
"CIIE offers a good opportunity for global companies to strengthen cooperation with China, and will bring about lots of opportunities for global companies," Tedjarati said, adding that Honeywell's connected supply chain solution, Connected Freight, has made its China debut at the expo.
Other key technologies displayed at the expo include connected aircraft solutions for airlines, business jets, general aviation and helicopters.
On Monday, the company signed a memorandum of understanding with Hisense, a consumer electronics manufacturer in Qingdao, Shandong province, to establish a connected logistics network platform in China.
The two sides will establish a strategic laboratory to further explore high-performance materials applications and connected logistics solutions, including big data, the internet of things, cloud computing and intelligent terminals, said Li Ning, Honeywell's president of home and building technologies in China and Asia-Pacific, and safety and productivity solutions in China and India, at the signing ceremony in Shanghai.
Logistics has become one of China's pillar industries, and cooperation with Hisense will help optimize the nation's logistics ecological system with reductions of emissions and costs, he said, adding that connectivity will represent a large portion of the company's growth over the coming years.
According to the China Federation of Logistics and Purchasing, the smart logistics market will exceed 1 trillion yuan ($144 billion) by 2025.
Last year, Honeywell established a connected enterprise business in China, the only regional team outside the US market, which stressed the importance it attaches to, and the confidence it has in, the development of China's digital economy.