HK parents march against US meddling
Share - WeChat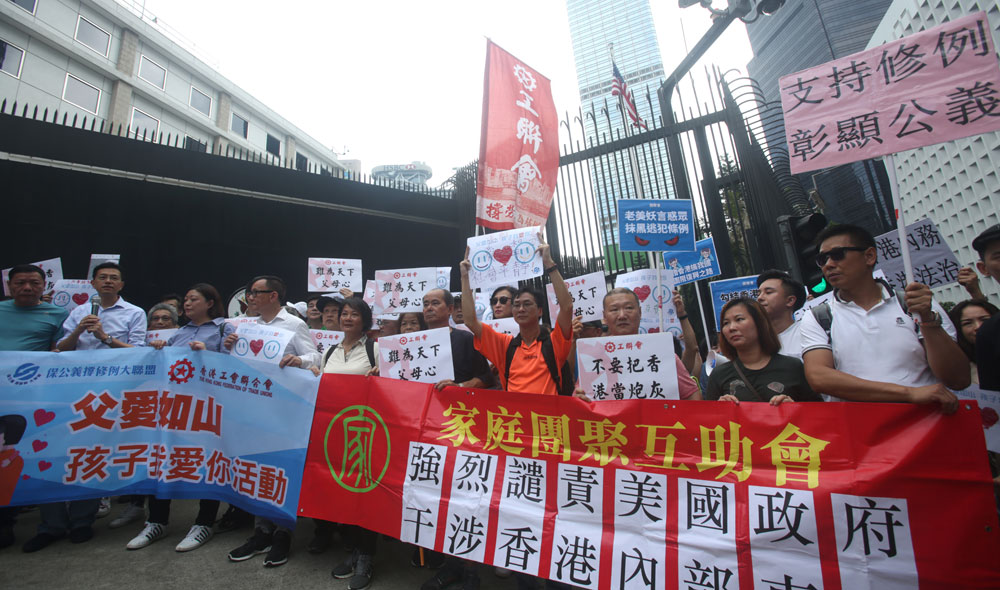 Alliance condemns foreign entities for stirring up youth against extradition bill
Parents in the Hong Kong Special Administrative Region took to the streets on Sunday to urge US politicians to not interfere with the SAR's extradition amendments and its internal affairs.
The protest, organized by several Hong Kong social groups, also condemned foreign entities for misleading young people in the city.
Among these social groups was an alliance of more than 30 local political, business and legal dignitaries who support the proposed amendments to the SAR's extradition law. They marched outside the US Consulate General in Hong Kong and Macao, calling on the US to stop interfering in Hong Kong affairs.
Stanley Ng Chau-pei, a member of the alliance, said it was despicable that some US politicians repeatedly interfered in the extradition law matter.
The protest echoed statements issued by the central government on Saturday, shortly after Hong Kong Chief Executive Carrie Lam Cheng Yuet-ngor announced the suspension of the proposed amendments to the SAR's extradition bill.
Foreign Ministry spokesman Geng Shuang emphasized in a statement that Hong Kong is part of China and its affairs are purely China's internal affairs, which brook no interference from any country, organization or individual.
The Liaison Office of the Central People's Government in the SAR expressed in a statement on Saturday its strong disapproval of foreign entities' attempts to meddle in Hong Kong's internal affairs.
Ng, also a Hong Kong deputy to the National People's Congress, China's top legislature, added that foreign entities' colluding with some members of the Hong Kong opposition camp also incited the city's young people to participate in unlawful assembly that turned into violent clashes and a riot.
On Wednesday, tens of thousands of demonstrators paralyzed Hong Kong's core administrative and business area and halted the deliberation of the extradition bill in the Legislative Council. The clashes turned violent, with radical protesters hurling bricks, metal poles, planks and metal barricades at police in attempts to break into cordoned-off areas.
Eleven protesters were arrested on suspicion of unlawful assembly, assaulting police, disorderly conduct in a public place, and other riot-related offenses, according to the police.
Afterward, several universities in Hong Kong confirmed students had been arrested.
Presidents of 10 institutions of higher education in Hong Kong jointly issued a statement calling on all parties to remain calm and pay attention to their own and others' safety.
Ng said Hong Kong parents felt obliged to protect the SAR's young people from being "taken hostage" by political notions and drawn into violence that could break the law and ruin their futures.
Keung Suk-man, one of the parents among the protesters, denounced the opposition camp for calling for a strike by schools and teachers to oppose the extradition amendments. Such blatant incitement went against the school's principle of protecting students and training them to think independently, she added.
The Hong Kong Federation of Trade Unions, the city's largest labor group, and the Association for Family Reunions also joined Sunday's protest outside the US Consulate General in Hong Kong and Macao.